Take a Closer Look at Palace's Summer 2022 Collection
From a Rubik's cube puzzle and T-shirt to realistic snake print Cuban shirts, "China Plate" graphics and a Sperry collaboration.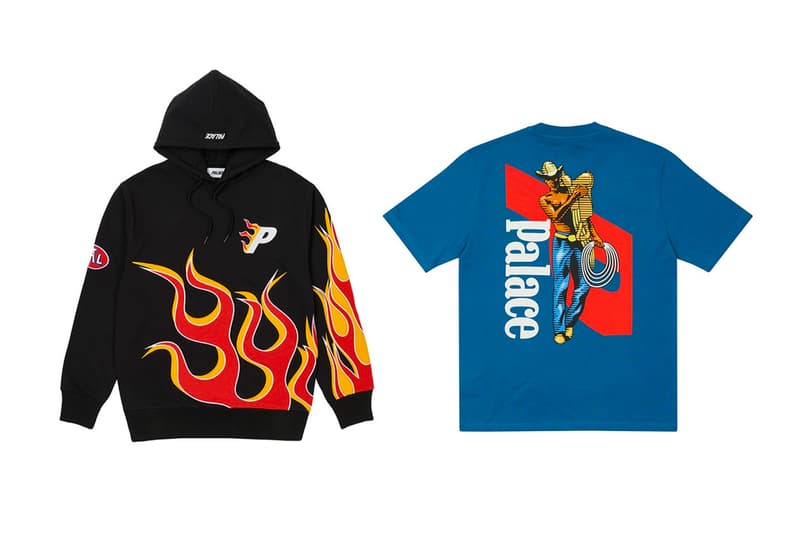 Fresh from its sell-out Calvin Klein collaboration and following on from the Will Scarborough-shot Summer 2022 lookbook, London stalwart Palace is back with a comprehensive official look at everything dropping this upcoming season.
Naturally, graphics and cultural references take center stage across the entire Summer 2022 drop, ranging from both physical Palace Triferg-branded Rubik's cubes to the object being plastered across a T-shirt. This season's collaborations are sparse but are the key to the overarching Palace aesthetic, seeing the skate brand team up with Sperry on is signature boat shoe, while a keen eye has been paid to attention to detail, seeing staples elevated in velour, crystals, X-Pac technical fabrics, dyed denims, toweling, monogrammed leather, and more.
Take a look at highlights from the full Summer 2022 collection below.
Jackets
As we've come to expect from Palace, GORE-TEX is a major component for Summer 2022. Here, a pac-lite jacket comes in a variety of colors prepping you for all-conditions-weather, while a motor racing-inspired bomber jacket decked out in custom themed patches stands as one of the best collector's items this season. Elsewhere, vintage-effect dyed denim makes up zippered denim jackets, while toweling is used on the "Palace Special Equipment" zip-up, making for the perfect transitional statement.
Sweatshirts
Palace's "Dog and Duck" graphic appears on the front and back of its leading hoodie, and for something more kitsch the brand also offers the "Emoji" sweater, taking an '80s 8-bit approach to gracing a crewneck with emoji-like symbols ranging from the peace sign to cannabis leaves, mushrooms, laptops and rainbows arching over its own moniker. Collegiate "PAL STATE" crewnecks also make an appearance this summer, as does a rather brilliant "the palace Londinium shopping experience" print. Your usual array of Triferg-bearing hoodies makes a case for overt branding, while the brand's love for all things British is echoed with the English Rose motif on various colors of its signature hoodie.
Shirts and Tops
A statue motif that's seen consistently throughout the Summer 2022 collection makes a bold appearance on Palace's shirts, while a near-Hawaiian floral print also graces the outer panels of a Cuban collared piece. Taking first place for this season is Palace's new "China Plate" graphic that's repeatedly printed all over shirts in blue and white or red and white — and again on bucket hats and jeans — while a photorealistic snake wraps around the body of a billowing Cuban collar summer-ready shirt. As for the tops, Palace decks Rugbys in velour with its pool-boy-like cursive logo, and it also turns a zoo of animals into P-wearing bodies before embroidering them onto polos.
Longsleeves and T-Shirts
Summer 2022's assortment of T-shirts is nothing short of extensive and is sure to satisfy every single person this season. Whether you want to wear the aforementioned Rubik's cube on your chest or a three-dimensional-effect carabiner across your torso, Palace's tees will have you sorted for the warmer months ahead. Particular standouts include a P-head chicken graphic, cowboy artwork in the style of old cigarette packet branding, and the nostalgic "Palaska" tees. Wavy takes on the Triferg take over a bevy of color-blocked tees, and of course, staple pocket T-shirts and longsleeves are available in abundance.
Knitwear
Being a summer-focused collection, knitwear is kept to a minimum. But, don't mistake it for not being one of Palace's strong points this season, as the intarsia knit in blue, cream, or black colors is kitted out with its "Dog and Duck" motif once more.
Bottoms
As previously touched upon, Palace's new "China Plate" graphic adorns jeans with its grandeur and loudness. The same goes for the new "Statue" graphic and the "XX" design that crosses over black jeans. Naturally, joggers and technical pants cut from ripstop are on frequent display, as are shorts cut from the same fabrics. For full Palace looks, opt for sports shorts with the cowboy design on them, or tie-dyed denim shorts for something more fun. This season also offers Palace-branded swim trunks in beach-ready tones of turquoise and coral, and for out-of-the-sea looks, Palace also presents a range of basketball shorts.
Shoes
Palace's collaboration with Sperry sees its OG Top-Sider boat shoe gets covered in the former's Olde English font, decking the denim uppers in contrasting branding. Leather laces, thin, flat soles, and contrasting insoles round out the offering. Elsewhere, branded pool slides are served this season.
Bags
Kevlar is the core ingredient to Palace's Summer 2022 bag recipe, presenting a range of carrying options crafted from the sturdy and resilient material. Here, you'll find a tote, backpack, and a short crossbody bag all cut from Kevlar in either black or khaki and wearing the Palace logo proudly on their fronts.
Hats
Palace hats are often the finishing touch to any branded outfit, and Summer 2022's range is perfect for adding that final flourish. Branding takes center stage on the front of caps cut from shiny fabrics in bold colors to washed-out denim iterations, and for something more formal, Palace presents its signature six-panel cap in corduroy. Mesh heavy metal graphic logo hats also appear, as do ones with the cowboy and snake graphics. When the colder months draw in, Palace also offers hats made from argyle knit, as well as bucket hats printed with the "China Plate" design.
Accessories and Hardware
Any Palace fan knows that sometimes its best pieces are the brand's accessories. Summer 2022 is no exception, with a branded Rubik's cube, cowboy P-graphic mugs, Palace belt pins, a "Statue" towel, a "Duck" wallet, and the "Palacestone: World's Best National Park" cushion all coming together as great collectibles. Skateboards follow the theme of the collection, but some like the Michelin Man-inspired deck are particular standouts.
Palace's Summer 2022 collection will begin releasing both in-store and online on May 6, 11 a.m. GMT on the brand's official web store, and in Japan on May 7, 11 a.m. JST on the Palace Japan web store, and on the official "Palace_Skateboards" WeChat store May 7, 11 a.m. CST.