Role Model Has Found Love and Wants Everyone to Hear About It
Fresh from his Coachella debut, the 24-year-old spoke to HYPEBEAST about his new album and how love changed his musical perspective.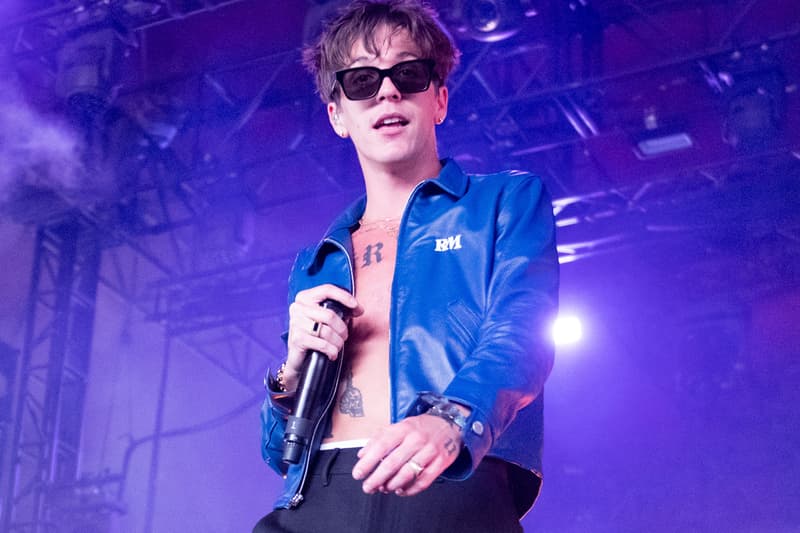 Tucker Pillsbury — better known by his stage name, Role Model — is ready to ditch his indie sad-boy persona for a more optimistic look. The 24-year-old musician told HYPEBEAST that after building a brand off of "being anti-love, hating everyone and not leaving the house," his new album Rx leans fully into the power of love.
"I started the album process at the same time that I fell in love for the first time in my life," Pillsbury told HYPEBEAST, explaining the shift in his sonic style. "That was something I was always very closed off to my whole life, which I think you can hear in my earlier music. It was something scary to me, always, and when it happens, it hits you like a train."
His private-but-not-secret relationship — teased in his "neverletyougo" music video — is the seedling that helped the lovestruck album bloom. In fact, the 24-year-old vocalist admitted that he needed to cut several tracks from the final record because he had written an excessive amount of romantic songs on his first go.
"I write my own songs, and that was at the front of my mind, so all the love songs were pouring out," he said. "And at a certain point, I remember sitting down with [my producer] Spencer and realizing we had, like, two albums worth of just love songs. It was like, 'Cool, you're in love. Go f*** yourself.'"
After scrapping several sappier love songs from the album, Pillsbury switched his lens to instead focus on the "power of a woman," reflecting on the strength of female energy and how his romantic partnership has since altered his perspective. Rx, which took two full years to create before its release earlier this month, naturally pays homage to the maturing of those emotions.
"I just wanted to emphasize how powerful this person is that came into my life and how badly I needed it," he said. "I'm not a religious person, but I assume it's similar to the way someone finds God or is waiting for a miracle or something. There's a lot of religious references in the album because of that."
"The album is about love," he concluded. "It's about the power of a woman, the power of this person and how it changed me."
The record, which boasts 11 tracks with no features, also marked a shift in Pillsbury's approach to music-making. What once began as a one-man operation has evolved into a much larger production, requiring creative oversight from executive producer Spencer Stewart. With more eyes on his work, Pillsbury noted that he was more open to outside critique on "melodies, structure and harmony" this time around, but it was still crucial to him to remain in full control of writing.
"Everything starts acoustic," he explained of his specific formula for songwriting. "I go in with the producer and we make around 10 guitar or piano loops. I take them home and I write a song or two songs to them and go back the next day or the next week. Then we turn those into fully produced songs."
Pillsbury, who is currently embarking on a world tour in support of the album, most recently performed at Coachella's Gobi Stage during the festival's first weekend. There, he was surprised to hear his fans already echoing back the lyrics to his newly-released tracks.
"I rely on the crowd a lot to help me with these songs. It's very inclusive," he said. "So I was super stressed. I was like, no one's gonna know the new stuff, but they did. They are so on top of it."
While hitting tour stops across the globe, Pillsbury is already making progress on his sophomore album. And while he didn't share much about what to expect from the forthcoming project, he promised fans that the waiting period would be shorter this time around.
"I'm trying not to take two years this time, that would be my goal," he said. "I want to just start popping them out."
Listen to Role Model's debut album, Rx, below.