HYPETALKS Will Explore "Creating With Purpose" Co-Hosted by Claima Stories
Tune in this Monday, February 28, at 8 p.m. ET.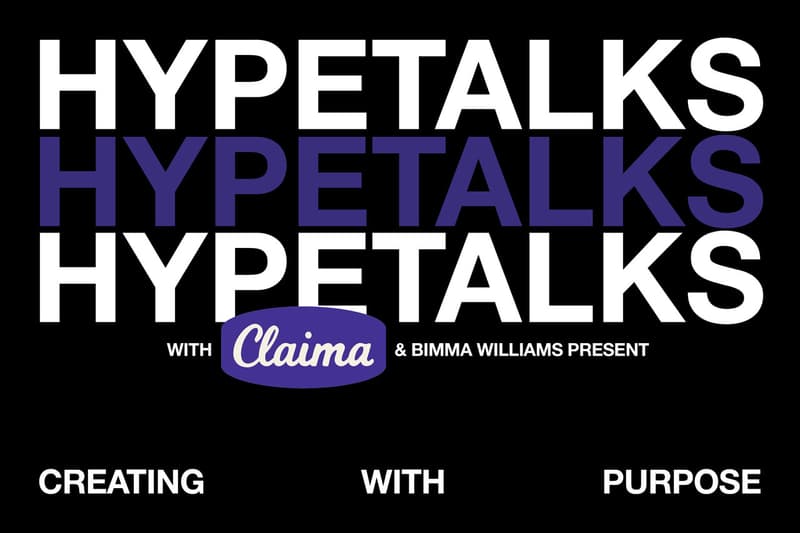 HYPEBEAST will host a panel discussion titled "Creating with Purpose" alongside leading career podcast Claima Stories and other BIPOC creatives on Monday, February 28, at 8 p.m. ET.
Moderated by Felix Young and co-hosted by Bimma Williams, the roundtable discussion will feature a number of industry-shifting creatives, including Gavin Mathieu, Laci Jordan, Essie Golden, Chris Echevarria and Kacey Lynch, and will highlight purpose, creativity and connection among BIPOC creatives. 
"I'm excited to speak with this group of true creative trailblazers," said Williams, co-founder of Claima Stories. "It is a continuation of the Claima Stories platform, as our mission has always been to elevate creatives of color and empower the next generation to realize their potential to truly 'create with purpose.'"
Williams previously held positions at Nike, adidas, Saucony and more, and uses his platform to address the challenges of BIPOC youth within creative industries. 
Gavin Mathieu is the founder and creative director of SUPERVSN Studios, which calls itself "L.A.'s premier streetwear energy brand" that designs and manufactures clothing with "high frequency vibrational energy." 
Laci Jordan is a multi-disciplinary artist and creative director known for creating vivid digital illustrations centering on Black women to create more representation for Black women in fashion and the arts.
Content creator Essie Golden is the co-founder of Thicklaces, a community for plus-size sneakerheads and streetwear enthusiasts, and Chris Echevarria is the founder and creative director of Blackstock & Weber, a Brooklyn-based brand that "aims to redefine the shopping experience for the modern man."
Lastly, Kacey Lynch is the founder of Bricks & Wood, a streetwear brand identity rooted in his hometown of South Central L.A. 
Tune into HYPETALKS: Creating with Purpose featuring Claima Stories at 8 p.m. ET on Monday, February 28, via HYPEBEAST on Twitter Spaces.
In the meantime, revisit our previous HYPETALKS: In Web3 and Beyond.