The Best UK Music of 2022
From Meekz to Jockstrap, the U.K. delivered one of the best years of music in a long, long time.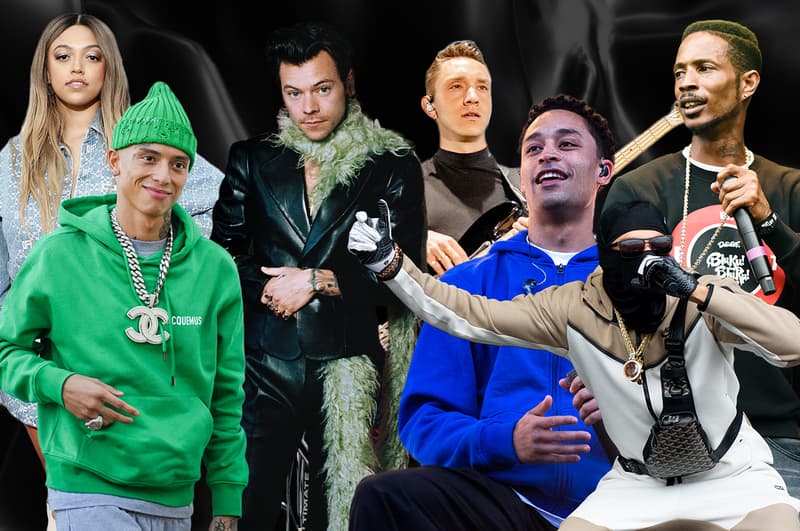 Year after year, the UK hits new levels with its musical output. It's an incredibly difficult task to select the stand-out records from the plethora of music over the last 365 days – and this year has proven to be one of the toughest yet.
This year – now musicians are free following two years of COVID restrictions – has ushered in a new sense of creativity, along with a fresh wave of self-expression that has led to artists releasing some of the best music of their careers. Additionally, 2022 has welcomed another batch of emerging faces that have produced refreshing sounds, thus keeping the gatekeepers on their toes and hungry to remind the country why they are the leaders in the industry.
For UK rap, newcomers came in the form of Nemzzz, who built on his breakout single "Elevate" from 2021 with a slew of high-octane slappers, while household names like K-Trap broke into a new echelon of popularity – thanks to his anthemic track, "Warm," which went on to become one of the year's biggest heaters – a year after its original release.
The rest of the world is now fully aware of Central Cee's meteoric rise, with the West London rapper's groundbreaking single, "Doja," ringing out on airwaves across the planet. And last but nowhere near least, Little Simz surprised the world with her last-minute album NO THANK YOU, a follow-up that was arguably even better than her Mercury Award-winning, 2021-released Sometimes I Might Be Introvert.
The charts were, of course, dominated by Harry Styles, while the Arctic Monkeys made their long-awaited return with The Car and Paolo Nutini reaped a sold-out world tour from his own overdue comeback album Last Night In The Bittersweet. Wet Leg, Yard Act, and Dry Cleaning proved British bands are still great after stand-out years, and experimental acts like Jockstrap continued to prove that weird is wonderful.
Sault reigned supreme with prolific creativity, and PinkPanthress' algorithm-adjacent, short-and-sweet hits saw her secure BBC's Sound of 2022 award. For R&B, FLO became the first-ever group to win the BRITs Rising Star Award and Nia Archives proved to us all that drum and bass is still as healthy and safer than ever before in her capable hands.
Simply put, there's been a whole lot to enjoy about British music this year – so here are the acts Hypebeast rated the most throughout 2022.
Best Rap Artist – Meekz
While Little Simz's brilliance is well-documented, it was impossible not to respect Manchester's Meekz come-up in 2022. Thanks to his now-viral Hoods Hottest freestyle in 2019, his show-stopping performance on "Year Of The Real" with Pa Salieu, M1llionz, and Teeway in 2020, the Can't Stop Won't Stop EP last year, and his cut-throat verse on Dave's "In The Fire," the pressure was on for the rhymer to deliver with his first long-form project.
With his debut tape, Respect The Come Up, Meekz declared that his time to shine is now. After recently dropping the "Manny" part of his name, his consistent switch-up between sounds of drill, road rap, and live instrumentation had fans curious as to what was to come from the record.
Luckily, the 10-song project saw Meekz continue to experiment with a bit of everything. We hear tales of street trauma, unrequited love, and his plans to make more money – all while using elements of G-funk, road rap, drill, and jazz instrumentation. And while there aren't many features on the list, Meekz enlisted two of the country's finest – Dave and Central Cee – to create in our opinion, the best pound-for-pound rap record of the year.
Best Grime Artist – D Double E
After a successful 2021 packed with several grime heaters – such as "Variation" with Big Zuu and the Silencer-produced "Stuttering" alongside P Money, Dizzee Rascal, and Chip – D Double E earned the right to give himself a quiet year for 2022. But D Double kept the volume turned right up, picking up where he left off by dropping Bluku! Bluku! 2 – the first solo project from the rapper since 2020's Double or Nothing.
Hypebeast caught up with D Double E earlier this year, and while he admitted that the new material was simply an "E.P. to keep the ball rolling and to fill in the cracks," the seven-tracker was packed with maturity and blended his grime influence with hip-hop, jungle, and dubstep to create a collection of sonically-dexterous records that kept fans full and satisfied for the year.
Additionally, Double also surprised the UK with a new Christmas single, "Merry Christmas," proving that it doesn't always have to be Michael Bublé and Mariah Carey when sitting around the tree.
Best Drill Artist – Central Cee
Central Cee took UK rap global like no one else in 2022. The 24-year-old kicked off the year correctly with his tape, 23, hitting Number 1 in the charts. Then, his UK slang translator-cum-freestyle for LA Leakers went viral, while he continued to build bridges across the Atlantic with "Doja" – which became the first U.K. single to be posted by Cole Bennett's Lyrical Lemonade.
2022 was a year packed with other achievements for Cench, too. The West London native became the first U.K. rapper to hit one billion streams in a year on Spotify – all while heading out on a world tour that took him across Europe and North America that cemented his global appeal.
But he wasn't done there. After quickly dropping off his No More Leaks E.P. in an unfazed response to some of his unreleased tracks slipping through the cracks, Cench closed out the year with his latest record "Let Go", where he sampled Passenger's "Let Her Go" to change into an emotional gear and remind everyone that he's an artist firmly in his own lane right now.
Best Indie Act – Oliver Sim
As one-third of the era-defining band The xx, a solo career for Oliver Sim was always going to be a difficult task – not only to live up to the quality of music he was providing prior, but to also define himself as a fully-fledged and respectable solo artist.
With this being said, Oliver Sim left it all on the table with his debut album, Hideous Bastard. As per Apple Music, the album was two years in the making and was inspired by Sim's love for horror movies and his own life experience. It unpacked themes of shame, fear, and masculinity, with intimacy and beauty – all while offering a sense that much more is to come from Sim.
Best R&B/Soul Artist – Mahalia
Since releasing her debut studio album, Love and Compromise, in 2019 and grabbing a 2021 Grammy nomination for best R&B performance, Leicester-born singer-songwriter Mahalia has had a lot of pressure to deal with to ensure she reaches the heights she deserves.
And while 2021 was full of more consistency – thanks to records such as "Roadside" featuring AJ Tracey and the Montell Jordan-sampled "Whenever You're Ready" – 2022 offered us a new five-track E.P. in the form of Letter To Ur Ex.
The project touches on her love for infatuation and the struggles that come with heartbreak. Furthermore, Mahalia also digs deep into her own personal traumas with love, while also giving words of advice to all her fellow women who may experience the same struggles as her.
Best Group/Band – Wet Leg
Having only released its debut, self-titled album earlier this year, Isle of Wight-based duo Wet Leg has shot straight to the forefront of popularity among fans who have been enjoying their cheeky blend of post-punk spirit and pop-ladened, earworm hooks making them one of the hottest bands of 2022.
The sardonic and English charm of the band's hits like "Chaise Longue" and "Wet Dream" have earned them fans in the form of Iggy Pop, Dave Grohl and Michael Gandolfini – and in serious times, some unserious – and flat out hilarious – lyrics really haven't gone amiss. Drifting into pockets with witty, sexual innuendos, the band have quite simply gone from relative unknowns to one of the most exciting acts on the planet this year.
Best Electronic Artist – Fred again..
Originally working exclusively as a producer, Fred again.. has been one of the U.K.'s biggest gems for some time now. Back in 2019, he was responsible for a third of the UK's No. 1 singles; he later won the BRIT award for best producer, before launching his own dance-leaning artist project.
This year, the musician has fully gone solo and released his latest album Actual Life 3 (January 1-September 9 2022) and it sees the South Londoner openly share warm and often intimate relationships with his friends and collaborators. Sitting alongside spontaneous phone recordings made while on his travels, audio snippets from Instagram, and samples from some of his favorite records, the album lets us into the soul-baring diary and overall psyche of Fred again..
Best Experimental Act – Jockstrap
Jockstrap proved that weird is wonderful throughout 2022. The two-piece's debut album, I Love You Jennifer B, meshed together noises and sounds that have absolutely no right to sit alongside one another, but to mind-bogglingly good effect. The duo could never really be described as an easy listen, but the beauty of their music comes from persisting with the mayhem. Utterly incomparable to anything else out there in the world of music right now, Jockstrap really aren't just an "act of 2022" – they are the future.
Best Song – Loyle Carner, "Hate"
For a lot of U.K. rap fans, 2022 was Loyle Carner's year. Having released his third studio album, Hugo, the South Londoner held no prisoners and tapped into stories of pain, love, Black excellence, family matters, and the struggles that come with being mixed race.
And while each song from the project could have stolen the crown for Hypebeast's song of the year, the album-leading "Hate" – which came with Carner's self-directed visuals – took the top spot.
Produced by kwes, Earl Saga, and Nick Mills, "Hate" hosts a turbo-charged performance by Carner and comes with a streak of potency, touching on his own confusing and anxiety-ridden feelings that make up the current experiences of being Black and British. As an outright essay about lives lived in the cross-hairs of society, "Hate" is centered around fear, exhaustion, and frustration.
Best Album – Harry Styles, Harry's House
As his follow-up to his Grammy-winning album Fine Line, Harry Styles' Harry's House is a light-footed dance around sex, drugs, and fine wine.
Spread across 13 tracks, we're taken on a journey through flab-free moments in the album's lead single "As It Was" and soft foot-tappers such as "Late Night Talking." Meanwhile, sparkling melodies are used across lyrics that touch on past relationships and the life the former One Direction star is now living under the L.A. sunshine.
Other records such as "Keep Driving" include meaningless – and even riddle-like – word jumbles that lean into intimate moments with past lovers. At the same time, the understated "Cinema" ties itself in knots while trying not to mention the subject matter it's so clearly touching upon.
And while the latter may feel a little read-into, the underlying theme of the album is for his fans – seen in abundance at Styles' live shows – to have a good time. The album encapsulates this perfectly and with this in mind, Harry's House is a place we've not wanted to leave this year.