Gorillaz Concert, Powered By Google, Debuts Potential of Augmented Reality
Stunning visual effects and interactive elements came to life for audiences at Times Square and Piccadilly Circus.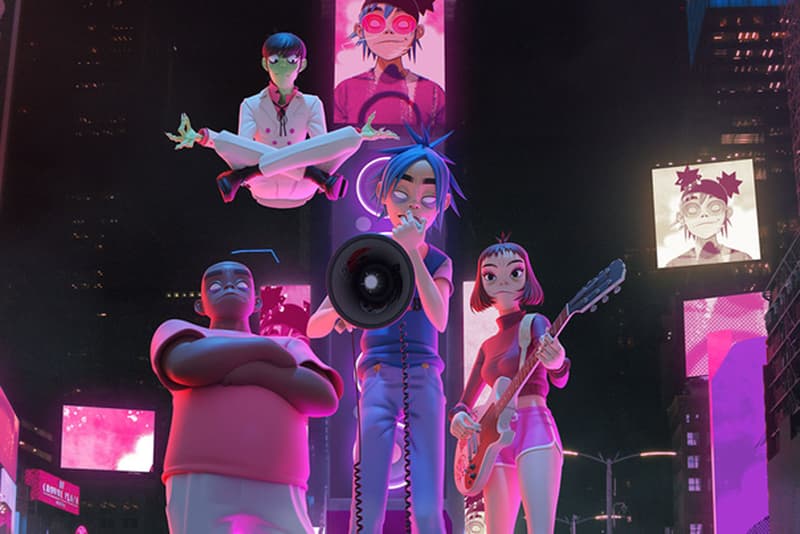 Gorillaz, the virtual band, made history with their recent augmented reality (AR) concert in both New York City and London. Hundreds of fans gathered to watch the animated band take over Times Square and Piccadilly Circus as the AR technology brought the characters to life on giant screens.
The AR concert was the first of it's kind, as Gorillaz used the technology to create an immersive and interactive experience for their fans. Attendees could download the AR app, watch the virtual band perform on their phones, and see them come to life on the giant screens.
The band recently released their new single "Skinny Ape" and to celebrate, they put together a live musical performance unlike any other.
At the Gorillaz concert, attendees are transported into a new world as the stage comes to life with stunning visual effects and interactive elements. Using Google's augmented reality technology, the band can bring their unique and imaginative universe to life in a way that has never been seen before.
The AR concerts were a testament to Gorillaz's innovative and boundary-pushing approach to music. The band has always been known for its unique blend of genres and ability to push the boundaries of what is possible in the music industry. And these AR concerts have once again proven that they are at the forefront of technology and creativity.
But the AR concerts were not just about the technology. The music was at the heart of it, and Gorillaz did not disappoint. With a diverse blend of genres and a unique style that defies categorization, the band always delivers a one-of-a-kind performance that leaves their fans wanting more.
Gorillaz is a virtual band created in 1998 by musician Damon Albarn and artist Jamie Hewlett. The band is known for its unique blend of genres, including pop, rock, hip-hop, and electronic music elements. Gorillaz has released six studio albums and has sold over 20 million records worldwide.
Augmented Reality Can Revolutionize The Everyday Human Experience
For those unfamiliar with augmented reality, it is a technology that superimposes digital elements onto the real world, creating a hybrid reality. AR has the potential to revolutionize the everyday human experience by enhancing and enriching the way we interact with the world around us. With AR, digital information and content can be seamlessly integrated into the physical world, allowing us to access and interact with it in new and innovative ways.
ARCore is Google's platform for building augmented reality experiences, and their recent launch of Google's Geospatial API was the tech used in creating the Gorillaz live AR concert.
The ARCore Geospatial API allows developers to create AR experiences that are tied to specific locations around the world, and enables users to interact with that content as if it were a real-world object.
The API also makes it easy for developers to merge the user's local coordinates with the geographic coordinates from VPS, so that they can work with a single coordinate system. This means that developers can attach digital content, such as 3D models or text labels, to specific locations, and those content will appear to the user as if they were part of the real-world environment when viewed through the device's camera.
ARCore has the potential to revolutionize augmented reality by making it more accessible and easier to use. With the widespread adoption of smartphones and tablets, many people already have the hardware needed to use ARCore-based apps. This means that augmented reality experiences can be created and accessed by a larger audience, making it more feasible for businesses and developers to invest in creating AR content.
The @Google x @Gorillaz AR experience live in Time Square yesterday. So cool in person. Kudos to @elevenmgmt @nexusstories @OutfrontMediaUS @OceanOutdoorUK @Totemko + all teams involved. pic.twitter.com/LXpocSbfIr

— Michael Kauffman (@michaeljoel) December 18, 2022
Gorillaz has had a significant impact on culture in terms of its music and innovative approach to live performances. They have been praised for their ability to bring together various genres and influences and their willingness to embrace new technologies and push the boundaries of what is possible in the music industry.
The possibilities of AR technology are endless, and Gorillaz is just scratching the surface. Imagine watching your favorite band perform on top of a virtual mountain or having virtual instruments appear in your hands as you play along with the music or a  interactive virtual meet-up. The use of AR technology in the music industry allows artists to create more engaging and interactive experiences for their fans and helps to differentiate their content in a crowded market. Thefuture of concerts is here, and Gorillaz is leading the way.
For more web3, tech news follow us at Hypemoon.