eBay's Best Holiday Gifts for Sneakerheads, Tech Fans, Watch Collectors and More
An array of options from brands like Nike, Tag Heuer and Meta.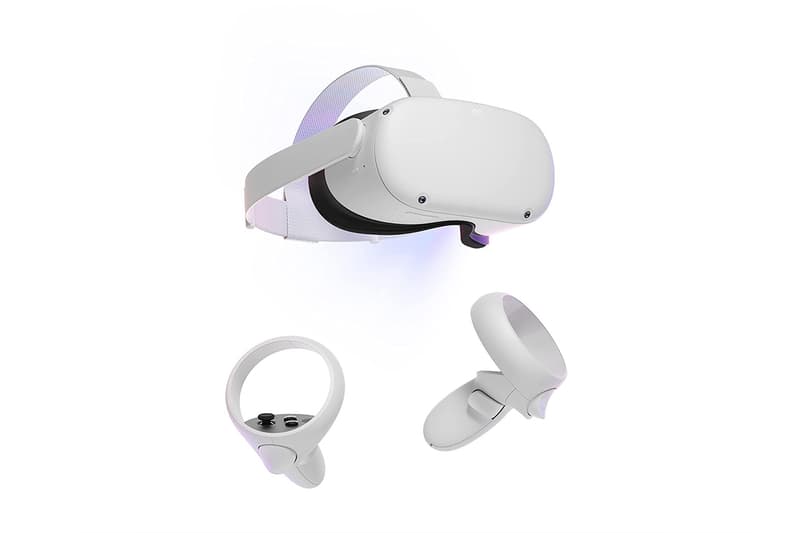 The time for gift-giving is fast approaching with the holiday season now in full force. eBay, the world's original online marketplace, has cemented itself as one of the go to destinations for gift shopping with a wide range of products ideal for all lifestyles, whether for sneakerheads, tech lovers and fashion enthusiasts. Shoppers will also feel at ease when buying kicks, tech and more with eBay's Authenticity Guarantee services, assuring quality and customer satisfaction. For those in need of guidance, the company also utilizes search and sales data from its most popular categories to curate a list of its most sought-after gifts – a great tool for gift-giving ideas for anyone in your life.
Below, Hypebeast editors picked the best gifts available now on eBay. They include footwear, special fashion pieces, watches and tech for your loved ones who have varying interests. Take notes below and hit up eBay to find the latest deals on these in-demand items.
Travis Scott x Nike Air Max 1 "Baroque Brown"
Released this year, Travis Scott and Nike's partnership continues to grow with the addition of collaborative Nike Air Max 1 models. The Baroque Brown colorway blends vibrant tones and earthy hues for a cool and contemporary update, making them one of the hottest  kicks on release day and beyond. Other design highlights include red rope laces, heel tabs with the Nike x Cactus Jack insignia and a prominent reverse Swoosh. This is a grail-worthy sneaker for Nike and Travis Scott fans alike, and sure to be a jaw-dropper for the footwear fanatic in your life.
Prices on eBay for the Travis Scott x Nike Air Max 1 range from $210 to $520 USD.
Salehe Bembury x Crocs Pollex Clog "Tide"
2022 was the year of the clogs, a cozy footwear option for everyday functionality. Buzzy shoe designer Salehe Bembury made a statement this year in partnership with renowned clog purveyor Crocs and putting the footwear industry on notice in the process. The collaborative shoe features a light blue foam upper crafted with unique concave ridges that resemble Salehe's iconic fingerprint design. The "Tide" model also boasts a rubber blue translucent sole and support strap for an exact fit.
Prices on eBay for the Salehe Bembury x Crocs Pollex Clog "Tide" range from $100 to $150 USD.
Tag Heuer Aquaracer Watch
Watch enthusiasts gravitate to the Tag Heuer brand for its timeless design, utilitarian look and luxury feel. The Aquaracer is one of the watchmaker's most coveted models and  features a sleek, stainless steel 43mm case, screw down steel crown and ceramic bezel. This Swiss-made classic is built for longevity, not just in terms of construction but also in style. It's versatile enough for everyday use as well as formal occasions. Give this Tag Heuer icon for the watch collectors or fashion accessory buffs.
Prices on eBay for the Tag Heuer Aquaracer range from $660 to $2,500 USD.
Audemars Piguet Royal Oak Offshore
The Audemars Piguet Royal Oak Offshore is lauded by luxury fans for its distinguishable profile, high-end construction and unbeatable Swiss-made movement. Watch collectors salivate at the sight of new iterations and the most devoted hobbyists have numerous renditions of the Offshore in their prestigious roster of AP watches. This particular updated design is equipped with a blue camo-printed rubber strap and is water-resistant up to 100m. The time-tested features of this iconic model include its 44mm stainless steel, sapphire crystal case and a matching blue ceramic bezel to match. If price is of no concern, this AP is the one true gift for your deserving watch fan.
Prices on eBay for the Audemars Piguet Royal Oak Offshore range from $50,000 to $64,000USD.
Meta Quest 2
VR technology has become more accessible in the past couple of years with the introduction of a number of  systems and accessories from leading tech brands. The Meta Quest 2, however, stands out from the rest – the advanced headset presents an opportunity to bring the most immersive worlds alive to the hardcore gamer in your life. Game titles such as Resident Evil Four, Beat Saber, Population One and more offer up ultra-realistic environments that'll tap all the senses and create the most memorable gaming experiences.
Prices on eBay for the Meta Quest 2 range from $320 to $400 USD. Another option to purchase the Meta Quest 2 is through eBay's Refurbished programs. Each eBay Refurbished product goes through a multi-step inspection process, comes with an up to two-year warranty and helps divert waste from landfills. This allows users to shop sustainably this holiday season and take advantage of great prices.
Sony Playstation 5
Released in 2021 the Sony Playstation 5 has become one of the most popular gaming consoles in video game history. Availability was scarce in its early introduction to the market, leaving fans desperate to get their hands on one. Despite better availability at retail, the fight to obtain this coveted system still proves to be difficult – this is where eBay's marketplace becomes vital to holiday shoppers. As for what makes the PS5 one of the greatest consoles to release, the system offers TV gaming in 4K resolution and extensive storage with for digital games and updates. The controller's haptic feedback brings a new dynamic to gaming experiences. Gifting a Sony Playstation 5 will surely make anyone's holiday, especially to someone who hasn't had the luck getting one.
Prices on eBay for the Sony Playstation 5 range from $620 to $650 USD. Just like the Meta Quest 2, the Sony Playstation 5 can also be purchased vis eBay Refurbished, allowing users to shop for a more sustainable option at a great price.
Dior Burgundy Book Tote Bag
Tote bags have become ubiquitous as both an everyday essential and more fashionable accessory. Designer brands have updated the convenient carry style with luxury elements and Dior has given its sophisticated take on this reliable item. Dior's reimagined bag sports a tan and burgundy colorway emblazoned with an all-over monogram print of the  iconic desgin of the house's oblique motif. Embroidered on the center is Christan Dior's signature insignia. The tote is ideal for updating any look whether for running errands, shopping or travel. Give Dior's tote as a gift for jetsetters, bag buffs and anyone looking to upgrade their accessories game.
Prices on eBay for the Dior Burgundy Book Tote Bag range from $2,700 to $3,100 USD.
Aaron Judge New York Yankees Jersey
Yankee fans love Aaron Judge, the team's all-star outfielder who dominated this year, setting the American League record for the most home runs in a season at 62. Not to mention, the MLB All-Star announced this week that he is signing a new contract with the Yankees which will keep him with the club for another 9 seasons and net him an astounding $360 million. Judge's jersey has become a popular mainstay at Yankee games at home and abroad. This particular uniform is a great gift idea for Yankee die-hards and sports memorabilia collectors. The jersey comes in the team's classic pinstripes and away grey colorway – whether for wearing or for collecting, giving this as a gift means someone is owning a piece of a historic moment in the sport of baseball.
Prices on eBay for the Aaron Judge New York Yankees jersey range from $135 to $300 USD.