The Best Music Projects of 2022
11 selections curated by the Hypebeast editorial team, along with a few honorable mentions.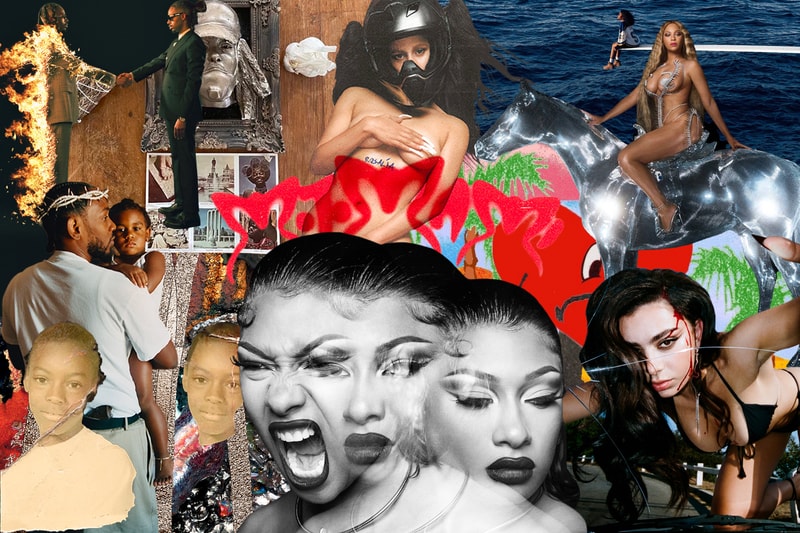 2022 saw the music world emerge from the cloistered confines of pandemic-era isolation. Some artists jumped on the return to in-person events, finally able to embark on long-awaited tours for albums that had been released years prior. For others, including many of the artists on this list, the pandemic provided a respite from the constant buzz of the industry. In solitude, they had seemingly endless time to wrap up ongoing projects, or start entirely new albums from scratch, giving way to a new delineation of the "pandemic-era" record.
From Beyoncé's unexpected venture into house music to an uncompromising confessional from the notoriously reclusive Kendrick Lamar, the year marked a breakthrough for artists across genres and countries. Even the upper echelons of musical greats strove to reinvent themselves and their sound. Since there's so much new music that debuted over the past 12 months, you may have missed a release or simply need a reminder to revisit that album you were bumping in April. It was hard to narrow such an active period in music but as the year comes to a close, Hypebeast rounded up the best music projects of 2022, plus a few honorable mentions.
Bad Bunny – Un Verano Sin Ti
No one had a 2022 as great as Bad Bunny's. The Puerto Rican star broke the boundaries of what it truly meant to be an artist; he entered the final five of this year's WWE Royal Rumble, dropped his final collaborative shoe with adidas, received his own day in Los Angeles, got cast as the first Latin superhero lead in a Marvel film and set new records with his fifth studio album, Un Verano Sin Ti. It's difficult to narrow down the success of Bad Bunny, but his musical output alone is evidence of his brilliance — he'll get his listeners to dance to the vibrant culture of Puerto Rico that's heavily ingrained in his album, but will make you stop and listen to his message. He never loses sight of his intentions in his music, allowing him to create records that will span generations.
Listen: Spotify | Apple Music
Beyoncé – RENAISSANCE
In RENAISSANCE, Beyoncé created something that transcends music: a space to be nothing but free. After a period of isolation and quarantine brought upon by the pandemic, the artist made sure that joy and jubilation are integral parts of the album's DNA, doing so by taking heavy inspiration from sounds of disco and house and its Black pioneering artist. Bey gathered the troops — Beam, Grace Jones, Tems, Mike Dean, 070 Shake, The-Dream, Raphael Saadiq, Pharrell Williams and Chad Hugo, Sabrina Claudio, Syd, Lucky Daye, Honey Dijon, Drake, JAY-Z and so much more — and made her return to offer a reprieve from one of the most difficult eras in society, and promised to deliver more in her ongoing trilogy.
Listen: Spotify | Apple Music
Charli XCX – CRASH
Charli XCX isn't slowing down anytime soon. If anything, the British pop star has amped things up on her fifth studio album — and the last to be released under her Atlantic Records contract — CRASH. Critics of Charli's music have referred to it as dance-pop, hyperpop, electro-pop, but on CRASH, Charli does it all, seamlessly dipping into the 80s and 90s to excavate inspiration and apply it to frantic, post-breakup bangers. In between mourning her long-term relationship and celebrating her newfound singleness, you'll find Charli injecting the record with synth, trading bars with Rina Sawayama and casually sampling a riff from pop icon Robyn.
Listen: Spotify | Apple Music
Earl Sweatshirt – SICK!
Even with a four-year wait in between albums, Earl Sweatshirt never lost his penchant for his honest, raw and gritty lyricism. On his latest record SICK!, which follows 2018's Some Rap Songs, the rapper took the world's general attitude towards the pandemic and dissected the feelings of isolation, loss and loneliness into 10 tracks produced by the likes of the Alchemist, Black Noi$e and Sweatshirt himself, leaving behind a record that journeys through the deeper parts of one of the most tumultuous times in human history.
Listen: Spotify | Apple Music
Kendrick Lamar – Mr. Morale & the Big Steppers
Kendrick Lamar's long-awaited fifth album is a deliberation on the experience of being a Black man in America. Daring and witty, the record wrestles with themes of trauma, legacy, familial obligation and even the mounting pressure Lamar has grappled with over the years as fans and the greater music industry anticipate the follow-up to his last album, 2017's HUMBLE. Between these interwoven themes, a recurring motif emerges — contrary to his notoriously private lifestyle, the rapper approaches Mr. Morale with the brutal, explicit honesty that also powered projects like good kid, m.A.A.d city and To Pimp a Butterfly.
Listen: Spotify | Apple Music
Megan Thee Stallion – Traumazine
Rehashing trauma to turn pain into art is no easy task, but Megan Thee Stallion seems to do it effortlessly for her sophomore studio effort, Traumazine. Make no mistake though — the 18-track project, which features verses from Key Glock, Latto, Pooh Shiesty, Rico Nasty, Jhené Aiko, Lucky Daye, Future, Sauce Walka, Big Pokey, Lil' Keke and Dua Lipa, doesn't hear her grumbling through the distressing situation she's been forced into. Instead, the Houston Hottie utilizes her trauma into ammo to rise above the occasion, dropping tracks that allow her distinct voice, flow and rhymes to shine right through. The rapper also chooses not to shy away from the mental health problems she's had to deal with in the past two years, sending out a clear message (and launching a mental health resource platform) that "bad b*tches have bad days too."
Listen: Spotify | Apple Music
Metro Boomin – Heroes & Villains
In his decade-plus as a star, Metro Boomin's name is typically seen in conjunction with various Atlanta rappers from Young Thug to Future. Heroes & Villains, his second solo album is a rare sort of endeavor for the production prodigy who favors collaboration above all else, with only one other solo LP to his name to prove it. Tapping the voices of his former collaborators — the LP features five features from Travis Scott alone — Young Metro's beat making skills shine the most when he deviates from the formulaic and confronts listeners with an unexpected choice, such as the sombering mid-song twist on "Walk Em Down" or his take on Mario Winan's classic "I Don't Wanna Know," the 21 Savage and The Weeknd-assisted "Creepin.'"
Listen: Spotify | Apple Music
Pusha T – It's Almost Dry
King Push waiting for the ink to dry for his DAYTONA followup proved to be fruitful, not just for the rapper but also for the fans who have been clamoring for a new record for four years. The industry-proclaimed "King of Coke Rappers" dropped an instant classic with It's Almost Dry, delivering a back-to-back run of stellar albums with high replay value, hard-hitting bars over steely beats and an array of guest features. Although he's already cemented himself as one of rap's most respected, he continues to put in the work — and he only keeps getting better.
Listen: Spotify | Apple Music
Rosalía – MOTOMAMI
In her earlier work, Rosalía brought a modern pop sound to '80s-inspired flamenco, but on MOTOMAMI, the Spanish singer doesn't merely converge multiple genres but rather transcends the concept of genre entirely. She was inspired to make four projects at the same time — a flamenco LP, a collection of piano ballads, a dark pop record and an alternative reggaeton one — all wrapped up into one album. Acting as the foundation for the irresistible dance-ready hits and collaborations with The Weeknd and Tokischa are intimate confessions detailing the singer's complex relationship to fame and the period of transformation she's found herself in after putting out her first two albums.
Listen: Spotify | Apple Music
SZA – SOS
If SOS really is SZA's last album, the five-year wait was worth it. The artist redefined her sonic offerings across the extensive 23-track project, delivering her well-established R&B sound alongside alternative, trap and indie tracks while maintaining the reliability and vulnerability her songwriting stands out for. There is a great deal of power in her honest and genuine lyricism, and by enlisting the help of the likes of Don Toliver, Phoebe Bridgers, Travis Scott, the late Ol' Dirty Bastard, Chad Hugo and Pharrell Williams of the Neptunes, Jay Versace and DJ Dahi, SZA maintained her momentum and used it to elevate herself to an even more well-rounded artist.
Listen: Spotify | Apple Music
Vince Staples – RAMONA PARK BROKE MY HEART
Vince Staples stripped the street life valor from rap on RAMONA PARK BROKE MY HEART. Named after the Long Beach, California neighborhood where he grew up, the LP offers a realistic portrait into his youth and the complex influence that the community had on his upbringing. The lyricism is grim at times by virtue of the album's topics but the rapper strikes a perfect balance in cutting the darkness with quick, precise rhymes delivered his confident SoCal sound.
Listen: Spotify | Apple Music
Honorable Mentions
Denzel Curry – MELT MY EYEZ SEE YOUR FUTURE
Denzel Curry began ideating MELT MY EYEZ SEE YOUR FUTURE long before he had even wrapped up the creation of its predecessor, 2019's Zuu. The forethought shows in the bold, artistically-driven end product. Promotion for the LP incorporated influences from Western and samurai films and singles, such as "Walkin," are bravely political and deliver a punch straight to the listener's gut. It also happens to be the first of three albums that Curry said he'll release before retiring from music entirely.
Listen: Spotify | Apple Music
Freddie Gibbs - $oul $old $eparately
Freddie Gibbs is a funny man on the internet, but when it comes to his music, he doesn't play. In recent years, he's shared the space with Madlib and the Alchemist for their collaborative albums Bandana and Alfredo, but on $oul $old $eprately — his first solo studio album since 2018's Freddie — the attention is all on him. He pays tribute to the gambles and risks he took in order to make it in the rap game, and after all the sacrifices, he's finally ready for his flowers. It may have taken a while, but Gibbs is here now, ready to finally reap the rewards.
Listen: Spotify | Apple Music
JID – The Forever Story
2018's critically-acclaimed DiCaprio 2, which was largely produced and arranged by the late Mac Miller, posited JID as a rising star. The artist, however, had his own plans. The Spillage Village member resigned himself to work mostly on music for the rap collective rather than solo projects. The Forever Story would arrive three years after JID first teased it to fans in 2019, and proved to be more than worth the wait. Featuring bars from Lil Durk, 21 Savage, Lil Wayne, Kenny Mason and more, the album is a case study in vulnerability and unflinching, soul-searching self-reflection.
Listen: Spotify | Apple Music