Gunna Reportedly Axed Drake Feature From 'DS4Ever,' Sparking Confusion Amongst Fans
Drake was expected to be featured on the track "Pussy Power."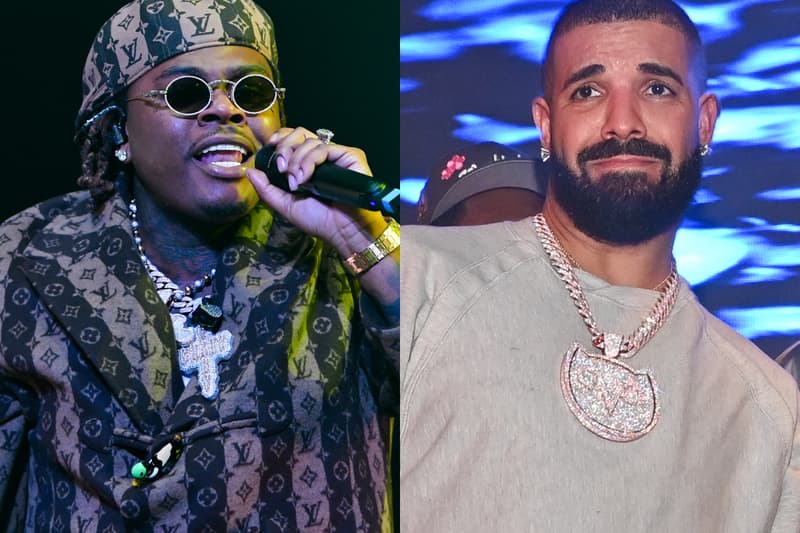 Earlier this week, Gunna dropped his highly-anticipated third studio album DS4EVER. While the mixtape featured a lengthy 19 song tracklist featuring the likes of Lil Baby, Roddy Ricch, Kodak Black and 21 Savage, fans were quick to point out that Toronto rapper, Drake was nowhere to be seen on the album.
In an album tracklist shared prior to the album drop, Drizzy was set to be featured on the artist's track titled "Pussy Power." However, it appears to have since been moved. This is not the first time Drake has been removed from a tracklist. Last November, Drake's feature was confirmed to be on French Montana's track "Splash Brothers," which was later cut from the new album They Got Amnesia. It is speculated that the decision was made due to the recent Astroworld incident that involved Travis Scott and Drake.
Fans have been undoubtedly taken aback by the fact that Drizzy has been cut from Gunna's album. Many have taken to Twitter to voice their concerns and some even demand that it be released. Take a look at some of the responses below.
GUNNA WHERE IS P*SSY POWER FT.DRAKE ????????? #DS4EVER pic.twitter.com/ZX6jl32Flw

— UTOPIA ?? (@Laflame_World) January 7, 2022
Hold up gunna where dat drake feature go pic.twitter.com/muUr2PJ4Po

— We Move (@drinkwaternigga) January 7, 2022
Gunna where is the Drake feature? pic.twitter.com/WYzjAarZ6V

— Kevin White (@Kevrock11kw) January 7, 2022
Gunna where tf is the Drake feature though? pic.twitter.com/9eJOJmi1sL

— Simeon ひ (@Simeont__) January 7, 2022
Ain't no way Gunna took Drake off the album pic.twitter.com/0TXz8rwf8u

— DP (@Dpress123) January 7, 2022
GUNNA WHERE IS PUSSY POWER FT DRAKE ??!! #DS4EVER pic.twitter.com/bfmZPcxVIc

— Matthew ? (@OVOmattt) January 7, 2022
Why Gunna take the Drake feat off smh

— red? (@lottareds) January 7, 2022
Where tf the Drake and Gunna song go @1GunnaGunna pic.twitter.com/zRs74cZO4u

— Walt ? (@neverhumble_) January 7, 2022
the way gunna snappin, drake must've told bro to keep pussy power off cuz he got washed

— Junior ? (@JrMoneyGettin) January 7, 2022
nah gunna a whore for not dropping that drake feature, got me heated pic.twitter.com/ocSrGgiaSA

— partygetsmewetter (@tyychino) January 7, 2022
In other music news, Denzel Curry recently announced his new album Melt My Eyez See Your Future.