Nicki Minaj Spars with Boris Johnson, Piers Morgan Over COVID-19 Vaccine
A tweet from Minaj was mentioned during a U.K. COVID-19 briefing, sparking a Twitter feud.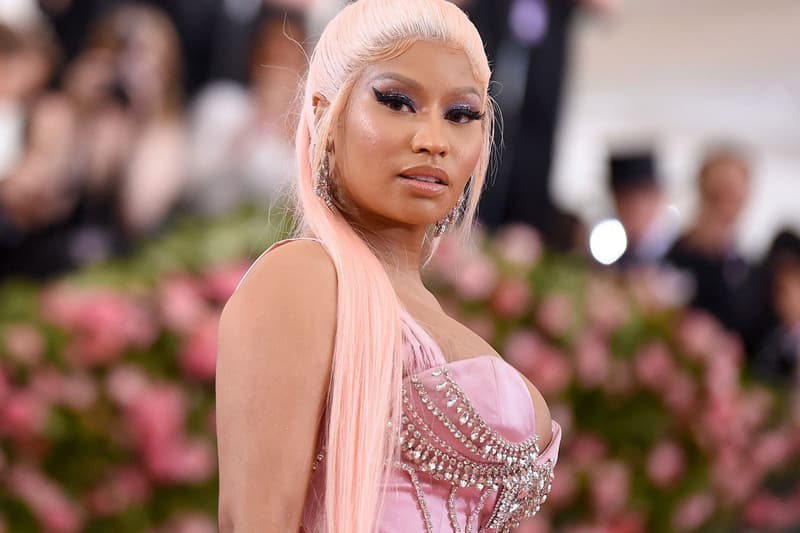 Nicki Minaj sparred with British Prime Minister Boris Johson, his chief medical officer, Chris Whitty and TV personality Piers Morgan on Tuesday over comments she made about the COVID-19 vaccine on Twitter.
The feud began on Monday after Minaj tweeted about an alleged incident that happened to her cousin's friend in Trinidad. According to the rapper, the man's "testicles became swollen" after getting the vaccine, apparently rendering him impotent.
My cousin in Trinidad won't get the vaccine cuz his friend got it & became impotent. His testicles became swollen. His friend was weeks away from getting married, now the girl called off the wedding. So just pray on it & make sure you're comfortable with ur decision, not bullied

— Nicki Minaj (@NICKIMINAJ) September 13, 2021
Minaj followed up the bizarre story with several tweets discussing the vaccine and said she would likely get vaccinated in order to be able to "go on tour."
I know babe. A lot of countries won't let ppl work w/o the vaccine. I'd def recommend they get the vaccine. They have to feed their families. I'm sure I'll b vaccinated as well cuz I have to go on tour, etc. https://t.co/7SK5Df0yBf

— Nicki Minaj (@NICKIMINAJ) September 13, 2021
She also posted a poll asking her followers which vaccine to get and discussed the Met Gala's vaccination requirements, saying she wouldn't get vaccinated specifically to attend the event. Several media outlets ran stories about Minaj and her vaccination tweets, angering the artist who claimed that she had been misinterpreted.
The situation escalated on Tuesday when the issue was brought up during a U.K. COVID-19 press briefing involving British Prime Minister Boris Johnson, his chief medical officer, Chris Whitty and the U.K.'s chief scientific advisor Patrick Vallance. Steven Swinford, an editor at The Times, asked Whitty about whether he was concerned by public figures commenting on whether to get vaccinated.
"There are a number of myths that fly around, some of which are clearly ridiculous and some of which are clearly designed just to scare. That happens to be one of them," Whitty said of Minaj's initial tweet linking the COVID-19 vaccine to impotence, of which there have been no reports.
Whitty continued: "There are a group of people who have strange beliefs, fine, … but there are also people who go around trying to convince others from taking a vaccine, which could be lifesaving or prevent them from having life-changing injuries to themselves. And many of those people, I regret to say, know that they are peddling untruths and they still do it. In my view, they should be ashamed."
Johnson followed up with his own views on Minaj's tweets: "I'm not as familiar with the works of Nicki Minaj as I probably should be. But I am familiar with Nikki Kanani, a superstar GP of Bexley who has appeared many times before you, who will tell you vaccines are wonderful and everybody should get them."
The comment from the U.K. prime minister and his health deputies solicited further responses from Minaj on Twitter.
I love him even tho I guess this was a diss? The accent ugh! Yassss boo!!!
???????? https://t.co/kXdKteVc7j

— Nicki Minaj (@NICKIMINAJ) September 14, 2021
Minaj even posted audio of herself speaking with a British accent, directed at the prime minister.
British television personality Piers Morgan soon weighed in on the discussion, calling Minaj "ghastly" and "one of the rudest little madams I've ever met."
"She's peddling lies that will cost lives," Morgan wrote, provoking a response from Minaj and a series of follow-up tweets.
Sir I've never met you. I know… we all look alike. "Rudest little madam". I like it. Has a special ring to it. Thanks Pierce. Love the accent. I'd love to come chat. Scones. Tea. Clown nose & big red shoes for you. Lmk babe ?? https://t.co/9Evnhnuj9l

— Nicki Minaj (@NICKIMINAJ) September 14, 2021
The Twitter spat appeared to have died down by Tuesday evening.
In other news, here are the most talked about Met Gala outfits.