Flaming Crap Debuts Most Expensive Candle That Smells Like Rich People Problems
Notes of "musky leather and Great British sterling kept in an off-shore account."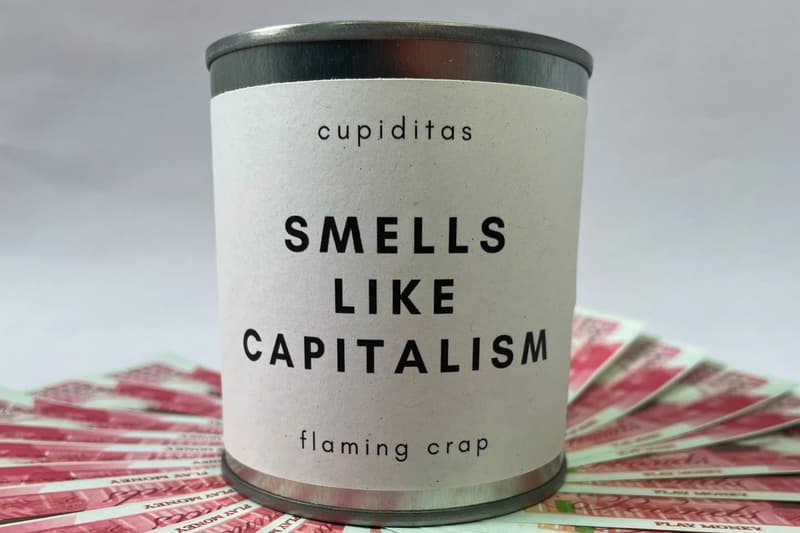 Anti-establishment and pop culture merchandise brand Flaming Crap sculpts the most expensive candle that smells just like money.
The new Smells Like Capitalism candle scented like Cupiditas (greed) gives off a whiff of "musky leather aroma with hints of Great British Sterling kept in an off-shore account." Inspiration takes after the luxury home fragrance market and the success of candles such as Goop's Smells Like My Vagina. Ethically made up of vegan soy wax and recycled materials, the banknote-and-wallet scented candle creates a nose of wealth.
"Some luxury brands sell candles at a price tag of up to £1,000, with little explanation of how this astronomical figure is justified. All our products are handcrafted and unable to be mass-produced, meaning we include that one quality ingredient – passion," commented Flaming Crap Co-Founder Oliver Burr. "At Flaming Crap, we want to give back to our community and let the public realize quality comes from this passion, not always price tag and celebrity. Hopefully, with our latest release, we can raise money for some seriously worthy causes – and make a statement at the same time."
The Smells Like Capitalism candle retails for £2,021 GBP (approximately $2,800 USD) which is available on Flaming Craps' web store. All profits from any candle sales will be donated to furthering efforts to aid communities in the U.K. impacted by the COVID-19 pandemic, in conjunction with charities such as Shelter.
Elsewhere in design, this Louis Vuitton watercolor skateboard setup will set you back $2,660 USD.