Art Historian Creates NFT of Leonardo da Vinci's 'Salvator Mundi'
Portraying Jesus gripping a stack of $100 USD bills.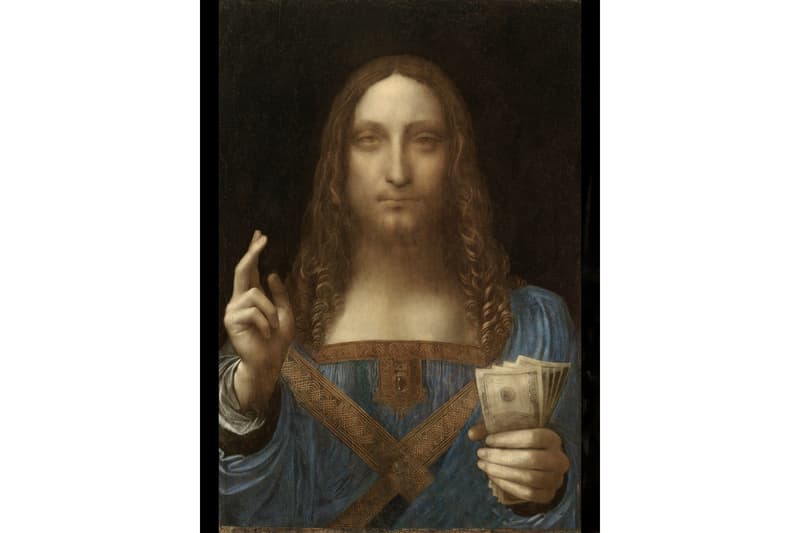 An art historian and author by the name of Ben Lewis recently made a legit, non-fungible token of Leonardo da Vinci's Salvator Mundi. Lewis is aiming to sell the NFT for $450 million USD just like the original. He will share the proceeds with the Hendry family estate whom originally owned the work prior to the record-breaking 2017 Christie's sale.
With this NFT, Lewis wants to shed light on the ways in which dealers and auction houses take advantage of the art market to make profits. He also wants to bring attention to the Hendry family, especially, who only received $700 USD — after fees — following their sale of Salvator Mundi in 2005 for $1,175 USD to an anonymous buyer. "Old Master dealers Robert Simon and Alexander Parrish purchased the piece at an estate sale that same year for $10,000," as per a report by Artnet News. "In 2013, they sold it for more than $75 million to Swiss dealer Yves Bouvier, who then immediately flipped it to Russian collector Dmitry Rybolovlev for $127.5 million."
Rybolovlev then received roughly $400 million USD when he consigned the painting to Christie's four years later. That's approximately 571,000 times more than what the Hendry's received.
"It's just not fair," Lewis tells Artnet News. "The dealers—Robert Simon, Alex Parish, Dmitry Rybolovlev—they all made tens of millions. It would be great if they sent a bit of money down to this family. And I thought, to bring out that point, I'd turn this into an NFT."
Lewis' crypto version of Salvator Mundi, humorously titled Salvator Metaversi, looks similar to the original work except his features Jesus gripping a stack of $100 USD bills instead of a glass orb. The work is currently up for auction on OpenSea's platform until April 6. Half of the profits of the sale of the NFT will go to the Hendry family.
In related news, check out our top NFT stories of the week here.