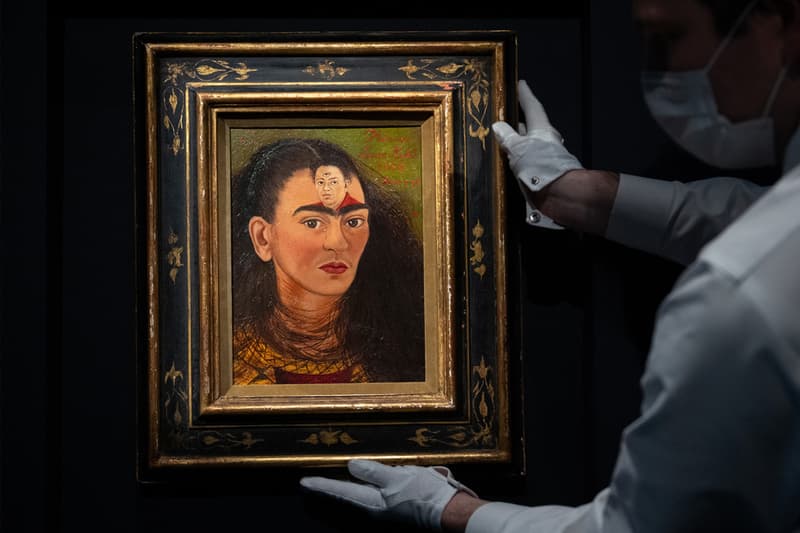 Frida Kahlo Shatters Auction Record Held by Latin Artist
Her self-portrait sold for a staggering $34.9m USD at Sotheby's November Sale.
---
Sotheby's is currently hosting a number of exorbitant art sales, with the prestigious Macklowe Collection being the centerpiece of the week-long event. Unsurprisingly, Frida Kahlo's iconic self-portrait, Diego y yo (Diego and I) more than lived up to its pre-auction hype by selling for a record-shattering $34.9m USD.
Made in 1949, the painting depicts the artist in a melancholic state — ruminating on her partner and fellow artist, Diego Rivera, and his series of unfaithful acts. Previously, Rivera held the record for an artwork sold by a Latin American artist when one of his paintings sold for $9.8m USD. "You could call tonight's result the ultimate revenge," said Ana di Stasi, a Sotheby's New York private sales representative, adding that it really marks the "ultimate validation of Kahlo's extraordinary talent and global appeal."
Diego y yo (Diego and I) sold to Argentine financier Eduardo F. Costantini, who on top of being a top collector in the world, founded Buenos Aires' Fundación Malba (MALBA Museum). Check the list below to see the remaining events for Sotheby's New York November Sale Week.
Elsewhere, a Burberry-backed exhibition is bringing together new voices from arts and culture.
Sotheby's New York November Sale Week:
The Now Evening Auction: November 18, 2021 at 6pm EST
The Constitution of the United States: November 18, 2021 at 6:30 pm EST
Contemporary Evening Auction: November 18, 2021 at 7pm EST
Contemporary Day Auction: November 19, 2021 at 10am EST