EGONlab Is the Emerging Label Bringing a Punk Spirit to Tailoring
HYPEBEAST spoke with the French creative duo about their iconoclastic, award-winning brand.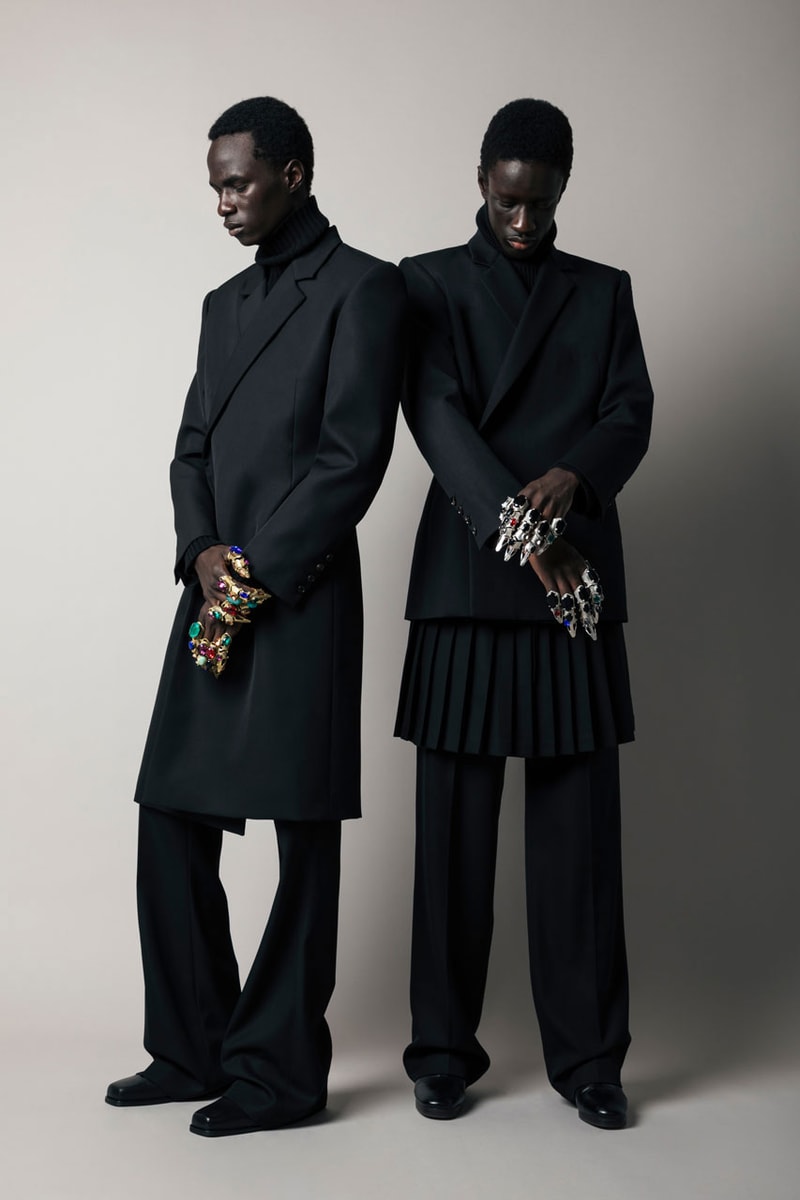 EGONlab Is the Emerging Label Bringing a Punk Spirit to Tailoring
HYPEBEAST spoke with the French creative duo about their iconoclastic, award-winning brand.
For creative duo Florentin Glémarec and Kevin Nompeix, creating clothing without a message is a futile exercise. As such, the designers and their young unisex brand EGONlab, which was founded just two years ago, hope to bridge generations through romance and rebellion.
EGONlab extends beyond its founding duo, to include a wider network of visual artists, graphic artists, and music producers. It's a chosen family, of sorts. It's curious, then, that the brand draws its name from the early-20th Century Viennese Expressionist painter Egon Schiele, who spent most of his life as an outsider figure. Yet the brand's founders' claim that its name alludes to the merging of masculine and feminine elements in Schiele's work. They consider themselves to share the 'outsider' nature of Schiele, too.
"We are an iconoclastic brand," says Nompeix, who cites the punk movement as a recurrent source of inspiration. "We aim to open discussion about the future of society — I think it's very important to be connected with the present to build the future."
Nompeix hails from Bordeaux, and met Glémarec in Paris while working for a modeling agency in 2018. The two soon became partners in both business and life, combining their interests to create the brand. Inspired by a canon of artistic movements, Glémarec and Nompeix are working to create not just a brand, but a fully-realized universe that champions the freedom of choice. "We want to talk about total inclusivity, about age, gender, about body shapes," says Nompeix. "I think it's very important to talk about every single human being in our society."
To that end, the duo has turned its attention towards tailoring. By taking the suit — historically a symbol of conformity and tradition — and reimagining it, they hope to challenge conventional dress codes. It means, too, that their collections offer a counterpoint to the menswear market's oversaturation of casualwear. "I think it's important to find a balance between tailoring, streetwear, sportswear, and we love to merge all our work to have a real silhouette because we love mixing everything," said Nompeix. "We're not addicted to one way when we create a silhouette."
With no formal design background, the duo expanded their design skills via learning from ateliers and factories in Paris. Yet their lack of training has also given them freedom in breaking norms: the brand's Fall/Winter 2021 collection, titled "Horror Story", showcased powerful silhouettes and clean lines by pairing elongated blazers with pleated skirts over pants, in shades of fuchsia and scarlet.
The same attention to detail and elevated tailoring extends to the brand's most recent collection for Spring/Summer 2022. Inspired by the myth of Lady Godiva, the collection incorporated quilted armor-style tailoring, jacquard-woven trench coats with mixed fabric collars, pencil skirts layered over pants, an array of elaborate jewelry embellishments and a semi-couture dress with a modular corset.
Earlier this year, the brand was awarded the Pierre Bergé Prize at the 2021 ANDAM Fashion Awards, a prestigious European design accolade that has previously accelerated the careers of experimental brands including Y/Project, Marine Serre and Anthony Vaccarello. It has empowered the designers to further amplify their brand's values.
"Being designers in 2022 is not just about creating clothes — I think it's about sharing and spreading a strong message," says Nompeix. "You don't have to be scared about judgment because we have the chance to have exposure and a voice. I think a brand has to create a real universe. We have punk DNA, and we are iconoclastic. If you say yes, we want to say no."