Stay Home Snaps: Miles Chamley-Watson
The acclaimed fencer has taken up archery and knife-throwing to develop hand-eye coordination.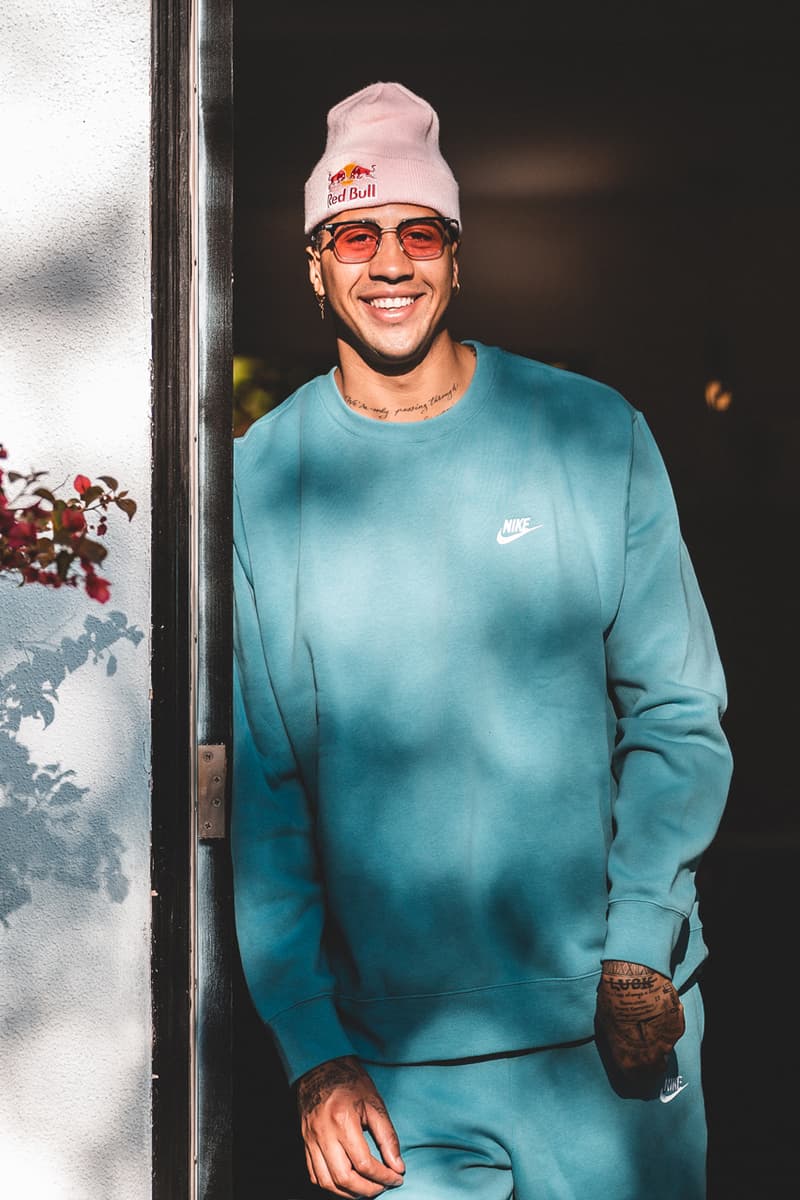 Stay Home Snaps: Miles Chamley-Watson
The acclaimed fencer has taken up archery and knife-throwing to develop hand-eye coordination.
Miles Chamley-Watson, a British-born professional fencer, is often credited with bringing the ancient combat sport into mainstream culture, thanks in part to his graceful style both on and off the strip. In 2013, Miles became the first U.S.-repping fencer to win an individual gold at the World Championships (for the Foil discipline), and has since gone on to earn a number of additional awards, accolades and medals, including the 2016 Olympic Bronze medal as a team.
The Philadelphia-native and Nike ambassador has also caught the eye of the fashion world, and has been seen chopping it up with the biggest names in the industry at fashion week events around the globe.
Now 30 years of age and still very much in his prime, 2020 was meant to be Chamley-Watson's year to reclaim his place at the top of the sport. Unfortunately for him and the many athletes around the world, he'll have to wait until 2021 to get his shot at Olympic Gold. But the global quarantine hasn't broke his focus, determination or training schedule.
We caught up with Miles at his friend's home in Beverly Hills to talk about how he's handling his time during the pandemic, from maintaining a good headspace to training without a sparring partner and finding news ways to develop his hand-eye coordination.
What's your daily routine?
Wake up between 8 and 9 a.m., check my phone, and try to do a workout first: cardio or something my trainers send me. Then I write in my book; I'm working on a children's book and an autobiography. I'll do that a couple hours a day, then call some friends, and then I have a Red Bull to refuel for another workout around 4 p.m. Then I have a glass of wine or something to relax. I've been painting too, that's a cool new hobby I've been working on that I'm in love with.
Where in your home do you like to work?
I have two chairs set up by the window in the living room where I like to work or outside in the little garden area. I'll just sit on the floor.
What do you wear while working from home?
For the most part it's athletic gear; once in a while I might throw on a little flannel. It's a lot of comfortable shorts, and a lot of no shirt. And a lot of comfy gym attire.
How have you been eating and sleeping?
In the beginning it was hard to get used to, but I talked to my nutritionist and trainer and we came up with a plan. I eat pretty healthy as much as I can. Try to stick to my normal routine. If I work out during the day, I sleep well at night. I'm getting the best sleep I've ever had honestly.
It's probably the longest I've gone without being jet lagged. I'm just trying to enjoy it, and keep my body in the best shape possible.
How are you still training? And how do you train without a sparring partner?
For fencing training, I talk to my coach and I do some drills against the wall, but I'm going to try and make a target here to start hitting. I've been trying to be as resourceful as I can, like throwing knives or archery to work on hand-eye coordination. We also have a gym set up outside with ropes, a TRX, [space for] plyometrics and we have a pool, so it's a good set up.
How much of a career setback is it that the 2020 Olympics are being moved to 2021?
I don't think of it as a setback, it's a readjustment. I know that we all had it in the back of our minds that this was going to happen. The top athletes will adapt, it's just another adjustment to make. I don't really mind too much.
How much will this pandemic impact the sport of fencing?
I think it will impact our sport a little bit, just time away from the fans. As far as when we return, we are very clothed and there's less contact than other sports, so I don't think it will change much.
How do you stay in a good headspace while in isolation?
For me, it's about finding a common ground and accepting that it's something we can't control. You learn more about yourself. Understanding that you have to adjust and everyone is doing it as well, it's a shared experience. Once I accepted it, things became a lot easier. It's a moment where we find out a lot about ourselves. I'm learning to do a lot more on my own, and being more in touch with who I am as a human, and not just a fencer or Miles the athlete.
What are you doing for fun?
Hanging out a lot on FaceTime and Zoom and trying to have fun playing games, drinking wine, smiling, calling people. And of course, catching up on TV — I watched Suits, Vikings and Ozark.