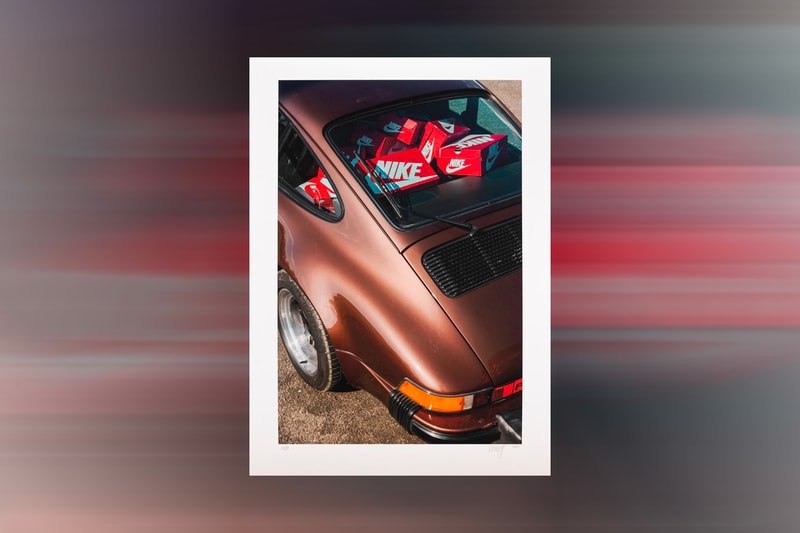 Art for Your Home: Julien Boudet Print, Brain Dead Coffee Table and More
Including a DIY leather coin bank by Hender Scheme.
---
Every week we curate notable art releases by diverse artists, studios, and art platforms across the globe. Listed items typically encompass limited edition artworks, books, collectible figures and more. We hope these pieces will add visual interest to your space and elevate your aesthetic sensibilities.
For this week's installment: Stems Gallery releases limited edition 1985 prints by Julien Boudet, Brain Dead and Modernica connect on a handmade coffee table, Hender Scheme rolls out a DIY leather coin bank, Medicom Toy unveils a BE@BRICK series inspired the woodblock prints of Japanese ukiyo-e master Utagawa Kuniyoshi, and Adam Lister pays homage to Michael Jordan with three pixelated prints.
View the full list below.
Julien Boudet 1985 Print
Release Date: Contact marion@stemgallery.com for purchase inquiries
Release Price: €300 EUR (approx. $328 USD)
Stems Gallery launched a new art initiative called Stems Prints that will be rolling out exclusive editions by artists worldwide. Made in partnership with Artsy, the platform's inaugural collaborator is celebrated street style photographer, Julien Boudet. Titled 1985, the photographic work shows the backseat of a vintage Porsche filled with stacks of orange Nike boxes. The print measures 70 by 50 centimeters.
Brain Dead x Modernica Handmade Coffee Table
Release Date: Available today at 10 a.m. PDT/1 p.m. EDT on Brain Dead's website
Release Price: N/A
Brain Dead and Modernica recently unveiled a new furniture collaboration surrounding a limited edition coffee table. The table's sculptural base takes the form of Brain Dead's logo. The collaborative decor piece comes in light beige wood, complemented by dark sable brown accents. 
Hender Scheme DIY Leather Coin Bank
Release Date: Available on Hender Scheme's website
Release Price: ¥5,000 JPY (approx. $47 USD)
Hender Scheme just released a new DIY kit featuring a leather coin bank. The set comes with a needle, thread and delicate cow leather panels that come with pre-punched holes. Those interested in purchasing the home project can watch Hender Scheme's instructional Instagram video on how to build the kit.
Utagawa Kuniyoshi x Medicom Toy BE@RBRICK
Release Date: Available now on 7net's web store 
Release Price: ¥15,000 (approx. $140 USD)
Medicom Toy launched a new limited edition BE@RBRICK figure covered in designs inspired by the woodblock prints of Japanese ukiyo-e master, Utagawa Kuniyoshi. From Kabuki actors to mythical creatures, Kuniyoshi included a slew of surrealist subjects in his signature compositions. Offered in the company's 100% and 400% sizes, the collectible is covered in the artist's Miyaukaikou Gojusan-biki — a detailed work portraying dozens of cats in various poses. 
Adam Lister MJ Prints
Release Date: Available on Adam Lister's website
Release Price: $100 USD each
With the fervor surrounding ESPN's The Last Dance docu-series, Adam Lister also pays homage to Michael Jordan by releasing three limited-edition prints inspired by "The Goat." Lister's set includes three pixelated visuals that are each sized at eight inches by 10 inches. Each print is limited to 50 editions and is signed, dated, and numbered by the artist.