Is the Future of Sneaker Authentication Human or Technology?
New technology raises the question of whether an algorithm or a trained expert is better at detecting fake kicks.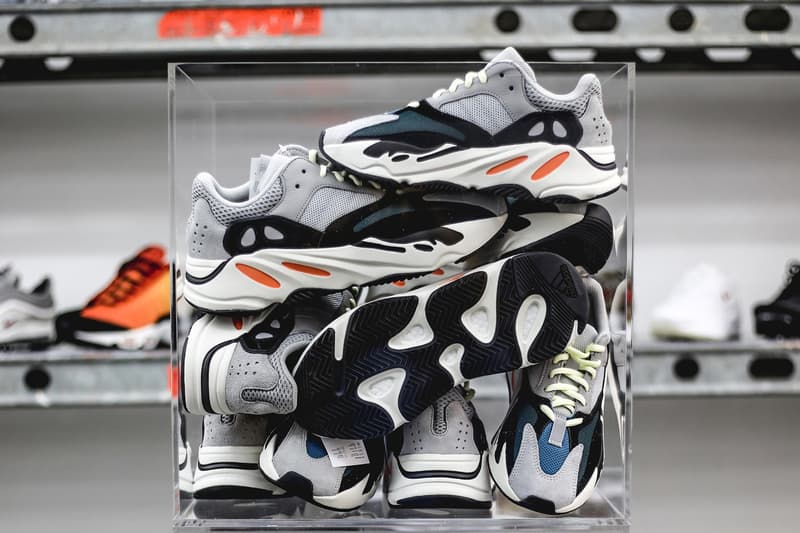 Which is more effective: human or machine? As with many processes today, sneaker authentication raises this complex question. And with the number of seized counterfeit sneakers increasing at a rapid rate, the question is particularly pertinent — back in 2018, law enforcement discovered a New York-based counterfeiting ring that smuggled 385,280 pairs of fake Air Jordans to the U.S. from China, and earlier this year, U.S. customs officials uncovered $472 million USD worth of counterfeit sneakers at once from a single supplier.
As the number and quality of fakes skyrockets, consumers, resellers and retailers need to be more confident than ever that the products they are selling and receiving are legitimate. Are humans who rely on the five senses more accurate at distinguishing a real sneaker from a fake, or is this process ideal for an algorithm to take over?
Two major players on either side of the spectrum are Entrupy and StockX. Entrupy launched in 2017 with a mission to create an algorithm that can consistently and quickly determine whether a luxury handbag is authentic or fake. The tech company aims to be an unbiased third party authentication resource that does not sell product or host transactions on its own platform.
To expand upon its mission, Entrupy company announced its new digital sneaker authentication system in February, which is able to determine the authenticity of a pair of kicks in around one minute. The algorithm includes self learning elements that allow it to make decisions based on a database of hundreds of shoes that have previously been entered into the system. Entrupy's Legit Check Tech is already accurate enough to recognize when a counterfeit shoe was made in the same factory as an authentic Nike shoe, but developers are still adding to its capabilities.
Entrupy's system includes an app and a physical box that photographs various points of interest of the shoe — like the sneaker's size tag, sole pattern and material. Right now it is only able to authenticate Nike and adidas sneakers, with more brands to come. Once the series of images from the box are sent back to the app, it takes around just 10 seconds for the system to analyze the data and determine whether or not the sneaker is "authentic" or "unidentified," which typically means the shoe is fake unless the algorithm hasn't encountered that shoe before.
To achieve this level of technological accuracy, Entrupy employs humans who decide which sneaker models to feed the algorithm in order to help it expand its reach and learn basic information, like when the pair was made, how it was made, where it was made and any cultural significance surrounding the model.
"In order to achieve an infinitely scalable database where these sets of algorithms know everything that humans know and constantly keep self learning, we need to work with experts," Entrupy CEO Vidyuth Srinivasan tells HYPEBEAST. For one sneaker model alone, Entrupy experts test a wide range of fakes — from the good, the bad, to the ugly — along with the real thing in order to give the system a thorough training.
"When a computer is on all day and all night long, it works at all times, provided you give it the right inputs."
Over time, Entrupy's algorithm teaches itself to recognize when a shoe might not be authentic. Srinivasan explains that for the first batch of shoes tested, humans collect data about each pair and share the information with the database. If 60 out of 100 are authentic and 40 are counterfeit, this data is noted. "As we keep adding hundreds and hundreds more, that 60 to 40 ratio changes — not because we're manually changing it but because the algorithms themselves are detecting anomalies over time," Srinivasan explains. "They're saying, 'Hey, we're not sure sneaker number 59 is authentic.'" Getting this type of data system started initially takes a lot of time and human effort, but it ensures a high level of accuracy down the line.
In addition to its employed experts, Entrupy has worked with various sneaker resellers and expert authenticators in order to understand any human authentication limitations. When researching these limitations, Entrupy's team discovered three main areas where they feel an algorithm performs better: breadth, speed and accuracy. "When I say breadth, I mean different types of sneakers, different styles, different release dates, and how the algorithms were able to point these details out," says Srinivasan.
Entrupy has proven that its system only takes mere seconds to distinguish fake sneakers from the real deal, regardless of whether it was made in 1989 or 2017. In terms of accuracy, "when a computer is on all day and all night long, it works at all times, provided you give it the right inputs. It can outperform any human or any collection of humans consistently."
For StockX, authentication is the foundation of the company's stock-market-of-things business model. In order for the company to stay up and running, every transaction made through the site needs to be trustworthy. In the first couple months of opening its doors StockX received up to a 15% fake rate, but today that rate is as low as 1% or 2%. "The fact that we do check deters mostly people from sending fake shoes through us," StockX co-founder Josh Luber tells HYPEBEAST. "With most of the fake shoes that we catch, the seller genuinely doesn't know that they have a fake shoe."
When it comes to the authentication process, StockX prefers to employ humans for the task. "I disagree with the premise that you could do it any other way," Luber continues. StockX operates six Authentication Centers in Detroit, New York City, Atlanta, Tempe, Arizona, London and Eindhoven, the Netherlands. Every item that is sold on StockX travels to one of these dedicated centers before reaching its final owner. Human authenticators are trained to compare each shoe to the information the seller provides to make sure each item is legitimate, the correct size and in the right condition.
"No amount of technology is going to be able to tell you if there's an acceptable manufacturer's defect, if a pair has been used, or if it is a re-release years later."
Each morning, a fresh batch of sneakers arrives at the Authentication Centers. StockX authenticators immediately get down and dirty with the shoes in a way the company believes technology will never be able to. "The first thing every authenticator does is picks up the pair of shoes and puts their nose right in the shoe to smell for fake glue," Luber explains. "A lot of the fake factories use really cheap glue with a very pungent, distinct smell. If it doesn't smell, it doesn't mean it's real, but that smell process is definitely part of it." Following a smell test, StockX authenticators check details like the shoe box, labels, tissue paper extra laces and special accessories.
Similar to Entrupy, StockX has acquired fakes to train its authenticators. "We've gone out and we've acquired fake pairs, we've acquired real pairs, we've ripped them apart," he says. "We've documented every variant, we've created training materials, we have created training classes, there's mentorship and hierarchy and all sorts of rules depending on how valuable a sneaker is. Rare pairs will either go to specially trained authenticators, or they'll get seen by multiple people."
Though humans are at the forefront of StockX's authentication process, authenticators are given technological aids to help increase speed and accuracy, including a guide on their desks that ensures there are two matching shoes and that the outlines are exactly the same. At the end of the day, however, Luber believes tech can't solve the entire fake sneaker problem. "The process of authenticating shoes is not possible to do 100% with technology," he says. "No amount of technology is going to be able to tell you if there's an acceptable manufacturer's defect, if a pair has been used, or if it is a re-release years later."
As for the future of sneaker authentication, Entrupy's Legit Check Tech is still under development. The company is currently in conversation with various businesses in the footwear industry who have expressed interest in using the system, though it remains mum on its potential partners. "I cannot tell you exactly who, but I can tell you that it involves the secondary market, the primary market, the retail market, as well as the consumer side of things," says Srinivasan. "We are going to make a choice soon, but the idea is that the more available this is as a tool, the more it's going to help everyone buy and sell more authentically."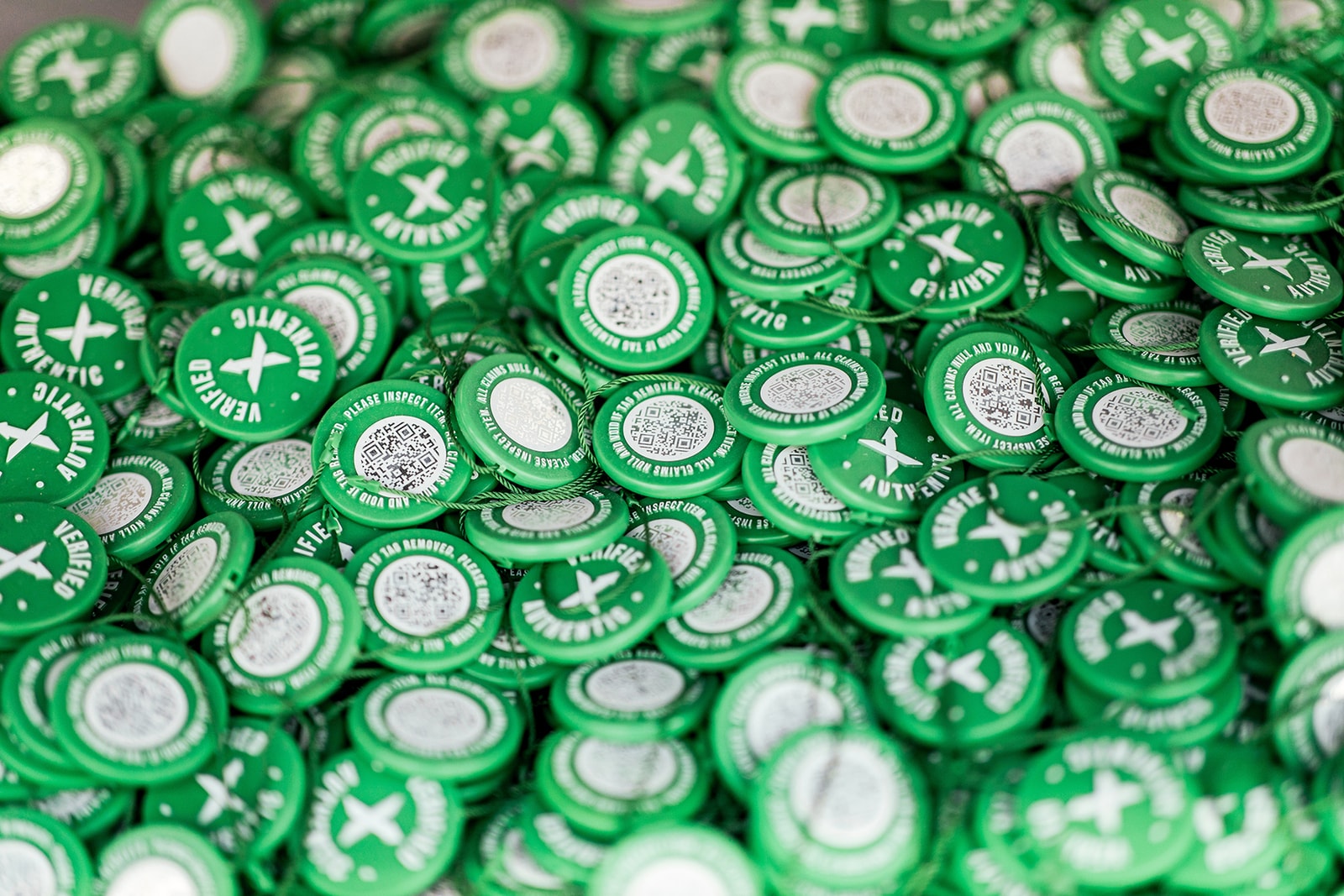 On StockX's end, Luber says the company is open to exploring tech solutions for the authentication and verification process and that employing outside tech wouldn't affect its current business model down the line. "We're always looking at what we can create ourselves versus things where we can work with others, but we just think there will always be a human being involved in the process," he says. "At some point I think brands like Nike and adidas might even put a chip in every single shoe so that any kid with an app will be able to authenticate it and tell if that shoe is real. When that happens, we are going to be ecstatic. We will still stand in the middle of that transaction because sizing, condition, etc. still have to be checked."
The role of technology in the sneaker authentication process, as with many other industries, is still up for debate. However, when it really comes down to it, Entrupy and StockX share the same core goal: to facilitate trustworthy transactions in the sneaker space. "Ultimately, it's about building more trust in the market across different types of goods where everybody up and down the chain from the manufacturer of the product all the way down to the consumer who's buying and reselling is protected," says Srinivasan.