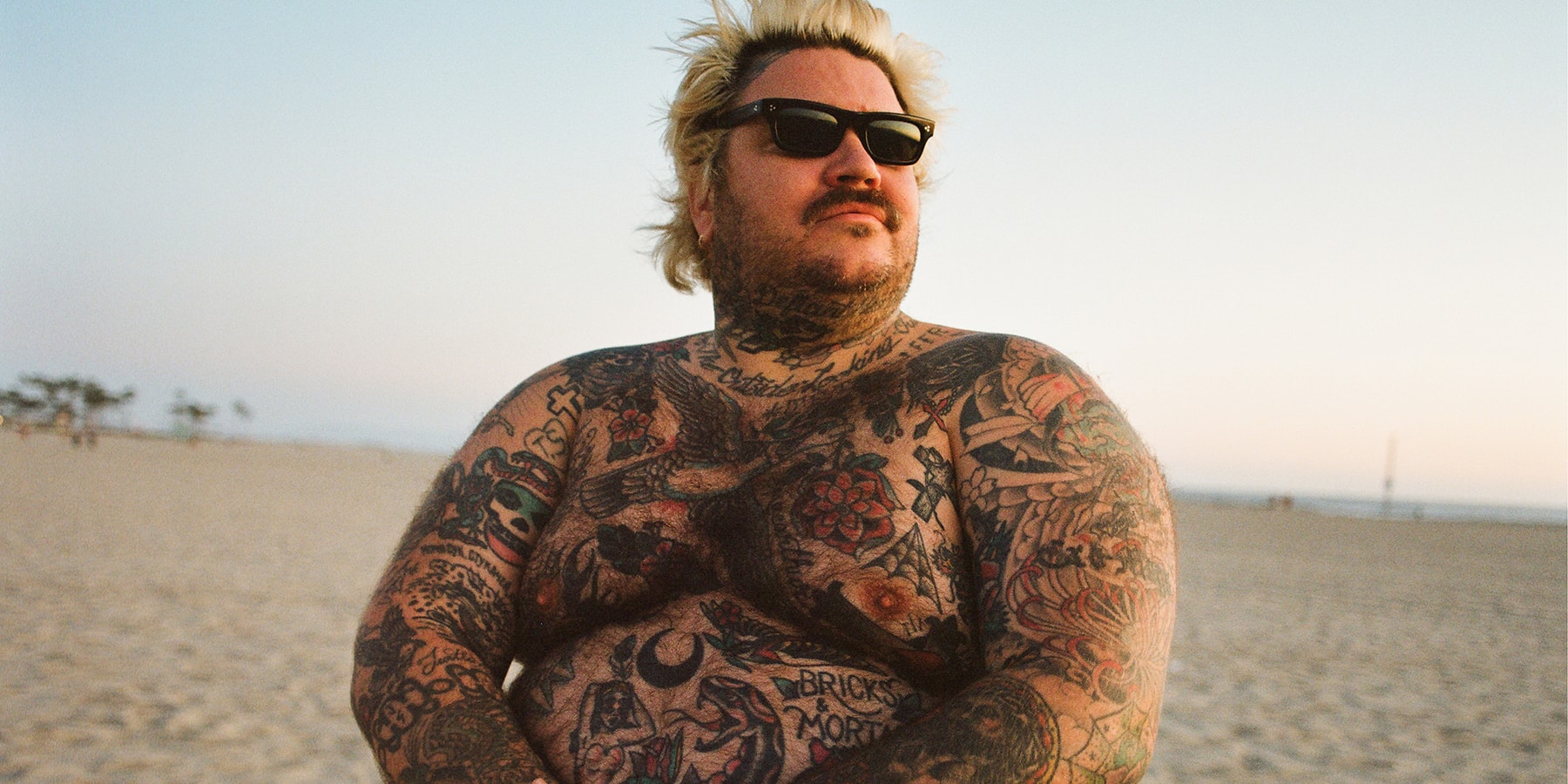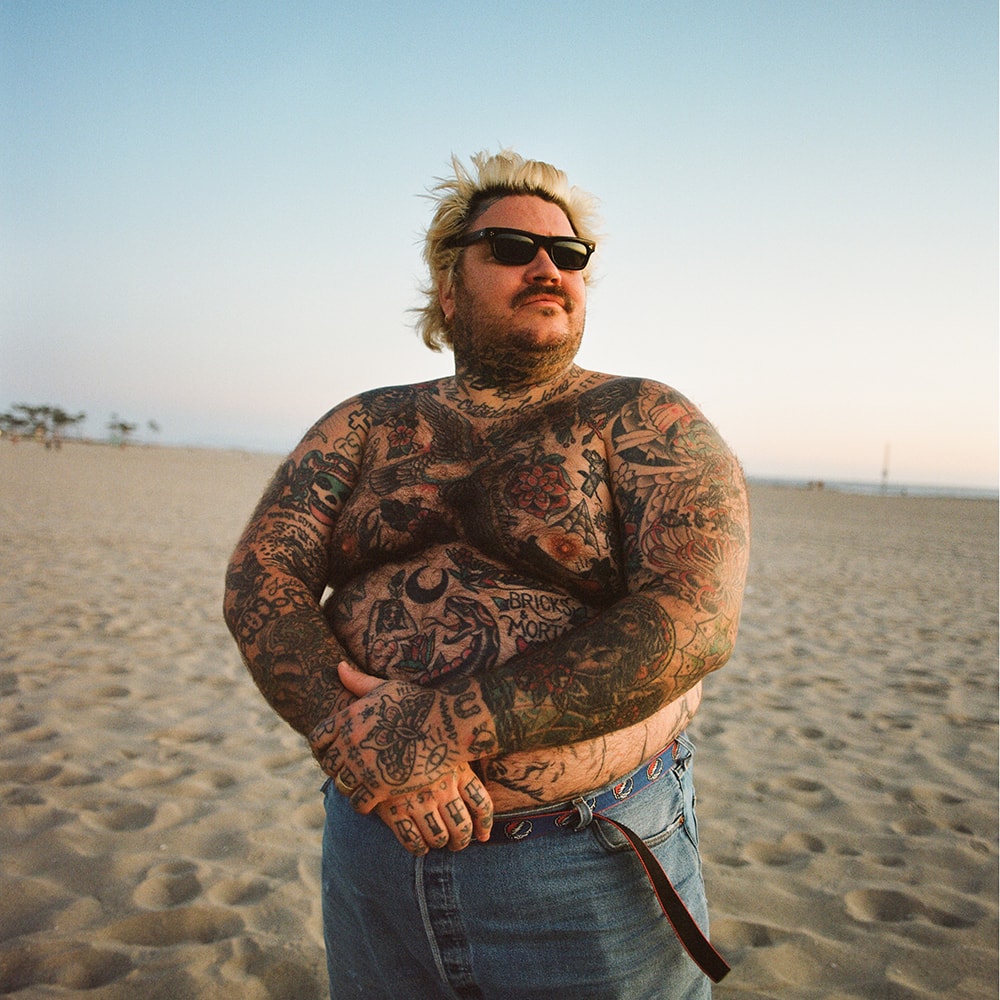 Matty Matheson's Food Is Imperfect, F*cked Up, and Real
The beloved funnyman of the food world on why he cooks, for HYPEBEAST Magazine Issue 29.
No one would dare accuse Matty Matheson of being a perfectionist. He doesn't have much time to be one. Matheson is coming fresh off the second season of his self-produced cooking show, Just A Dash, and preparing to reveal a slew of new projects this year, including a show called Eat Out America co-hosted by Benny Blanco, a podcast called Powerful Truth Angels with 2tone of BornxRaised, a tradeswear clothing line and a second cookbook. Not to mention two new restaurants in Toronto, Canada, where it all started for Matheson. Yet, there could be even more projects in the works—you never know with Matheson. And it would sometimes seem that neither does he.
The beloved funnyman of the culinary world seems to conceive of his numerous undertakings with a breezy spontaneity so fluid they almost seem magicked into being. However, it doesn't mean these projects lack hard work, love, consideration or unrelenting standards—very much the opposite becomes evident as he describes each one. He answers my questions in phases: every story has a backstory and every backstory, its own backstory.
Matty Matheson stands out in more than a few ways: the tattoos, the larger-than-life persona, the exclamation marks which seem to accompany his every sentence be they written or spoken, the unapologetic swathe of colorful language which covers most of his speech. Yet it is his sincerity that is fundamental to his core. Matheson is not coy, smooth, or well spoken, nor is he particularly press-trained, albeit certainly not press-shy. He is unabashedly true to himself, to the people around him, and to anyone who, in his own wording, "f*cks with him."
"All I want is people to f*cking cook. That's it. Everything doesn't need to be so precious; it's precious that people try."
Matty never tries to be perfect—and he will be the first to call bullsh*t on anyone who does. He doesn't shy from calling out the contrived perfection of cooking shows and cookbooks in his own productions, poking fun at the serene scenarios which omit the burns, dish swaps, and numerous assistants on standby, alongside the panic and stress that comes from life in the kitchen. The vision of a smiling chef standing in a pristine kitchen behind a spread of carefully prepped ingredients often seems to taunt us, as if to say that we, too, could be domestic perfectionists if only we tried harder. Perhaps the ultimate pull of Matheson is that you feel he cares about realness—almost protectively so—even though his ubiquitousness today implies he doesn't have to.
When we phoned him for this interview, Matty was driving to a taco joint in Sonoratown, LA. Parked inconveniently roadside in the midst of LA's famously congested traffic, he proceeded to speak to us on why he cooks, why we should cook, and why we should embrace the messy, mundane, at times dark and often dirty imperfection in our lives, both in and out of the kitchen.
You seem to be jumping into more and more new projects. What made you decide to branch out?
Well, I was a chef: a real, in-the-kitchen, actual chef. Then I started doing Internet content and TV. I've left the restaurant world for almost four years now. Within that time, I've had a second career beginning, building the foundation for a full, new life. Now I have figured out enough that I'm going to go back into the restaurant business and just see what's up. Then balance everything that I'm doing with clothes, the touring that I do and books, and all that kind of stuff.
What was the transition like going from chef to the host of several web series?
It was wild because all of a sudden, I made a video. The video kind of hits and instantly gets a couple million views. Then I make another video, and then I make another video. Then [VICE] was like, let's do a travel show. All of a sudden, I don't know what's happening. I never wanted to be on television. I thought food television was just losers on f*cking loser shows. I didn't know what I was doing.
"I work every day and I still don't feel like I have a job. I think work and jobs are different. People say if you love your job, you never work a day in your life. I'm like, yeah. I don't even know."
I was funny enough, engaging enough, that we kept making stuff and it started taking me away from the restaurant. I never had a vacation, ever. You would maybe get a week in a whole year. You wouldn't even have two days off in a row. All of a sudden I was like, "Oh, I'm gone for two weeks. I'm going to shoot three episodes of this show." And the partners of the restaurant were like, "What are we doing? We're paying you to travel." Eventually I was making so much content for the show that I was never at the restaurant. I'm not an actual partner at the restaurant. This is just a job. I make more money [working with VICE]. I had to make a really hard decision.
I spent the last five years doing my thing. Making TV shows, making content, traveling the world, writing books. It's wild what my life has turned into. I'm very grateful that people f*ck with me. I could've been a chef that was making 65K a year and that was my job. I work every day and I still don't feel like I have a job. I think work and jobs are different. People say if you love your job, you never work a day in your life. I'm like, yeah. I don't even know.
Everyone f*cks with you because you're so real. Why is it so important to you to show the real side of cooking?
Even if you took the best f*cking chef at home, 80 percent of the time he's going to make something awesome, 20 percent of the time he's probably going to make some f*cking dumb shit. When I'm cooking at home, I'm making some f*cked-up shit too. And I don't give a—I'm not a restaurant, "Here's this perfect chicken and here's all this awesome stuff." I'm showing people how to f*cking cook. All I want is people to f*cking cook. That's it. Everything doesn't need to be so precious; it's precious that people try. I just want people to have hope towards cooking.
"That's the stuff that's beautiful. The chaos and the, 'Where the f*ck is the towel? What the f*ck is this?' That's everybody at home, because nothing's perfect."
I think cooking really builds self-esteem. It's such a nice way to do something for somebody else or for yourself. Humans are horrible to each other, but somehow food can instantly make you feel better. We're all f*cking broken. Life is f*cked. I'm broken as f*ck, I'm a mental case. But making food genuinely makes me happy. It also genuinely stresses me out when I'm shooting these f*cking videos sometimes. And that's okay. It stresses people out when they're cooking at home. Sometimes you can't find a spoon, sometimes you can't find a bowl. That's the stuff that's beautiful. The chaos and the, "Where the f*ck is the towel? What the f*ck is this?" That's everybody at home, because nothing's perfect.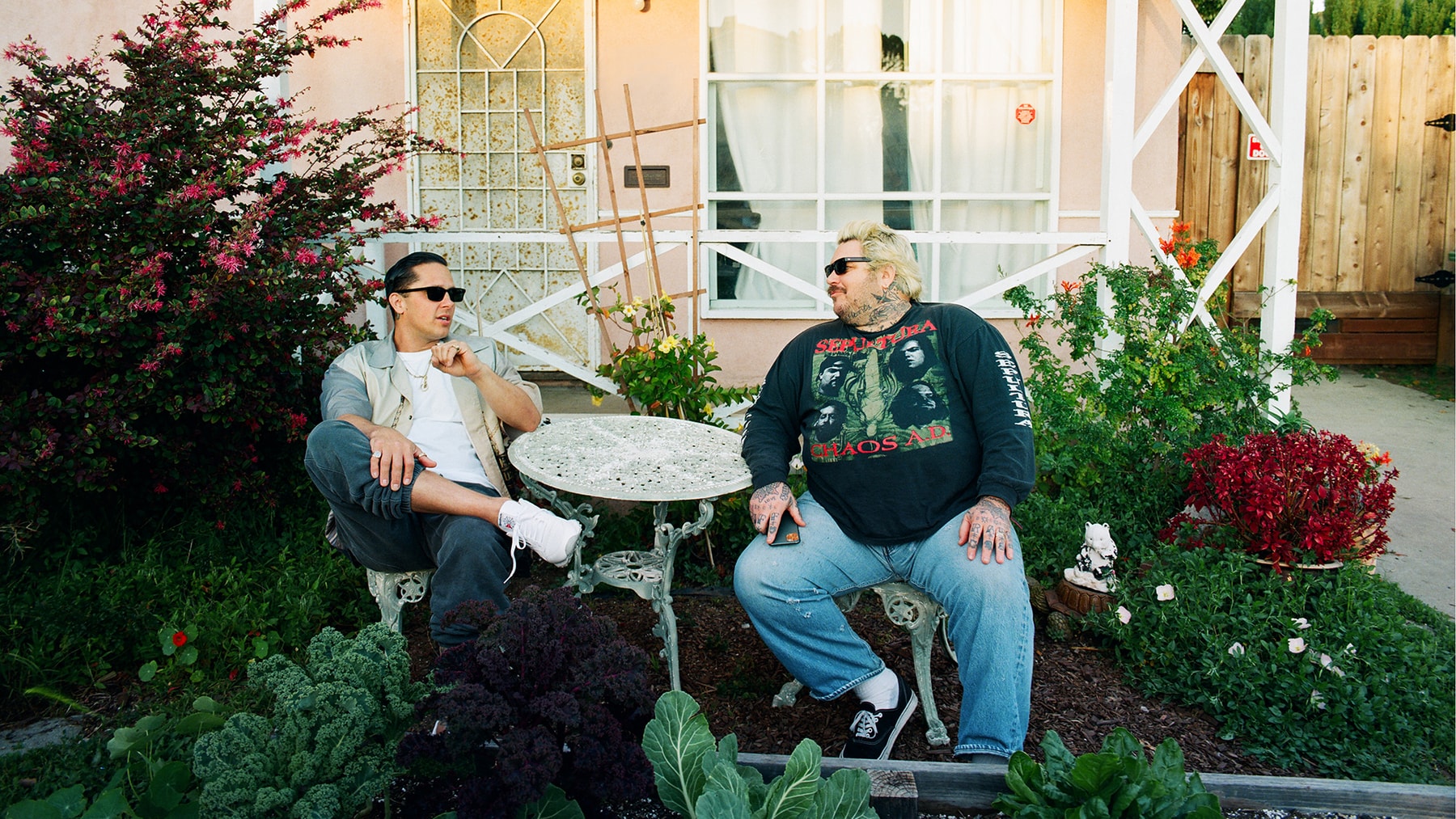 Your first cookbook is very family-oriented and your food is very welcoming, approachable and down to earth. Have you always been drawn to this mentality towards food?
I think so. I haven't really changed that much. Even when I was in the restaurant business, I always cooked for my friends. On my days off, I would cook. We would make tons of meals. We would go over to my friend's house and we would have these big dinners. All my friends were shitty punk kids. We would just come together and make tons of vegan burritos. Most of my friends are vegetarians. I always wanted to cook and to always be around food and be around people that I care about. That's it, really.
Do you think that we could become a meatless society?
Makes sense. The thing is, if people aren't just buying commodity and if you bought beef or lamb or pork or birds from a real butcher shop, I think that would make a difference. If the masses started buying vegetables from real farmers. We throw out 40 percent of the food that's produced.
Build a relationship with butcher shops, with farmers markets, with the people actually growing food. That's the thing that needs to happen. And guess what? The more people buy from farmers, the cheaper it gets. You don't need to buy organic, you just need to buy from farmers. Meatless society, sure. I think people just need to be willing to buy stuff that isn't perfect. They take [perfect produce], put it in their fridge and don't even eat it for three days. Then it gets wilted anyways. And I think that in supermarkets, you should be able to buy one thing. Do you always need to buy the whole head of parsley? It's just over-consumption on everything: social media, clothes, f*cking everything. We're just such broken people that we need to fill the void of nothingness continuously. It's a circle of depression and sadness. We're just parasites sucking up the f*cking world.
That's one way to put it.
I don't know. Everyone's a trash can, man. We're all on fire, we're horrible.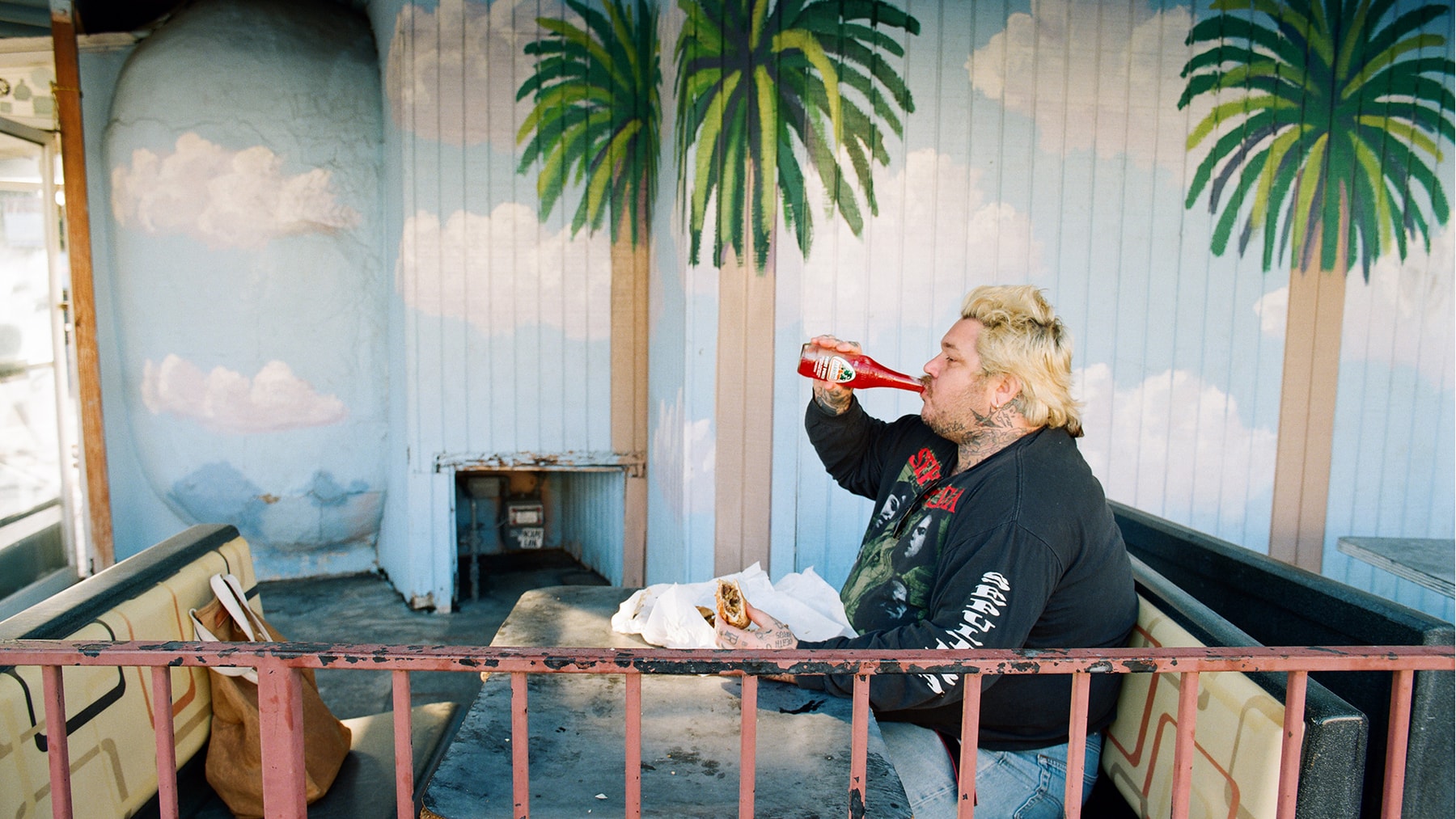 What takes the most consideration when you're writing your cookbooks?
I write very much in the moment, and I just write honestly. Dude, it's so fun. In the book I'm doing now, I'm literally making fun of my own book. I make Crab Rangoon and I do a photo shoot at my house. I have a crabapple tree; we set up this beautiful little table under this crabapple tree. In the recipe note, I'm like, "If you don't have a crabapple tree, don't even try to make this at your f*cking house."
I can't write seriously. I make this beautiful cookbook and a lot of people don't even have a f*cking apartment. I can't just be like, "On my beautiful ranch, I'm going to make this and this and this," and set up all these scenarios. I've got to make fun of myself for doing it. A lot of people don't have a grill or fire escape to put a grill out onto. I try to be like, "You can do this here. You can also do it here and here." I'm just trying to give people options.
"Build a relationship with butcher shops, with farmers markets, with the people actually growing food. That's the thing that needs to happen. "
What's it like for you living back in your hometown?
I love it, kind of. I lived in the city for 20 years. I lived in Toronto longer than I've ever lived anywhere. We moved around a lot as kids. Moving back home is weird—I never thought I would do it, I'm such a city guy. [My wife and I] picked quality of life over hustle and bustle. I'm in a position in my career where I don't really need to be physically anywhere.
Now we have a beautiful farm: Trish gets to garden and I get to do whatever I want to do. Our kids get to run around naked if they want, and have fun out in the woods and get poison ivy. I think it's an amazing thing. I still have my businesses in Toronto so my kids get the best kind of thing where it's like, they're going to get to grow up and come up to Toronto, go to art shows, go to museums, do whatever the f*ck they want to do. And they also have that beautiful childhood growing up riding dirt bikes, going to the beach and having fun.
You turned from your previous hard-partying lifestyle to being this industry figure with all these different projects, along with becoming a family man. Can you tell me about the time when you decided, "Okay, enough's enough. I'm going to get it together?"
Yeah. I was going to lose everything. I got to the point where nobody even gave a f*ck about me anymore. Like my friends. That's really what clicked—when I had my intervention, nobody was there except for four people. I was like, "Where is everybody?" They were like, "Nobody cares. Either you do this or you don't, so why the f*ck do they need to be here?" I was just kind of like, "Okay. That's even harsher than them being here." Everyone's like, "It's up to you." Everyone was already done with me. I was such a mess.
I was smart enough to not completely throw it away. Then I just learned every day. Every day is different, every day is literally a blessing. I just don't take advantage of things anymore. We only got a certain amount of time in the day. I'm in a position already where my year is fully booked. I know every single day for the next f*cking three hundred days. If I'm at that point, every single day has to matter. Every single day, I need to be moving forward. Every single day, I need to be well aware of what's happening and doing what I need to do to make sure that my family is taken care of. That's it. That's all I want. I want my kids to have Christmas every year. I want my family not to worry about stuff like that. It's a wild thing.
I used to not do anything for a day. I would do enough drugs and alcohol and bullshit that I would sleep for a day and not give a f*ck. What did that get me? Nothing. Now I'm in a position where I get what I give. I work really f*cking hard. I'm very consistent. I see results. That's all that matters.
Do you think that you'd be doing the same things as you are today if you didn't go through that partying stage and overcame it the way you did?
No, because I wouldn't know either side. I have no regrets. Luckily, I never f*cking hurt anybody. I was never a full piece of shit. I don't have burned bridges and I don't have to look over my shoulder, but I know what it's like to be in the mud. I know what it's like to be down. That gives me an opportunity to be extremely grateful and to know what it's like to not have things.
I know what it's like to not have friends. I know what it's like to have people not f*ck with me. I know what happiness feels like. I like being happy. That comes from love, commitment, consistency and compromise. That comes from learning a lot of different things. It comes with a lot of communication and it comes with a lot of self-awareness. It comes with a lot of praying, intention, meditation and a f*cking lot of stuff. I wouldn't want to change my past.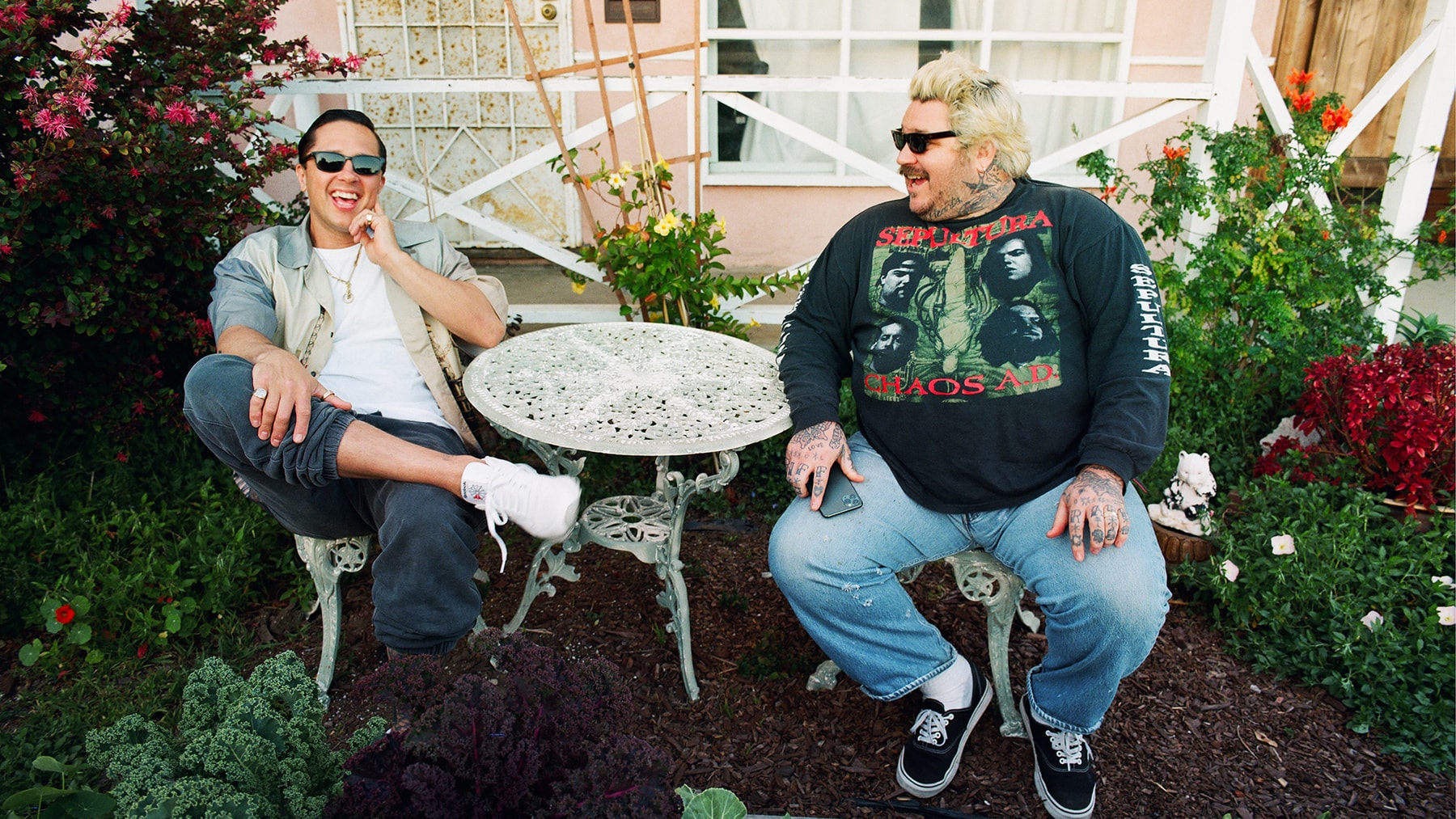 THIS STORY WAS ORIGINALLY PUBLISHED IN HYPEBEAST MAGAZINE ISSUE 29: THE NEW ISSUE. PICK UP A COPY HERE.
---