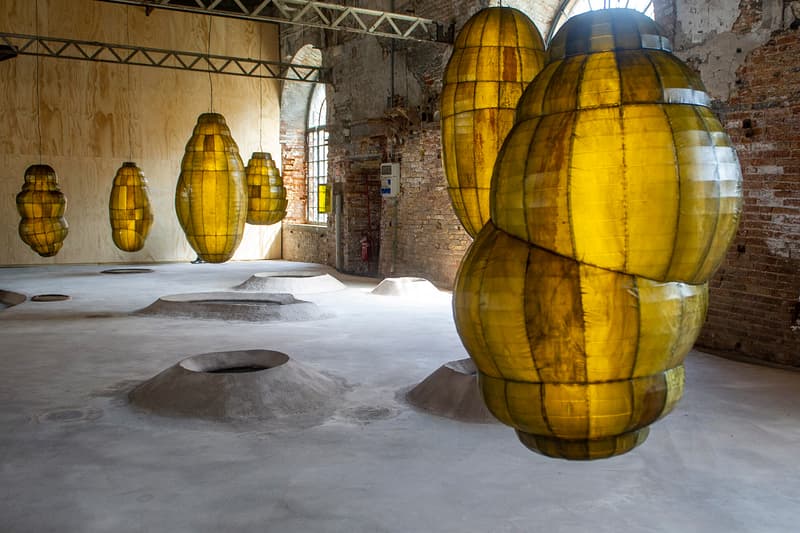 Tate Taps Experimental Artist Anicka Yi for Its Next Turbine Hall Commission
Following works by Olafur Eliasson, Ai Weiwei, and more seminal artists.
---
From launching a line of fragrances with glandular secretions at Dover Street Market to filling giant kelp pods with animatronic insects, South Korean artist Anicka Yi has caused quite a stir in the art industry over her conceptual works. Her unconventional practice is now being tapped by Tate Modern in London. The museum has requested a site-specific work from Yi for its Turbine Hall, which will be her most ambitious and largest endeavor to late.
Although details surrounding the commission have not yet been revealed, Yi's past works offer up clues on how sense-driven the forthcoming project may turn out. The artist has largely explored the ways in which humans sense their surrounding environments while channeling feminist ideologies. In 2016, the artist won Guggenheim Museum's $100,000 USD Hugo Boss Prize for her work that injected the scent of an Asian-American woman and carpenter ants into a gallery and event recreated the scent of the Gagosian Gallery.
"Anicka Yi has developed a reputation for highly innovative work," Frances Morris, director of Tate, said in a statement. "Her installations are unforgettable, using the latest scientific ideas and experimental materials in unexpected ways. The results not only engage the senses but also tackle some of the big questions we face today about humanity's relationship to nature and technology."
Since its inception in 2000, Tate Modern has commissioned works from leading artists for its Turbine Hall. Olafur Eliasson turned the massive space into an atmospheric installation that replicated the effects of strange weather phenomena in 2003 and Ai Weiwei installed a sprawling bed of porcelain sunflower seeds on the hall's floor in 2010. Most recently, Kara Walker unveiled a polarizing fountain statue titled Fons Americanus to expose the horrors of the British slave trade in 2019 — her work is still on view until April 5.
Yi's work is slated to go on view in October and run through January of next year. Visit Tate Modern's website to learn more about the Turbine Hall series of commissions.
Elsewhere in art, Simon Lee Gallery presents dynamic paintings and sculptures for its virtual booth organized by Art Basel Hong Kong 2020.
Tate Modern
Bankside, London SE1 9TG
United Kingdom