Pepsi's Latest Creation Combines Chocolate and Marshmallow for "Cocoa" Cola
Who wants a nice warm cup of (fizzy) cocoa?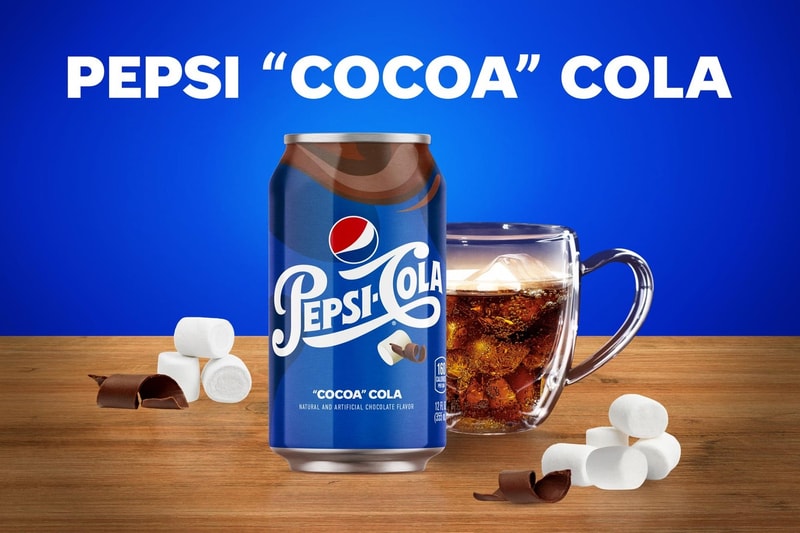 A hot cup of cocoa is a winter-time staple, and now the satisfying flavors of chocolate and marshmallow are expected to find themselves combined with Pepsi in the upcoming "Cocoa" cola soft drink.
In a tweet, Pepsi wrote, "What's sweeter than saying 'bye' to the worst year ever? Pepsi 'Cocoa' Cola — the latest concept from the Pepsi Test Kitchen." With this in mind, the drink was only ever meant to be a concept, unless of course, Twitter could convince the Pepsi team to develop a small batch for sale.
A target of 2,021 retweets was set, however, in true viral Twitter fashion, this was more than doubled in the space of just a few days. Sitting at close to 6,000 retweets as of writing, the company responded with, "Well, it looks like you're all pretty thirsty for some Pepsi 'Cocoa' Cola. Stay tuned for details coming in 2021!"
As stated, the drink is expected to come (most likely in limited edition form) sometime next year. It will feature the classic taste of Pepsi cola with the nostalgic childhood favorite of chocolate and marshmallow hot chocolate. Stay tuned to HYPEBEAST for more information as the news unfolds.
For more unique creations, McDonald's in China has developed the questionable Oreo-Spam burger.
What's sweeter than saying "bye" to the worst year ever? Pepsi "Cocoa" Cola – the latest concept from the Pepsi Test Kitchen.

Want to try and get your hands on it? 2,021 RTs and we'll make a batch.#PepsiCocoaCola pic.twitter.com/WbZeGDGxVM

— Pepsi (@pepsi) December 17, 2020