Steven Harrington Reinterprets L.Ercolani's Heritage on New Stacking Chair Design
The LA-based artist's first furniture collaboration updates an original 1956 design from ercol founder Lucian Ercolani.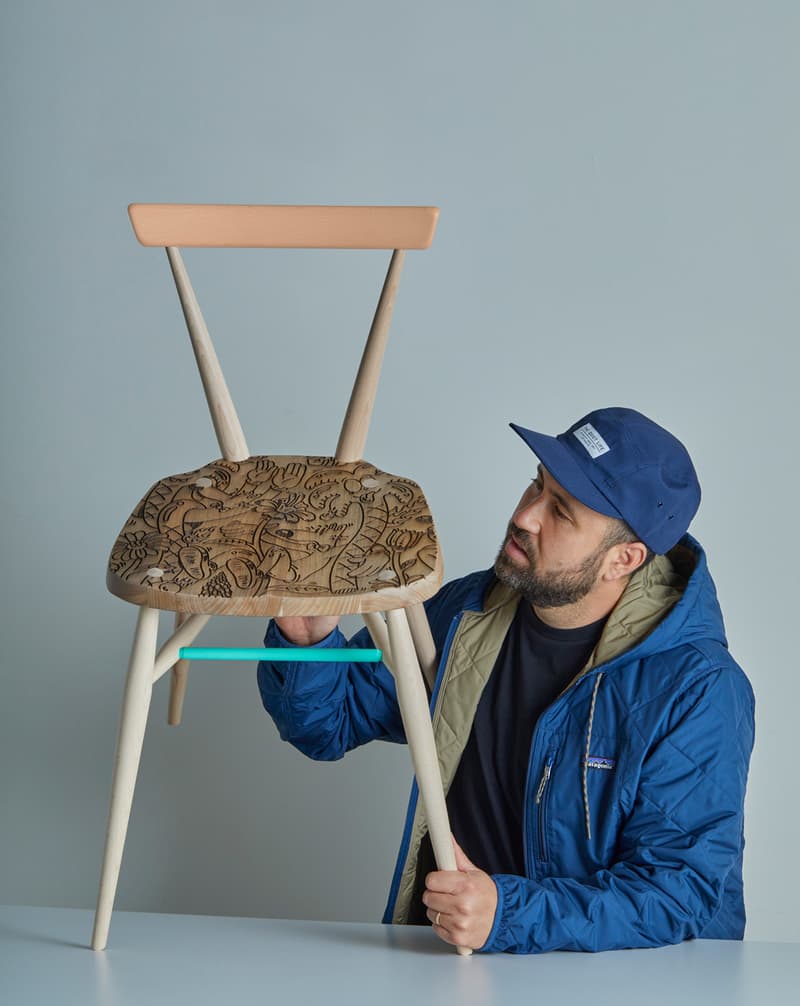 - ercol – Lowercase e
- L.Ercolani – No space; capital E
- Lucian Ercolani – with an i at the end
Steven Harrington has teamed with ercol's L.Ercolani for a new Stacking Chair design, his first ever furniture collaboration. Drawing upon an original 1956 design by ercol founder Lucian Ercolani, the co-created product from LA-based artist and renown British company combines heritage quality and understated design with a touch of modern pop art for a unique look.
Limited to a scant 45 units and made of sturdy elm and beech timber, the made in England chair comes with a simple clear stain and features a laser-etched iteration of Harrington's Our House is On Fire painting on the seat. A playful pop of teal on the chair's stretcher provides light-hearted contrast to complete the look.
"I've known Steven for over 25 years and we're both big fans of each other's work. Steven understands our brand, heritage and vision for the future. We are a design brand that loves the juxtaposition between pop art and luxury design furnishings," quipped Ben Gaffney, L.Ercolani's Vice President of International Design Development. Harrington echoed Gaffney's sentiments, stating "The opportunity to collaborate with L.Ercolani to bring my work to such an iconic piece has been a privilege. I love this idea of combining new and old, bringing a new spin to a classic. As my first venture into furniture, it's been a privilege to work not only with a legacy brand, but also a lifelong friend."
The Steven Harrington x L.Ercolani Stacking Chair will release via Steven Harrington's webstore come December 11. A retail price has yet to be announced.
For more design news, check out Stain Shade's bespoke hand-dyed chairs.