Sole Mates: Jemuel Wong and the Pusha T x adidas Originals EQT Guidance '93
Despite being arguably the world's biggest ZX Flux fan, this adidas collector has a soft spot for the EQT Guidance '93.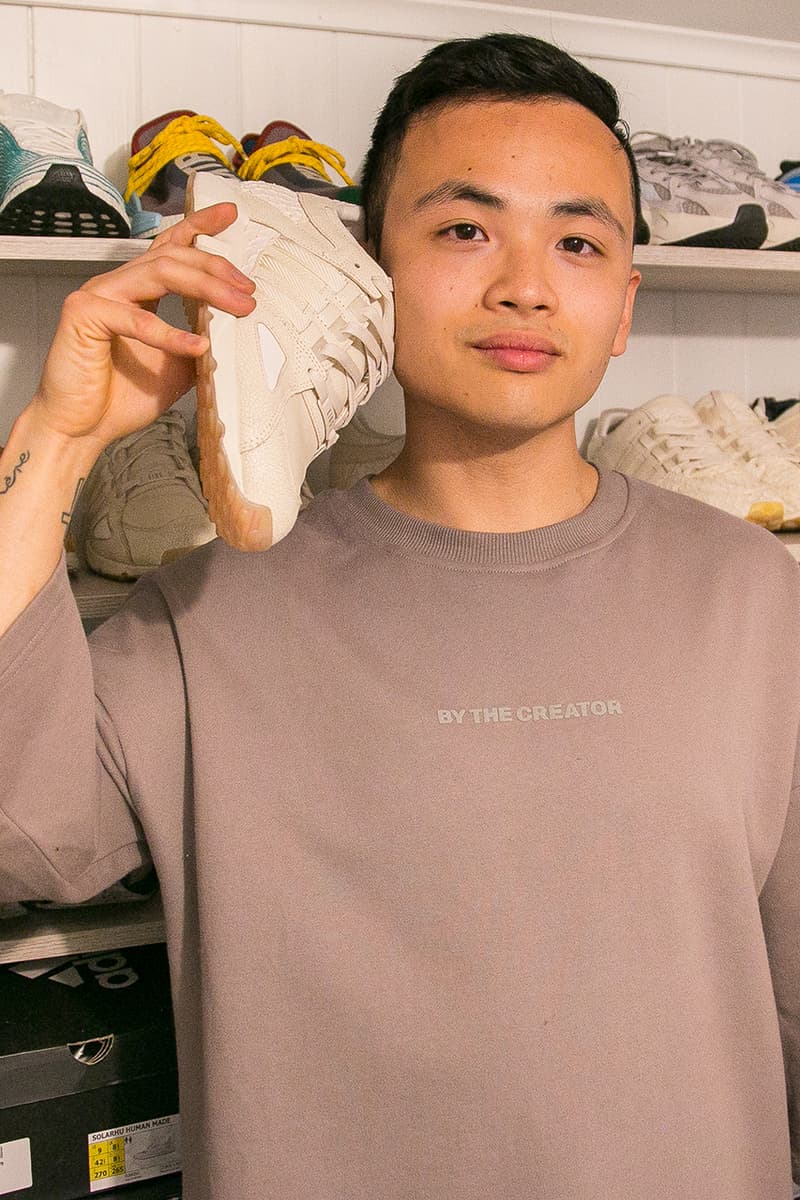 Sole Mates: Jemuel Wong and the Pusha T x adidas Originals EQT Guidance '93
Despite being arguably the world's biggest ZX Flux fan, this adidas collector has a soft spot for the EQT Guidance '93.
Sole Mates is a new HYPEBEAST series that asks, simply, "why do you love shoes?" Searching for a deeper meaning beyond hype, Sole Mates uncovers each subject's sneaker origin story, letting them wax poetic on why a particular shoe means so much to them.
---
Sydney is seldom seen as a sneaker capital, yet Jemuel Wong is one of a handful of Australian sneakerheads changing that image. The 24-year-old nurse educator started appreciating sneakers as a teenager — mostly falling in love with the designs of soccer boots — and entered the sneaker game much later than most of our fellow Sole Mates. However, unlike most who collected sneakers in their mid-teens, Wong wasn't interested in the hyped shoes. 
When Wong was getting interested in shoes, there were plenty of now sought-after pairs to choose from. Sure, Pusha T had some semblance of hype back in 2014 and 2015, but it was nothing compared to BOOSTmania and the rise of YEEZY. Although Wong dabbled in BOOST, it never felt right for him — literally. As a fan of much firmer sneakers, the sneaker collector found himself gravitating towards ZX Flux sneakers — of which he owns many, including four pairs of the "London City" rarity — thanks to their sturdy and supportive base. 
As the years went by, Wong developed an unrivaled love for firm footwear. Luckily for Wong, adidas' archive was filled with these types of runners, and now the collector is almost whole-heartedly dedicated to collecting adidas — especially those packed with EQT or Torsion tooling, or adiPRENE cushioning. 
One of the EQT shoes that stands out for Wong is the Pusha T x adidas Originals EQT Guidance '93. In this latest issue of Sole Mates, HYPEBEAST speaks with Jemuel Wong about the importance of the adidas archive, what the Pusha T sneaker means to him, and much more.
How did you get into sneakers?
Back in 2013, I was working in a footwear store in Australia. It's the equivalent of JD sports or another performance sportswear store. I was working one summer and a colleague of mine came to me. While I was working at this sportswear chain I was really into collecting football boots — mostly adidas Predators from about 2012 onwards and then I went back and bought pairs like the Accelerators from the '90s — and when I was collecting all of these Predator boots he approached me and said, "If you're so into football boots why aren't you into sneakers?" I never really looked into it. But once I went down the rabbit hole it never stopped from there. 
You have gathered a pretty large collection since then. What do you collect?
All kinds of adidas, a fraction of Reebok (being a subsidiary). But anything and everything related to adidas is what I collect.
You started collecting adidas at a time when adidas was experimenting with new technology, but you mostly collect ZX and Torsion pieces. Why is that?
When I started collecting in 2014/15, that's when adidas introduced both BOOST and the ZX Flux. For me, I liked both of them but I wore BOOST for the performance side of things for work in the footwear store, but I also developed this obsession with the ZX Flux silhouette. From there, I developed a love for a sturdier and more responsive-type midsole. Although I love the BOOST it is too plush for me, I prefer something a lot more solid. I prefer the adiPRENE — even though it was soft for its time — it is a lot firmer and I like that.
With that in mind, is that why you helm the Pusha T x adidas Originals EQT Guidance '93 as your Sole Mate?
That's a really smart segway. When I think about what started my obsession with footwear I'd always gravitate towards the ZX Flux, but you're spot-on about me appreciating that firmer midsole. The Pusha T released in December 2014 and I think that was also when EQT had a mini-revival. 
For me growing in Australia, I wasn't exposed to a whole load of — I guess what people refer to as — hip-hop and rap culture. This shoe, for me, introduced me to Pusha T and everything else. I was very naive. Pusha T introduced this shoe and I instantly gravitated towards it because I love anything that is cream. Anything that is pure white or cream, with a super clean gum sole. You know how people fall in love with a shoe because of the rapper? I fell in love with the shoe, then I fell in love with the rapper. It was the reverse way.
Also, at a time when I was caught up with the latest technology (BOOST) being offered by adidas, this EQT Guidance made me appreciate the richness that is found within the adidas archives. For adidas to be able to revive a silhouette from 1993 and, in turn, deliver such a success story through its collaboration debut with Pusha T, it is a testimony to the success of the EQT line and the adiPRENE technology. Never would I have thought that at the genesis of the BOOST success, would this shoe (the EQT Guidance) then also make me appreciate adiPRENE technology. 
What is it that makes the Pusha T stand out for you?
From a distance, it is a very, very plain shoe. But when you look into it, the details… You have the different animal-type accents, the cracked leather. Something that is so detailed yet at the same time simplistic and sophisticated. 
What did you think of Pusha T's later projects?
I have the whole series but I think none of it topped this particular release. I liked the second release, the black pair, being a nurse I wear those a lot and I have two pairs of them. The BOOST never did it for me, I appreciate it and that it was a Pusha T shoe, but it wasn't the same.
When do you get to wear all of your shoes?
I'm a nurse educator so I am also in the office a lot, but I get to wear my precious Raf Simons or Pusha T shoes without having to worry they'll get soiled or anything like that. I wear all of my sneakers because I only get to wear them Monday to Friday at work. 
Is this the best shoe in your collection?
It is in my top three. The best is one of my ZX Fluxs of which I have four pairs, but I'd say this is my second. Back then when I started just collecting, this was the most I spent on a shoe in the secondary market — for me it was such a shock. The resell didn't deter me, I just wanted them. I was happy to spend any amount of money on them and they weren't easy to find. 
It was a good base for a collaborative project, but a left-field choice even at the time. 
Yeah, absolutely. I think it was the perfect time to revive a silhouette that wouldn't have done well even a year before. adidas was revival archival-type footwear and it makes people open to another archival adidas shoe. It's a runner, it's sleek and pointy but also chunky and kind of a heavy shoe — it's just at the right point.
Do you think this shoe helped kick off that archival adidas ZX revival period, what with "A-ZX" and the 4D ZX silhouettes now?
I think it's too saturated at the moment. I think it needed this, but I think it's a bit too much. If you release 30 or 40 colorways of the same silhouette, it becomes so saturated that you can't slow down enough to appreciate each pair. This shoe in particular — the Equipment Guidance '93 — I think this was the only one back then, before they brought back the EQT Guidance in the original green colorway. It's a perfect time and moment to segway this shoe into the market, to test the market and see how successful this shoe was, then they proceeded to release more. Now, they brought back the ZX 8000 — you saw one retro colorway of it last year, and now, you have 40 different colorways this year. I think that's the wrong way to go about it. 
You can't really appreciate a shoe when every second week you get a different colorway of the same silhouette. The Pusha T came in an unsaturated market, it was very different to what everyone else was doing at the time of this release. It was a statement piece, a diamond in the rough type thing.