UPDATE: Nipsey Hussle's Suspected Killer Has Been Formally Charged
More developments have emerged.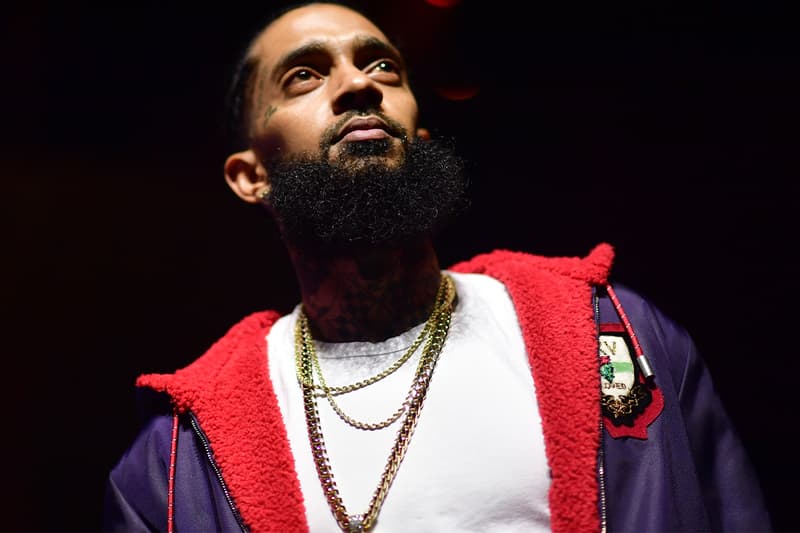 Update: Nipsey Hussle's suspected killer, Eric Holder, has been formally charged with the murder of the 33-year-old West Coast superstar. We'll keep you updated as the story develops.
According to CBS Los Angeles, Eric Holder was taken into custody this afternoon (April 2), two days after Nipsey was fatally shot outside his clothing store in south L.A.
#BREAKING: The suspect in the shooting death of musician Nipsey Hussle has been captured in Bellflower, authorities say. pic.twitter.com/5P9ItJM3kH

— CBS Los Angeles (@CBSLA) April 2, 2019
The Los Angeles Police Department released a statement early this morning that shared some details surrounding the shooting:
On March 31, 2019 around 3:20 p.m. [PST] three male adults were standing in front of a business in a strip mall in the 3400 block of West Slauson Blvd. The suspect walked up to the men and fired numerous shots at them. The victims were struck and fell to the ground.

The suspect ran southbound through an adjacent alley to a waiting vehicle. The suspect entered the passenger side of the vehicle and fled the area. The vehicle is a 2016 Chevy Cruze, white four doors, CA license plate 7Rjd742. The vehicle was driven by an unidentified female.
A press conference where LAPD Chief Michel Moore and LA Mayor Eric Garcetti confirmed that 29-year-old Eric Holder is the main suspect in Nipsey Hussle's killing.
"People that were at that scene or have information from people who were at that scene…we ask that you call [us] day and night," Moore said. "We're not done gathering evidence in this horrific shooting."
"I am confident that he is watching this…I ask him to surrender," Moore later said.
LAPD chief describes how suspect Eric Holder allegedly shot and killed Nipsey Hussle outside the rapper's own clothing store https://t.co/X9qw8RLJTK pic.twitter.com/02bQoYJUVc

— CBS News (@CBSNews) April 2, 2019
LAPD Chief Michel Moore on when he learned of Nipsey Hussle's murder: "I saw the name Nipsey Hussle, and I looked at that again, and I looked at it again, and it was like I could not believe it…This is a voice that was trying to help" https://t.co/X9qw8RLJTK pic.twitter.com/YK7HeAcFVK

— CBS News (@CBSNews) April 2, 2019
Los Angeles Mayor Eric Garcetti: Nipsey Hussle "was a tireless advocate for the young people of this city and of this world, to lift them up with the possibility of not being imprisoned by where you come from, or past mistakes, but the possibility of what comes in the future" pic.twitter.com/oaksY5GaSf

— CBS News (@CBSNews) April 2, 2019
LA Mayor Eric Garcetti: The "absolute worst way" to pay back the murder of Nipsey Hussle "is with more violence" https://t.co/X9qw8RLJTK pic.twitter.com/Osm2yp6p6K

— CBS News (@CBSNews) April 2, 2019
Original Story: The Los Angeles Police Department has identified the suspect in the murder of rapper Nipsey Hussle.
29-year-old Eric Holder is now wanted for the homicide of Hussle who was gunned down outside of his clothing store in Hyde Park, Los Angeles on the afternoon of March 31. Two other bystanders were also injured during the incident and are currently in serious condition.
LA Police Department has publicized a photo of Holder on its social media. The attached statement established that Holder, a local resident, fled the scene of the crime in a 2016 Chevy Cruze. The getaway car was waiting in an adjacent alley and driven by an unidentified female.
A news conference to be led by LAPD Chief Michel Moore will be held on Tuesday morning for more updates.
Take a look at the rest of the LAPD's statement below. In case you missed it, read up on the importance of the beloved rapper.
Eric Holder is wanted for Homicide in the shooting of Nipsey Hussle. He was last seen in a 2016 white 4 door Chevy Cruze CA license plate 7RJD742. Anyone with information related to his whereabouts or this deadly shooting is urged to contact South Bureau Homicide at 323-786-5100 pic.twitter.com/3pX4fbezDs

— LAPD HQ (@LAPDHQ) April 2, 2019