Brilliant Customizer Nicole McLaughlin Finally Launches Web Store
Upcycled goods made from scraps of vintage sportswear and accessories.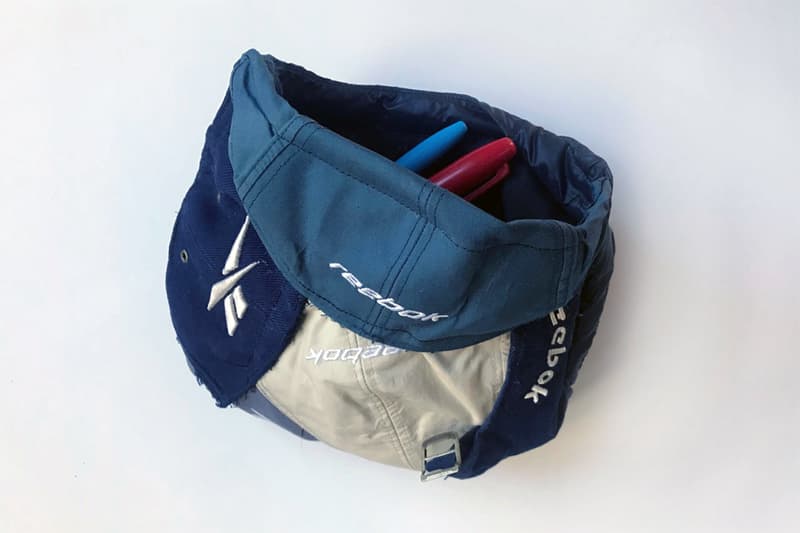 Over the past several months, Nicole McLaughlin has made big waves on social media with her ingenious upcycled clothing. A graphic designer for Reebok, McLaughlin's Beatnik-inspired sandals and patchworked pants have proven irresistible to the fashion-conscious, riding the fine line between comfortable layering pieces and wearable art. Finally, after uncountable comments begging to purchase the goods, McLaughlin has introduced her own web store.
Despite the overwhelming surge of would-be clients, McLaughlin's social media presence is fairly limited. She refrains from wordy captions, usually just naming the materials used to create each garment ("backpacks," "pencil cases"). The goods themselves are clever patchwork creations that fuse together a variety of unlikely materials into sporty pants, gloves, laceless shoes and even an umbrella, juxtaposing nostalgic colors and logos with wearable appeal.
Die-hard devotees may be disappointed to see that McLaughlin's web store currently consists exclusively of bags and pouches fastened together from scraps of other projects. Still, considering the designer's relatively low-key online footprint, it's not terribly surprising that McLaughlin would rather hold onto her playful one-offs, or perhaps give them to friends, instead of sell them to hungry customers.
Each small bag or pouch is crafted from bits of fabric taken from other projects that repurpose vintage items from The North Face, Reebok, Patagonia and even generic pool floaties. Note the bespoke "Nicole McLaughlin" tag, however; there may be more special offerings to come.
Shop McLaughlin's available items on her new web store and check out some of her most viral creations below.
For more upcycled gear, check out JOEGUSH's patchworked Fall/Winter 2019 collection.