MemoTheMafioso & O'Way Deliver the Hardest Game on "Effortless"
Two of the West Coast's most talented newcomers.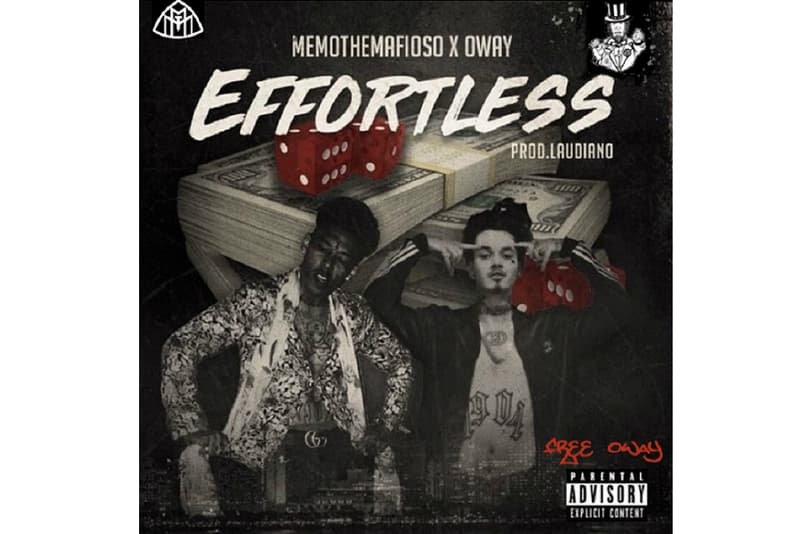 Talented San Diego up-and-comers MemoTheMafioso and O'Way are teaming up for a new collaborative single titled "Effortless."
"I grew up around the Golden Hill area, right above Logan Heights and kind of east of Downtown," the San Diego-bred MemoTheMafioso tells us, breaking down his origins. "I've been all over Daygo though — all over Southeast San Diego."
"I feel like it's [hip-hop] always been a part of West Coast culture, and I always felt like I could do it," Memo says of his origins as a rapper. "I just started writing and getting better at writing and started applying it to beats. I tapped in with a couple good West Coast producers and I just started doing crazy."
"When I first started getting into writing rap, I was listening to East Coast shit like Joey Bada$$, Capital Steez, Flatbush Zombies and all of that because it was really lyrical and I got into really breaking down that shit," he adds. "I feel like that got me really good at this shit — that East Coast lyricism. I just mixed that with that West Coast style."
"I didn't even get into the local rap scene until middle school, and at the time there were big-name OGs like Mitchy Slick and Don Diego," Memo shares, opening up about his local influences. "There hasn't been a real Daygo scene until now, …there hasn't been a good face to the scene until now. Now, we can really make a scene in San Diego … I'm not letting the politics get involved, I'm working with whoever the f*ck I want to work. If you look at each and every section in Daygo, there's at least one cracking rapper from there now … I be bumping everybody. We got a lot of artists speaking some real shit, and we got some real originality too."
Elsewhere, he cites more recent West Coast heroes like FrostyDaSnowmann, Drakeo the Ruler and Ketchy the Great as his favorites. "From YG to Frosty, there was kind of like a gap, and that was when I got into rap, and that was when that newer East Coast shit was popping. At first, I couldn't even find any West Coast beats. Once there was the emergence of Drakeo and all of that, I just started into those type of producers. I would pull up Drakeo's tapes and look at all the producers and go from there. He [Drakeo] really brought it all back … the life really came back to the West Coast. I always wanted to fuck with the West Coast sound but couldn't find the beats … once I found these Drakeo tapes, I looked up all the producers; I just tapped in with Laudiano, who was the cheapest at the time, and then in late 2017 we started laying shit down for real." As far as his current dream features, The Stinc Team's Ketchy the Great and SaysoTheMac are even considered to be his personal picks.
Next up, Memo is planning on a series of singles and visuals, and possibly a full-length project towards the final quarter of the year. You can stream MemoTheMafioso and O'Way's new "Effortless" single below, and stay tuned for much more from both artists.