ICYMI: IAMDDB, Planet Giza, Jimi Tents & More Drop New Music
Deniro Farrar, TJ Porter, and Jazzy Amra also provide new tunes for you to rock to.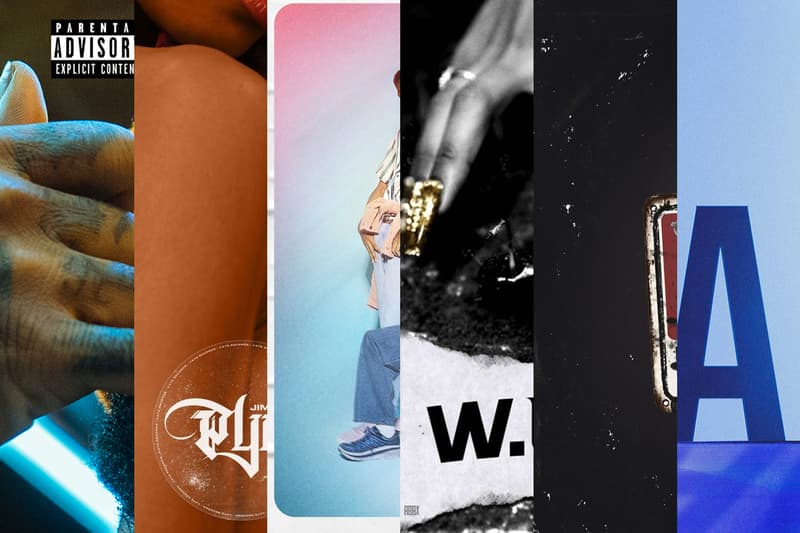 It's been a busy week of music, with a ton of artists are dropping bodies of work. To make sure our readers are all up to speed, HYPEBEAST offers ICYMI, a list of significant new projects, songs and videos that have been recently released but you may have missed. This week's selections include music from IAMDDB, Planet Giza, Jimi Tents, Deniro Farrar, TJ Porter, and Jazzy Amra.
IAMDDB – "Wokeuptoflexxx (W.U.T.F)" [Union IV Recordings]
Manchester's IAMDDB releases her new single "Wokeuptoflexxx (W.U.T.F)," a single off her eagerly anticipated fifth EP SWERVVVVV.5 that drops on Feb. 22. Produced by Londoner Drae Da Skimask, "Wokeuptoflexxx" shows IAMDDB's defiant side as she sings "F*ck 'em all yeah, we don't give a f*ck" over jazzy production. SWERVVVVV.5 is the fifth and final installment in IAMDDB's EP collection and follows up 2018's Flightmode Vol.4.
Planet Giza – "You Wasn't Lyin'" [Planet Giza]
Montreal hip-hop/producer trio Planet Giza – comprised of Rami B, Tony Stone and Dumix – announce their forthcoming project titled Added Sugar, plus share their new single "You Wasn't Lyin'" alongside a Walid Jabri-directed music video.
Planet Giza on "You Wasn't Lyin'":
To us, "You Wasn't Lyin'" is the happy motivational dance song you listen to in the morning. It's about not letting people dim your light and pushing through no matter what the situation is. We feel like the hook to this song empowers anyone who sings it as we tried to put a smile on their faces.
Walid Jabri on the video:
The main idea around the video's concept stems from the track's title and that sometimes you really have only yourself to blame for missing the red flags. At the end of the day, Tony can only sing "You Wasn't Lyin'" as his seemingly normal picnic date turns into his own personal nightmare.
Jimi Tents – "Back Bone" [Vate Records]
On this new cut, Jimi chants "where's your backbone," which he describes as a conversation he had with himself, as he prepared to step up to the plate with a brand new mind-state. The Mike Hector-produced single is off his new four-track EP titled, Pyro, which is different from anything he's previously released.
Deniro Farrar – Re-Up [CultRap]
Deniro Farrar, the Leader of CultRap, is back with new vibes from his project Re-Up, which is out now on all streaming platforms. Farrar has been telling the ghetto gospel and has no plans on slowing down. He touches on how to make a profit off of work in songs like "Bout My Business" and also sheds light on the negative parts of the game on records such as "Homicide" and "Ran Off". The North Carolina artist is releasing three independent projects along with plenty of videos this year.
TJ Porter – NO DISTURBANCE [Def Jam]
Harlem native, TJ Porter, is a budding rapper who's been steadily gaining momentum for the last few months. Most recently, he dropped his new EP, NO DISTURBANCE, the appetizer to his debut album Voice of The Trenches. "I'mma give you the trenches," he says. "But these are the opportunities you can get."
Jazzy Amra – AMRA [Heads Music]
Bronx's Jazzy Amra releases her debut album, AMRA. The singer-songwriter broke onto the scene by catching the attention of veteran music executive Madeline Nelson and international superstar Wyclef Jean.
Her debut LP is executively produced by Wyclef Jean and is led by "You Got Me," which collected over 1 million YouTube views to date. The seven-track project explores love, fun, ambition and life's tribulations.
On "Jazzy's Diary" for example, the singer openly revisits a childhood of sleeping in rehab centers with her siblings as her mother fought addiction and living in foster care after her mom's passing. "My inspiration while writing and recording my album was my everyday life," says Jazzy. "Through the music I want people to get to know me and see the truth about what I have gone through… good & bad."