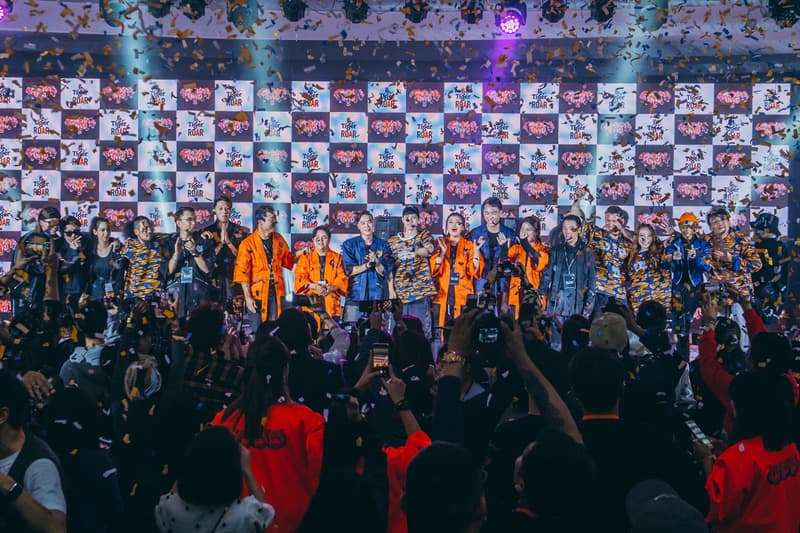 Uncaged Hero Spotlight: A Cheat Sheet to Uncaging Creativity
A guide to finding your creative self.
---
The want to create is as innate as our basic survival functions. However, for various reasons, the capacity to access this side of ourselves can — become seemingly inaccessible.  In an effort to encourage and foster creativity, we connected with Tiger Beer's Uncaged Heroes to offer a series of insider insights on overcoming personal hurdles and continuing to build on their respective disciplines. Yielding a treasure trove of advice, the Singapore-brewery's cohorts discussed and elaborated on a range of topics from sourcing inspiration, to finding community, to circumventing fatigue.
Can you describe your passion and how you're creatively influenced?

Jun Chan: I cook soul food and create like an engineer; I'm trained in both professions so that makes me methodical, but there's room for some madness, too. A little like nature. If you think about plants that seemingly grow all over the place, there's a structure to each cell, leaf, branch and so on and so forth. I'm heavily influenced by nature, my surroundings, life experiences and memories. My food reflects a "tri-balance" between the appreciation for nature, Malaysian flavors, and the use of primarily locally produced products.
Russlan: I work as an illustrator, and my passion is drawing. Putting a line on paper is something surreal to me because the act itself seems abstract, but the outcome appears to be real. I take inspiration from different cultures and backgrounds. My roots are German and Russian, and it seems that I'm attracted by the unfamiliar and strange. I love foreign cultures; they all find very different answers to similar questions.
Luuya: I started learning how to play keyboard when I was a boy. I was learning to play electronic, trance music on keyboard by ear. I was inspired and influenced by music that I bought from a CD shop. It was interesting to me that how those DJ's and producers made their great tracks. After that, I learned music software and started making my own music and beats.
Yimsamer: "To experience with a passion of creating experience and technology," this is our team motto. We believed that creativity in design, art and technology can be put together to develop an immersive and unique work.
How do you manage to keep yourself inspired?
Jun Chan: I get my inspiration from being out in nature; it's colors, textures, shapes, smells and sounds excites me. So, go find out what makes you happy and what inspires your growth as a person. Once you get there, open your heart and your mind to new experiences!
Russlan: I love to explore new artists, new work and new fields. A good library, a cinema or a comic book store are a great source of inspiration. If I have the money and the time, I also love to travel. This gives me a great impression of foreign cultures and also fills up my head with all sorts of visions.
Luuya: Do whatever you feel that you're good at, dedicate yourself to it and then get satisfaction out of it. That is how I inspire myself.
Yimsamer: Looking at other artist's design is a good source of inspiration; however, that is not sufficient. I think as a designer you must open your mind. If the design is meant for the people, the artist should be able to communicate his thought to the people via his design. Talking to people from various expertise will open many possibilities. Keep asking questions, and you might find the most creative answer that will help to shape your creative mind.
Can you speak to the importance of finding community and how one should go about finding their own?
Jun Chan: Community is important; after all, no person is an island. There are all kinds of communities out there that people can belong to and engage with. And that's great! You stand to gain so much from others and vice versa. When I did my first ultra-marathon, you'd think everyone's competing to be first at the finish line. Not quite. You're with a group of long-distance, trail runners who want the same thing, for everyone to finish well and safe. That saying about life, happiness, success, etc. not being a destination but a journey is exactly what community is – a collective energy that encourages you to be and do more than you imagine possible. You really can't go at it alone. But to me, before finding community – something to belong or give to – everyone needs to be someone first. It's as simple as asking yourself, "Who are you, really?" Can you be comfortable in your own skin, in solitude without FOMO gripping you? So, figure out the kind of person you are or want to be, and then be present with other people, engage in conversations and really see and listen to what's happening out there. You can't just take in a community; you have to give as well. How can you give, if you don't know what you can or want to give?
Russlan: Community is pretty important when it comes to feedback and developing your work. At the end, I see art as some form of communication between me and an audience. I have friends who can give me good feedback and push the boundaries of my work because when it's finished and published, there is no turning back. Sharpening your edges is painful, but necessary.
Luuya: Every person has ups-and-downs. When individuals come together and form a community, they complement each other and build strength that no one can achieve individually. That's why I value the importance of being a member of a community. The things that I do and pursued helped me get into the community that I belong to now.
Yimsamer: I think finding the right community is another key to unlock new possibilities for your passion. To be able see your idea from a different point of view is important because you get to see it from a broader perspective. The community is the enabler for us to ask, talk and express ourselves. If you cannot find a community, start creating one!
What does balancing the everyday happenings of your life with your passion look like? Is there any advice you can offer to those who struggle with finding time to be creative?
Jun Chan: I'll give you three fundamentals. First, surround yourself with people who are honest, supportive and patient with you. You're going to need them to weed out the self-doubt, but also be straight with you. You're going to need people who understand more than your passion, but also, what you have to do. I owe so much to my family, friends and loved ones who've given me the time, space and consideration that has allowed me to keep going. Second, get proper sleep and take care of yourself. I've lived in extremes; Sure, it works, but your mind and body cannot work at its best if you're tired or unhealthy. I'm not saying everyone should suddenly take up running, or connect with nature; if that's not your thing. But, I do encourage people to be mindful about their wellbeing and to do what helps them grow. Lastly, take inspiration from everything and everyone around you. Keep an open mind and heart. Amazing ideas can come from the simplest of things or places.
Russlan: Drawing is a priority in my life; therefore, I take the time it needs. I think that the best way is to establish a routine. Especially if you're a freelancer, you have to make sure that you draw as much as possible. If you struggle with your free time, make sure that you choose your main focus. I think you have to set priorities and focus on your work. Take a certain amount of the time you have and spend it on creativity. This can be an hour every day, or even just a few minutes, but this time should not be negotiable.
Luuya: Time management is crucial for effectively balancing your workload. However, it takes time to learn how to manage your time, efficiently. In my case, I've been doing two jobs for over 4 years, but I was always able to find two to three hours a day to develop my music skills through reading and watching tutorial videos. I think dedicating a portion of your time to self-development is a key to success and creativeness.
Yimsamer: We don't have to balance life and passion. Time is a limited resource, when one says, "I have no time to do it," to us it means this matter is not important. If someone comes up to you and offers you one million to clean the toilet, you will immediately drop everything that you're doing at that point of time to clean the toilet because of that one million matters to you. Therefore, when you say, "I have no time to do it," it means this is not the right passion for you, and on the contrary, if you have the right passion, you will always find ways to pursue your passion.
Within your perspective passions, how and when do you find time to shut your mind off, as to not burn out?

Jun Chan: Striking a balance between work and life might seem like common sense, but it requires discipline. I found love in trail running, and you can find me outdoors a lot when I don't have to be in the kitchen. I run with my four kids and shut work out. In the same way, you focus at work, there's also a need to focus on play. So, I make sure to allocate and have "me & mountain" time; that is non-negotiable.
Russlan: I don't think that this is possible. I learned to draw with traditional techniques, such as brushes and feather, using pure black ink. When you learned the old school, you have a philosophy behind it. It gives you the requirement of focus in your work. To be good at drawing, no matter which technique, I think you have to empty yourself and get into a certain stage of mind. It's some sort of meditation, where you spend a lot of time during regular working days. That's pretty satisfying.
Luuya: If I don't feel any progress on making my music within two days, I accept the fact that I need to put it aside. So, I'd take a day or week off to refresh my mind.
Yimsamer: We always look forward to designing new things and talk to people who are not in our field to generate new ideas. By doing this, we are open to new possibilities, and at the same time, we are able to exercise our creativity. We see values in new different things every day which fires up our spirit.
How do you all deal with those feelings at that moment, and what ways can you transform that energy into something more positive?

Jun Chan: Failure is inevitable. Whether you fail fast, fail small, fail forward, fail mindfully, you have to fail so you can learn. As with most things, the start is always difficult. That's not to say I failed less these days – I just learn better. The creative process can be rewarding and brutal at the same time. So, I look for what helps me learn. If you smile after eating something I've made, I want to know why. If you left your food untouched, I also want to know why. Regardless of the outcome, I use that as motivation to put my best on a plate.
Russlan: I love to fail. I started to do artwork where I use both of my hands a few months ago. I was bored by my routine. I had the feeling that my work was lacking the failure; I really need to stay fresh. As I explained at the beginning, I enjoy drawing more than having the result. I don't care if it's a failure or not. If it doesn't work out, I just redraw it. The only moment that might be similar, is when I don't have the ability to draw at some point. I just can't force myself to enjoy it. That can happen from time to time and I just keep going until I break it up again.
Luuya: It's always better to try and fail than to do nothing. Sometimes, expecting too much from what I'm doing makes me feel sad. I try to keep such feelings under control and stay happy with what I do.
Yimsamer: Failure is not really a big deal for us. We tell ourselves that we're not the best yet, so we will continue to strive to be the best.
What was a major mental block in your life and how did you overcome it?
Jun Chan: I was working seven days a week for a good five years. Naturally, I burnt out and fell into a very sad state. I was going nowhere with my cooking and I was not happy. I decided to impose the same discipline I had in the kitchen for when I was out of the kitchen. That basically means putting the same commitment and focus on myself outside of work, making sure I step out of the kitchen. So, I started going outdoors more and started running. I competed in ultra-trail marathons as a way to improve my health and self-esteem. Again, it wasn't about finishing first, but finishing well, and at the same time learning and understanding my body and mind better. When you take care of yourself, you do become happier. So figure out what will make you happy and well. Put discipline into doing that. Things became clearer for me and I drew inspiration from my happy places. I started to love cooking again and created dishes with a newfound respect for nature and was being mindful where food comes from and will go.
Russlan: When I started my career as an illustrator, I had a major mental block because I wanted to succeed too much. Especially because I started to compare myself to others. The solution was easy; I focused on the process and the pleasure of drawing, instead of the result.
Luuya: A belief that I couldn't do things was the major mental block in my life. To overcome my pessimism, I constantly worked for years on developing my skills and knowledge.  So, persistence and active learning helped me overcome the major mental block I had in my life.
Yimsamer: We started our career as a designer when we were just a kid, and due to that, our credibility was very low. We had no experience at all. That was a tough time for us. We never gave up, we continued to push ourselves. After many years, people began to appreciate our work and look at us differently.
For anyone who may be hesitant about following their dreams or letting their passion flourish, what words can you offer for them to turn dreams into action?
Jun Chan: You only have one shot at life. So take care of yourself first and foremost. Follow your heart, but remember to also be practical. As always, learn, unlearn and re-learn.
Russlan: I think there are two moments in life when you aren't free to choose. It's your birth and your death. Everything else is up to you. If you have that in mind you don't have to fear the failure because this is really your own decision. You fail if you don't try, its easy.
Luuya: It is still not too late to give it a try. The most important way to avoid burnout is to continue evolving. Be curious. Never stop learning. Keep your drive and passion fresh and intact by actively taking time each day to further your career.
Yimsamer:  It is easy to start something. We always say, "Look for the fire." Find/create your own community that can encourage you to fuel your passion every day. You need to remember that pursuing your passion is like climbing a mountain: you must go through challenges to reach the summit.
---
For more information on the brand's endeavors, head to Tiger Beer's website.
Must be 21-years-old or older to visit the website.