A Musical Journey with Stalley
a-musical-journey-with-stalley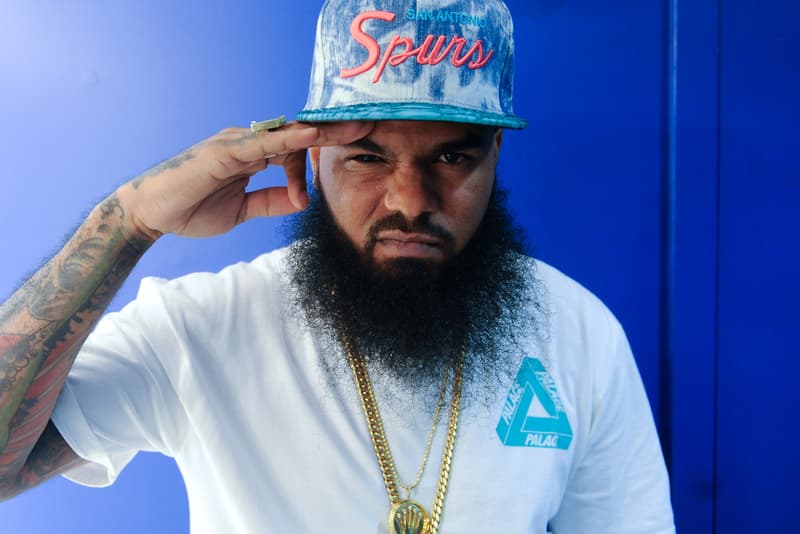 Hailing from Massillon, Ohio, a small town south of Cleveland, Stalley came to the realization that there was void of proper representation of his city. He's proud of his come up and now makes it his job to represent it in everything he does. His loyalty to his city is second to none, and in just a short span of time, he's already has caught the attention of many prominent producers and executives in the music world. Prior to getting into music, his career playing Division 1 basketball was short-lived during his tenure at the basketball powerhouse in Michigan, but as an emcee on a steady climb, it maybe fair to say this was a blessing in disguise. Here are some thoughts from Stalley himself, as he joins us for a discussion on his musical journey.
First of all, thank you for taking your time to join us, please start by telling the people who you are, where you're from and what you do?
Stalley, Massillon, Ohio, 330 and I live life.
Can you tell us about how you got started in music?
I've really been a lover of music my entire life. I was exposed to a lot of different genres at an early age and then really got into hip hop from being around the older dudes coming up and hearing what they were listening to. As far as writing rhymes, I have always written poetry, it was just a matter of putting the rhythms together and putting it to music. I really didn't start writing songs until about 3 or so years ago and that was at the urging of a friend at the time. That's when I began to take music a little more seriously and started to learn how to write songs.
Born and bred in Massillon, Ohio all your life and then transitioning to a bustling New York market who's accepted you with open arms, tell us about that transition process.
It was a big move in my life, just going to a big city like New York coming from a small town in the Midwest was exciting, frustrating, and scary all at the same time, not knowing what to expect. I came from only having to worry about grades and basketball to having to worry about being in this big city, school and basketball, and I was coming off a big injury so it was different in a lot of ways, but one thing it did was motivate me and help me grow not only as a person, but as a man. I had to go from being a boy to a man right away, plus I was transitioning from a big high school and college basketball program to a smaller school/program in New York.
What are some of the projects you've worked on and are currently working on?

Man, I've begun a number of projects, but I'm not sure what the timeline is on all of them. The ones I'm really focused on right now are with this Producer Rashad out in Columbus, Ohio and the other one is with Ski Beatz. I've started on projects with SA-RA and this dope producer in Philly named Suzi Analogue, but those are both in the very early stages right now, so we'll see what happens.

Ski Beatz as many may already know, has had numerous classics under his belt, most notably his work on arguably one of Jay-Z's best records of all time, Dead Presidents, can you talk about how it is working with him, Dame Dash and the DD172 collective?

It's really been a blessing to work with everyone over there. Like you said, Ski brings a resume of classics to the table and that's really an underrated legend right there. Dame has been a great mentor to me and really taught me a lot about the business, music, and just life in general. DD172 as a whole has been very supportive of my movement and it's been great working with them.
He also has his 24 Hour Karate School project which still hasn't dropped yet, can you tell us some of your contributions to the project, the delay, and when can fans expect it?
I think I'm on 4 joints on it. I have "S.T.A.L.L.E.Y.", which there's a video for already and you can check out at www.creativecontrol.tv. I have a song called "I Got Mine" with Tabi Bonney, Ras Kass & Nikki Wray, which is kinda a rock joint. Then I have the track with the Cool Kids, "Do It Big", which you can also check out the video for at Creative Control. And finally, I'm on the song "Aerials" with Spitta, Mos and Terri Walker. The project delay is just because they had to get all the sample stuff worked out and some of the tracks were re-done. I truly don't know when fans can expect it though, but hopefully before the summer is over. Trust me, I want a copy myself.
What were some of your musical influences growing up?

Marvin Gaye, Curtis Mayfield, Peter Tosh, Nas, Bob Marley, Mos Def, Common.

If there was one thing you can accomplish in music what would it be?

The one goal I have is to open people's minds, artists and fans. I want people to listen to artists in a different light and understand what they do. Artists really take the time to give the listeners a piece of themselves and I just want people to be more open-minded, not follow trends, be themselves, and just realize what's going on. You don't have to write 16s, you can write an 8 or a 12. Music is art and art is however you want to depict it.
Any final words you would like to add?

Thanks for all the support and keep an eye out for ITM (Intelligent Trunk Music), my next project, coming very very soon.
Photography: Evan Brockett (first picture)
Stalley's Myspace / BandCamp / Slam Online Blog