EXCLUSIVE: Pouya Debuts His New Personal Favorite Album 'Five Five'
The South Florida rapper opens up on anxiety, moving back home and love songs.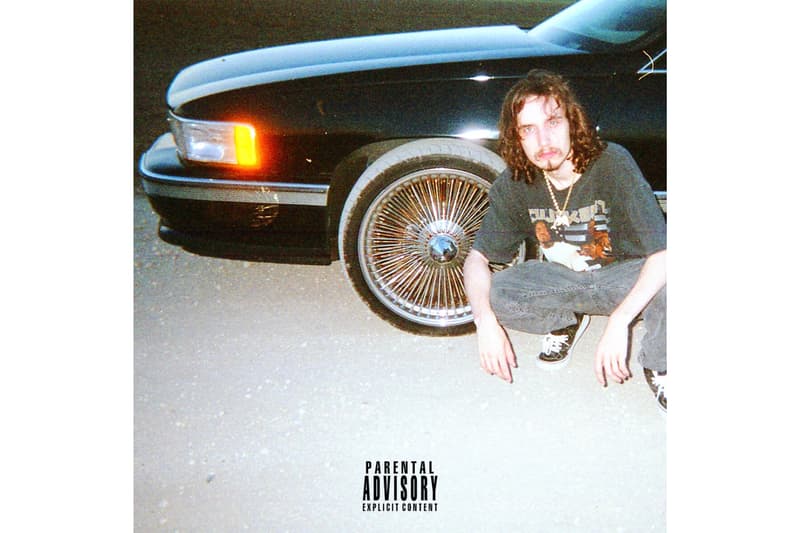 Following an initial, incredible rise through the ranks of modern rap's SoundCloud-driven landscape, Florida underground king Pouya is ready to finally enter the next, OG stages of his career.
"My favorite rappers don't have that many interviews — Andre 3000 doesn't have that many interviews," Pouya tells us as he prepares to take on the next phase of his journey as an emcee. "I want to be like MF Doom: try finding like 10 MF Doom interviews and you can find like two or three — that's sick."
The next major project that Pouya intends to roll out his next path with is today's FIVE FIVE, an 11-track salvo through lifelong struggles with anxiety and depression, personal pitfalls, down-south turn-up, money metaphors and Cadillacs. "It has a darker tone for sure," Pouya explains. "It's a little darker." However, the entire effort also reflects Pouya's refusal to be pigeonholed as your long-distance shrink. This LP is catharsis, but the specter of Pouya's longtime favorite rap legends looms heavily — the FIVE FIVE listening experience isn't just about conjuring up a therapist's office in your head when you put your headphones on. Most importantly, the album is a no-frills, no-filler, rapping-as-Olympic-sport whirlwind of Pouya's last few years on this planet, all through the lens of someone raised on a robust diet of Outkast and Bone Thugs.
As Pouya himself told us, he completely "guarantees satisfaction" and will "personally give you your money back" if you purchase FIVE FIVE and don't vibe with it. Among seas of so-called "label plants" and momentary trends, you can't replicate that sort of confidence in your own one-of-a-kind talents or Pouya's ability to literally bet his own money on the quality of his output. Luckily, FIVE FIVE is the sort of "album of the year" contender that's going to ensure Pouya won't be taking any noticeable losses the next time he logs into his bank account.
For the first time, Pouya has linked up with a media outlet to premiere his project and deliver a breakdown of it. You can check out our exclusive Q&A with the Florida rapper and stream FIVE FIVE in its entirety below. You can purchase the album and stream it on the platform of your choosing here.
How did everything for this album come together? How did the concept come up?
I just started making songs and the songs got really good. I was like, "these songs can't be on a mixtape, they're way too good," and I just put a project together. I never really have a concept until the album's finished. I was rapping about Cadillacs a lot, so that's where the cover came from. That's actually my car, my '96 DeVille. And, it's FIVE FIVE because I'm 5'5". I want people to know that I'm small, but when I hit the stage I'm huge. It's kind of a metaphor.
It's cohesive enough to where you can really enjoy that, but I like to be versatile. Not every song sounds the same, it's not like one big story. Each story is its own entity; that's how I like to do albums. I don't like albums that are one huge concept. I don't want to listen to 10, 12 songs of the same exact concept. This album is not that conceptual; every song is, each song has its own thing. But, the album as a whole? Nah. I don't plan on doing albums like that.
So every song has its own unique story to tell?
Exactly. One song is a love song, another is about me and my emotions, another is a "fuck you," every song is its own concept.
The most important song is "Suicidal Thoughts in the Back of the Cadillac Part Two." That is the song that resonates with me the most, that is the song that came from deep in my heart and soul — all that good shit. That's the most important song, for sure. In one verse I talk about my addiction to gambling, I talk about anxiety, depression, not leaving my room; there's some times where I didn't leave my room, I talk about that. On the first bar of that song I say, "I'm a down-south Florida boy, I ain't going back to Hollywood." I used to live in Hollywood, California; it was fun and I had a good time, but it's not who I am and it's now where I'm from so I had to go back home. I felt a little lost there, like I didn't fit in. I just wanted to go home and be who I am. I'm from Miami and I missed home.
All the songs mean a lot to me. Some of them are just fun — not too deep — and some of them I just wanted to go hard. A lot of the songs have a lot of meaning. Every song is different and that's how I like to make projects.
Was this album made as you were moving from Hollywood to Florida?
I made a few of the songs in LA, I made at least two in LA. I made the rest in Miami, at home.
Do you think some of the album's stories were motivated by that "misfit" vibe you had in Hollywood versus being more at home in Florida and that transition?
Yeah. I made one song in LA called "Weighing On Me" and that's more of a lovey-dovey song. I made that song in LA because that's just what I was feeling at that time — I just felt like doing some love shit. I like doing love songs. I actually wrote it about money, but it's a "love song about money" that you can relate to other things and it can be a metaphor. You can use it for anything, but when I wrote it was about money.
I know you've mentioned anxiety a lot. How big of a factor is it when you're making music, particularly this album?
It's important to talk about it because music is all about how you feel. I don't like to hide. I just think it's important because people listen to music to relate to somebody.
I'm not the type of person or that type of rapper to make all music about, "oh, I'm sad." I'm versatile, I like to make music for anevery occasion. There's some songs on this album that are just fun, where I'm not rapping about shit that's going on in my life, I'm rapping about having a good time or about upbeat stuff you can party with.
Anxiety takes a big role in my life and career: I can't just write a song and not write how I feel sometimes. Sometimes I just got to put that on paper.
When you're making music, do you feel like your anxiety is at a low point because it's therapeutic or a high point because you're confronting everything?
It definitely takes it away. It helps me. Music keeps me pretty sane. Making music in general is therapeutic, I just love making good songs.
Honestly, when I began the process of making this album it wasn't even an album. It started out with "Weighing On Me." To put a little back-story, the first song was "Weighing On Me," but I made it two years ago. I was in the studio, my friend played a beat, and I wanted to make a song. I didn't know where it was going to go. I made "Weighing On Me" and I thought it was so good that I couldn't put it on a mixtape, I couldn't drop it on SoundCloud or just put it out there because it's so good. So, I was just going to hold the song until I have an album. Two years go by, I do a second song and this is another good one where I'm like, "damn, I don't want to just drop this." Basically, that's how the whole album started: I made a good song, held it. Made another good song, held that one. Made a third good song and I'm like, "alright, I got three dope ass songs, let's come up with a little concept for these tracks and put this sh*t together." If I go to the studio right now and make something that I personally think is way too good, I'm just going to save it. It's hard as f*ck to hold them because you just want to release it.
I don't think too deep. I just don't find it it in my best interest to think really, really deeply into, "what is an album song?" If the song is good, it what should be on an album. This is how I went about this album, and it turned out to be my favorite group of songs I've ever made.
I see just one feature on here. How did that come about?
There was going to be two features on my album, unfortunately the other guy that was supposed to be featured, Lil Peep, passed away. He was going to be on it. He texted me a few days before he passed that he finished writing it and he was going to do it. He was supposed to be on a song called "Voices" and was supposed to be on the hook. That's the story with Peep and why he's not on the album.
I just really wanted Night Lovell on there and he's fucking dope — he has a great fanbase and people love him, but I just wanted him on there because he's so sick. If I get a feature on an album it's not because it's the "right move to make" or "helps me boost my album sales" or any of that shit. If you're dope, I want you on my album. I just wanted them two: I wanted Lil Peep and I wanted Night Lovell.
After this, what's next for you, Fat Nick and Buffet Boys?
Me and Fat Nick are just going to make more music together, do more shows, make more money. That's my best friend, we don't let anything come in between us.