These Tech Startups Could Run the Music Industry of Tomorrow
Techstars Music reveals its inaugural class of music companies.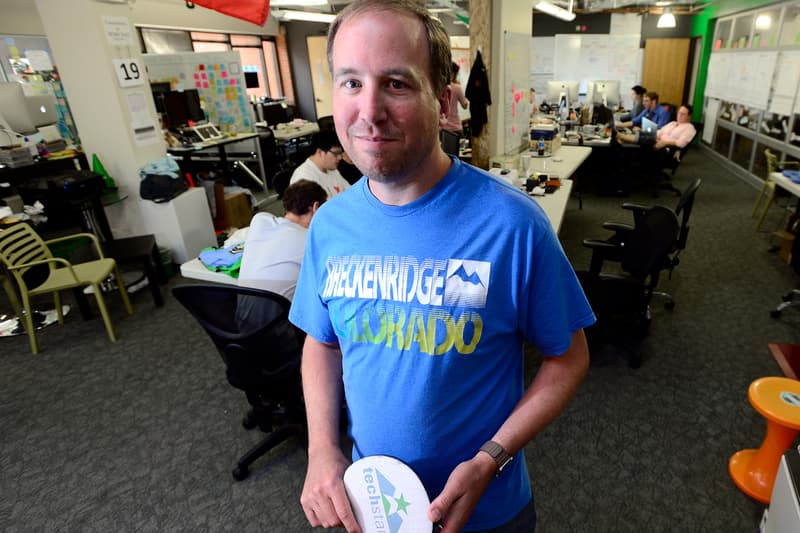 Techstars, a mentorship-driven startup accelerator founded by David Cohen, Brad Feld, David Brown and Jared Polis in 2006, has more than 1,000 companies in its portfolio and has a market cap of $7.8 billion. Its recently established music program, Techstar Music, just announced their first-ever class of music-based tech companies for 2017. The class is made up of 11 startups selected from around the world by former Head of Music at Twitter, Bob Moczydlowsky and his team.
The program companies have moved to LA to work out of the Techstars' office for an intensive three-month summit. There, they will receive resources (each company will receive a $120K investment) and guidance by hand-picked mentors, including artists and industry figures. These 11 finalists are presumed to be the most impactful and innovative music companies of the future. Check out the full list below.
Inaugural Techstars Music Companies Class of 2017

Amper
New York City, NY
Amper is an artificial intelligence composer, performer, and producer that empowers you to instantly create and customize original music for your content.
Founders: Drew Silverstein (CEO), Sam Estes (Founder), Michael Hobe (Founder)
Noteworthy: Amper's composing AI also editors, media publishers and influencers to create on-demand, royalty-free score for their video content.

Hurdl
Nashville, TN
Hurdl increases fan engagement and revenue at live events with a unique LED wearable that allows artists, teams and event planners a new 1:1 communication network with both the known and unknown ticket holder.
Founders: Betsy McHugh (CEO), Zach Shunk (CTO)
Noteworthy: Betsy is a former artist manager (Keith Urban) and Hurdl wearables will be integrated into major concert tours in 2017.

JAAK
London, United Kingdom
JAAK uses blockchain tech to connect music, metadata and rights information. Our goal is to create a real-time metadata network and a standardized framework for low-cost licensing.
Founders: Vaughn McKenzie (CEO), Fred Tibbles (Chief Developer), Viktor Tron (Architect)
Noteworthy: Jaak is working with Viacom and PRS for Music to build a prototype of an open, blockchain-based rights management system.

Pacemaker
Stockholm, Sweden
Pacemaker provides a simple and portable mixtape creation and social consumption experience on top of streamed music, powered by the proprietary file format the Recipe and AI DJ technology.
Founders: Jonas Norberg (CEO), Daniel Wallner (CTO), Olof Berglof (CMO)
Noteworthy: Pacemaker's Recipe software can be used to recreate mixes and allow sharing across different streaming services.

Pippa
New York City, NY
Pippa makes podcasting simpler, smarter, and more profitable by enabling targeted ads to be delivered dynamically to listeners.
Founders: Simon Marcus (CEO), Erwan Jegouzo (CTO)
Noteworthy: Pippa technology can also be used to remove ads from podcasts, enabling future subscription revenue products.

PopGun
Brisbane, Australia
Popgun is using deep learning to make original pop music. Today we are teaching computers to sing. Tomorrow we plan to produce a top 40 hit record. Popgun aims to be the best music AI company in the world.
Founders: Stephen Phillips (CEO), Adam Hibble (CTO)
Noteworthy: Stephen is the former co-founder and CEO of We Are Hunted, a company acquired by Twitter in 2012.

Robin
Toronto, Canada
Robin is a personal concierge for concerts and live events. Robin reserves and secures tickets on behalf of fans while providing real-time demand data to artists and event organizers.
Founders: Adam McIsaac (CEO), Cam Gorrie (CTO), Dave Levin (COO)
Noteworthy: Robin's goal is to provide concierge services via fans' preferred method of communication (voice, chat, email, text) and is not tied to a mobile app experience.

Shimmur
Los Angeles, CA & New York City, NY
Shimmur is a social platform that makes it easy for artists and influencers to have quality interactions with fans. Shimmur flips how social apps usually work; on Shimmur, tribes of fans work together to create content and artists and influencers react and comment.
Founders: Matthew Peltier (CEO), Charlie Buffin (COO), Max Levine (CSO)
Noteworthy: Shimmur's user base is made up of Musical.ly stars and their fans, the youngest cohort of mobile music consumers.

Superpowered
Austin, TX & Budapest, Hungary
Superpowered provides real-time, low-latency audio infrastructure for games, VR, music and interactive audio applications on mobile and wearable devices.
Founders: Patrick Vlaskovits (CEO), Gabor Szanto (CTO)
Noteworthy: Patrick is a NYTimes best-selling author, and Gabor is a self-taught engineer and DJ from Budapest, Hungary.

SyncSpot
Los Angeles, CA
SyncSpot uses an AI assistant to create and fulfill free-gift media rewards for in-store promotions. Example: Buy product X, get a free music subscription.
Founders: Jubair Jalil (CEO), Mohammed Jalil (CTO)
Noteworthy: Jubair was recently named to the Forbes 30 under 30 for Europe. Jubair and Mohammed are brothers, and split time between London, San Francisco and Los Angeles.

Weav
New York City, NY & London, United Kingdom
Weav makes adaptive music via an artist remix console, and will be the supplier of bio-metric-driven music to workout apps, dance studios, exercise equipment manufacturers and action sports products.
Founders: Elomida Visviki (CEO), Lars Rasmussen (CTO)
Noteworthy: Lars is the former co-founder of Google Maps, Google Wave, and was a long-time engineering leader at Facebook.