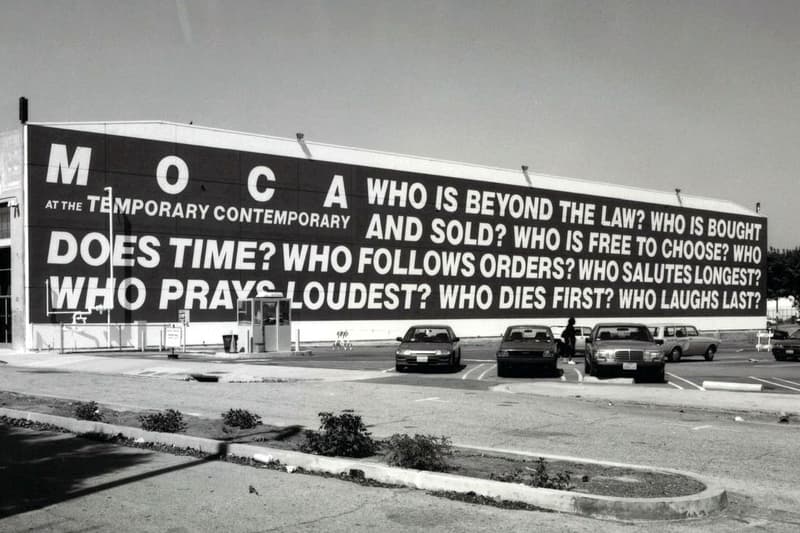 Barbara Kruger's Landmark 'Untitled (Questions)' Reinstalled by MOCA
The nearly thirty-year old piece remains as relevant as ever.
---
The Museum of Contemporary Art in Los Angeles has reinstalled a classic mural from famed artist Barbara Kruger, just in time for America's midterm elections. Untitled (Questions) was first unveiled in 1990 and aims to provoke discourse regarding civic duties, the democratic institution, and government.
Intended to evoke the American flag, the artwork has been revived on the MOCA's north side. It consists of nine questions, painted in unmissable bold-face text across a nearly three-story-tall wall on the MOCA building. It reads: "WHO IS BEYOND THE LAW? WHO IS BOUGHT AND SOLD? WHO IS FREE TO CHOOSE? WHO DOES TIME? WHO FOLLOWS ORDERS? WHO SALUTES LONGEST? WHO PRAYS LOUDEST? WHO DIES FIRST? WHO LAUGHS LAST?" The Los Angeles Times notes that the piece "in ways both oblique and direct, tackled issues of power, corruption, gender, and race." When the newspaper spoke to Kruger about the continuing impact of Untitled (Questions), she responded, "It's tragic and sad that there is still resonance on these issues."
Take a look at the original artwork above and the process of reinstalling the work below.
Most recently, MOCA hosted an exhibit centered around genderless denim brand, 69.