Dwyane Wade Names Luka Sabbat His Style Icon In Exclusive Interview
The 12-time All-Star opens up about his Paris Fashion Week trip, from doggy murses to politically-charged collections.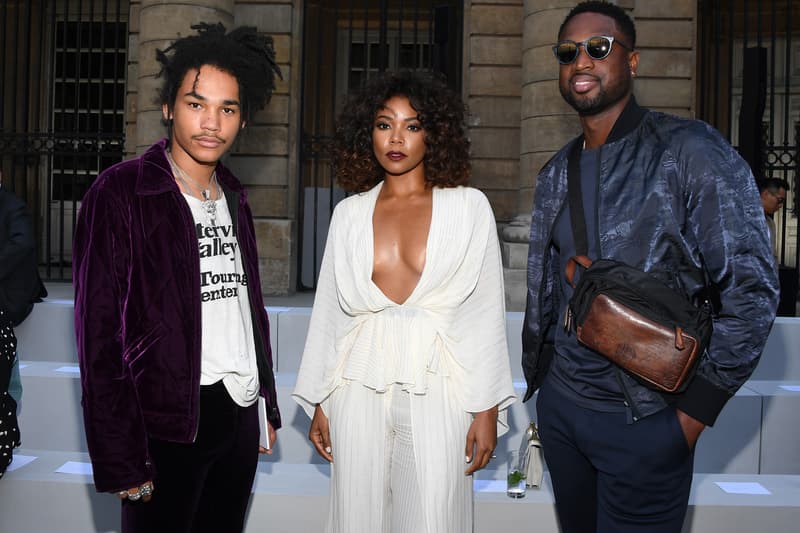 If you followed our Paris Fashion Week coverage over the last few weeks then you surely noticed a number of NBA superstars in attendance, including Carmelo Anthony, James Harden and Russell Westbrook. It's a welcomed sight for sure, with style infiltrating NBA culture more than ever, and maybe more so than any other sport, but while we, the fans, voted Russ as the winner of the Association's inaugural Best Style Award in June, we owe Dwyane Wade mounds of respect for helping pioneer this movement.
Alongside players like Andre Iguodala, Amar'e Stoudemire and LeBron James, D-Wade ushered in an era of athletes who reveled in challenging fashion norms and experimenting with style. Having entered the league back in 2003, wearing the appropriate threads for the time, the 35-year-old has consistently been at the front of the pack introducing new trends to his teammates and fans alike. Sure, we're all a bit skeptical of fashion-forward athletes who have endless amounts of stylists and designers at their disposal to guide them, but as you'll read below, Dwyane genuinely has a passion for helping drive the culture forward, to take a page out of our book.
We spoke with Dwyane Wade following his trip to Paris Fashion Week to see if he's truly an informed member of the fashion world, and needless to say, we were impressed by his answers. Check out our exclusive interview below where he speaks on everything from sportswear in high-fashion, and politically-charged collections, to Luka Sabbat and why he carried a doggy murse.
What brought you to PFW this year?
This was my third time going. I love the #3, but I seriously like to see what's happening in fashion. Attending Fashion Week is like seeing into the future. Watching the shows sparks ideas on my own personal style. Plus this was the first year my wife had off from filming so she was able to attend.
What was your favorite show?
Berluti and Haider Ackermann set a new standard with the venue selection, music and choreography of the models on the runway. I have not even started with the clothing. I wanted the whole collection from start to finish. It was truly a hybrid of luxury and leisure that you could wear at anytime and anywhere.
Do you have any favorite pieces or must-have items from what you saw?
The entire Berluti collection. Track suits and sneakers from Valentino. Deep Vs and jackets from Balmain.
Sportswear was heavily infused into a number of collections; as a professional athlete, why do you think fashion houses and designers alike are creating these type of hybrid pieces so often now?
There is a mixing of culture, music and style in our everyday lives, and we are seeing this melting pot on the runways. Fashion is cyclical, and we are witnessing the emergence of '70s [style], which started a few seasons ago when Alessandro Michele became the creative director of Gucci.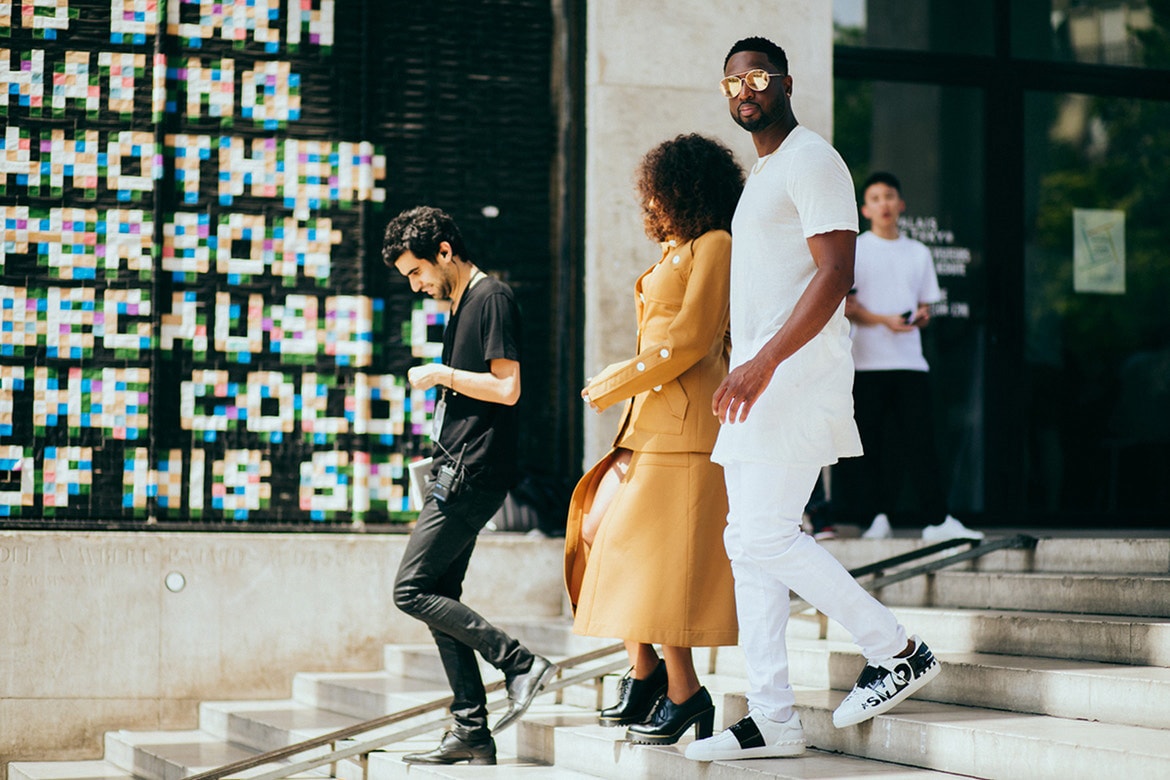 You were one of the early hoopers to transition from baggy clothing of the early 2000's to the slim-fits we see today; what do you think about the baggy wave coming back?
It's not for me! It is also very different, because today's baggy trend is more oversized deconstructed garments. Some of the outfits I see the newer guys wearing are bigger than what we would have ever worn.
Rick Owens received a lot of praise this year; what were your thoughts witnessing it firsthand?
Rick Owens is next level. Every show, he creates the clothes he wants to create. It's not about trends, appealing to a mass market or consumer marketability. It is a true expression of his vision with some cinematic shock value. Just DOPE!!! Not going to lie though, I was on the edge of my street watching the models descend the scaffolding catwalk.
Do you think men's fashion needs more of Owens' conceptual approach? As in, designers are comprising art for practically and "safe" designs?
Why do you think that's the case? No! It works for Rick, because it is authentic. But it is also needed to separate the actual designers from fast fashions. Students of fashion want to buy a story, not just an article of clothing.
Same goes for Virgil's politically-charged Off-White™ show: does fashion need more of these? And how can they be done correctly and with respect to everyone involved?
Fashion has always been an expression, and we are living in a politically-charged environment so it's only natural that creatively-conscious designers are utilizing their brands to share their views on the current state of the world. There is no correct way to share your ideologies, someone is going to be offended, you just have to stay true to your values and find like-minded individuals interested in hearing and sharing your message.
Louis Vuitton is going through a youthful makeover thanks to Kim Jones. He's able to meld streetwear and high fashion unlike many. But some find it to be disrespectful, as it can be seen as appropriation. Case in point: the Dapper Dan homage earlier this summer. What are your thoughts on this? How can a high fashion brand do it properly/authentically?
There is a difference between appropriation and appreciation. I think it was important that Kim Jones and LV acknowledged the source of his inspiration. He has always had his ear to the streets, just look at Umbro. The LV x Supreme collab was bound to happen with him at the helm, he just needed the LVMH group to let him do his thing. Kim Jones is a visionary!!! High fashion brands can do it authentically if it's built into the designer or creative director's DNA. I again have to reference Alessandro with Gucci Ghost (Trever Andrew), it's real.
Let's return to a lighter note: did you make any fashion purchases while in Paris?
Who has time to shop between fashion shows, dinners, traffic and the parties? I am at the shows to shop, I take pics of the pieces I love and want. I actually wore a look to LV show that I saw at SS17 PFW.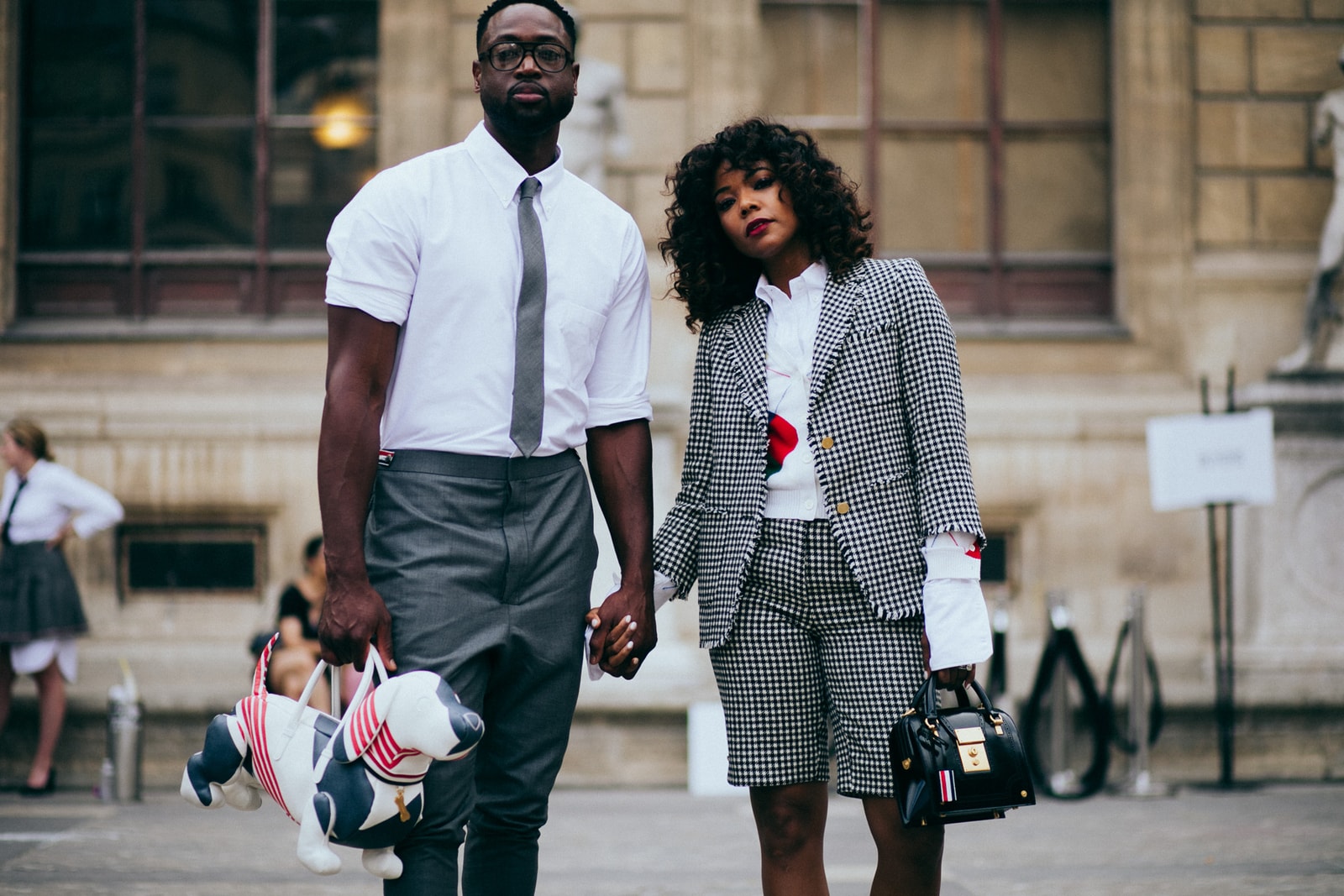 You made some noise during the week for sporting a Thom Browne doggy bag; tell us what you were thinking?
Ahhhh you are referencing Antonio (of course he has a name)… I thought before the last show he was cooped up in the room all week and I might as well bring him out. Fashion is supposed to be fun and what better way to pay homage to the designer then rocking one of their less conventional pieces.
What are your thoughts on the influx of hoopers coming out to Paris Fashion Week this year?
When I attended Fashion Week in 2011 – there were no ballers there – with the exception of Melo who was in Milan. It's been great to see how other athletes have caught on to the importance of having a presence at PFW.
Whose style in the league do you admire right now?
Jimmy Butler… He is so carefree with his look and his style is so different from anyone else in the league.
Who are you current style icons?
It sounds cheesy every time I say it but James Bond, because he makes me want to work out in a tuxedo. Luka Sabbat, Dean and Dan Caten, and the streets — one of my favorite parts of PFW is the street style.
What does your wife think of your style? Does she ever look at you and say "WTF are you wearing?"
All the time, but she steps back and lets me and my creative director and stylist, Calyann Barnett, do our thing. In case you missed it… We Killed IT!!!