'Supreme Copies' Author/Founder Looks to Educate More Supreme Fans With His New Book
An interview revealing his thoughts on the brand's design practices and legacy.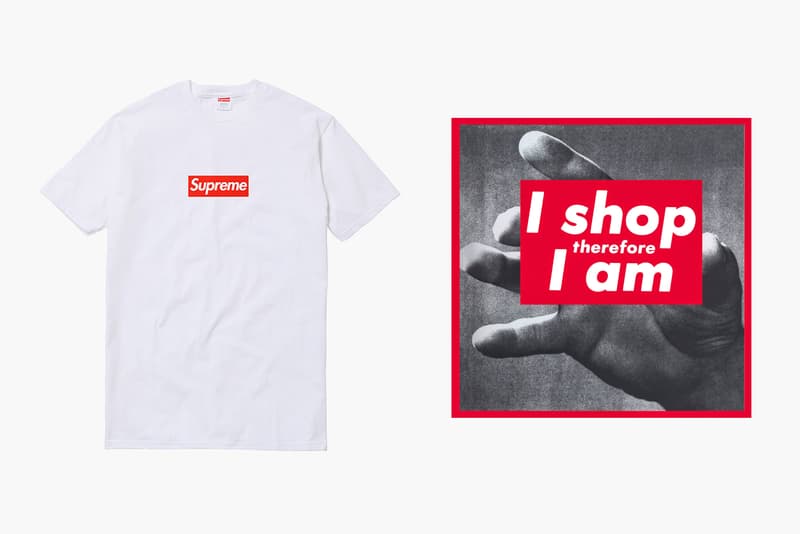 As Supreme's popularity keeps growing, fans from all over the world will continue to stay curious about the brand's designs and collaborative works. For die-hard followers, some of them already know that most of 'Preme's releases are based on past designs, be it from another clothing label or an unexpected brand like say, Brillo. Newer inductees to the Supreme fanbase, however, will soon discover these references popping up the more they get deeper into the brand. This curiosity should eventually lead them to the Instagram account, @supreme_copies.
On the page, the user does a dissertation of sorts explaining the inspirations behind some of Supreme's products. Here, you'll find an array of references that include the likes of Patagonia, the movie Speed, and even Raisin Bran cereal. We took the chance to chat with the man behind @supreme_copies to find out more about his mission with the account and the release of the upcoming Supreme Copies book. Choosing to remain anonymous, he gives us his thoughts on Supreme's current state, his favorite pieces from the brand, and what the actual book will entail.
Your Instagram handle @supreme_copies obviously came before the announcement of the book. What prompted you to start the account in the first place?
I started the account out of interest and desire. I saw the need for the page and saw Instagram as the best platform for it. Clothing and writing were two passions of mine, so they worked hand-in-hand. With Supreme in the current state it's in, there could not have been a better time to have made the page.
When did you first start noticing that Supreme was "referencing" other brands' designs?
I mean for as long as I've known Supreme, I've known of them referencing. All streetwear and skateboard brands do it, however, the more obscure references (expanding past a simple T-shirt graphic rip), I did not start noticing until @sean_wotherspoon would post the side by side comparisons.
Have you ever been directly affiliated with Supreme as an employee or in some other way?
No.
Where do you get your information from? Do you do the research yourself or receive some from others? Do you have a dedicated team as well?
A mix of both. I do a lot of research myself, as well as have a large archive stored up, but I can't pretend a lot of things aren't found by my big following base. People seem to always be on the lookout for the page, which is so awesome and always greatly appreciated. A lot of things are simply found at thrift stores or while people are shopping on Etsy. I definitely have a few reoccurring users who will send me some stuff, but a post-worthy reference can be found by anyone and everyone.
How do you feel about Supreme's credibility when seeing all these design similarities?
Art is art. Clothing is a medium just like any art. In the words of the great Picasso (who was actually at reference this season), "Good artists copy, great artists steal."
There's obviously a nostalgic aspect to Supreme's creations, whether it's channeling '90s Tommy Hilfiger gear, rehashing a vest The Notorious B.I.G. once wore, or even borrowing from an old Pelle Pelle jacket design. What's your take on 'Preme frequently looking back to the past for inspiration?
I think it expands on the culture of the brand, but at the same time cultivates it. When referencing, the brand has many recurring themes — creating this level of brand identity that's practically incomparable to any other. The '90s, New York style, skateboarding, and classic designers are always up for grabs, but every season something new is brought to the table whether it be a specific artist collaboration or for example, a motorcycle jacket.
Were you ever part of the then super exclusive Strictly Supreme forums? If so, how do you think the Supreme forum culture has evolved since?

Yeah, I was. I still refer to them for the page every now and then, but it's definitely grown to the more common social media platforms. Today's most popular "forum" is really just the comment section on someone like @supreme_hustle's most recent photo.
Are you currently a member of any groups on Facebook, other forums, or a fan of other social accounts pertaining to Supreme?

One Facebook group that I enjoy is Supreme OG Talk. It's a buy/trade/sell marketplace but also has forum-like tendencies where people can share their rare Supreme from 1994-2010. I also enjoy many Instagram accounts — people like @ericpiencka @boolstagram, and @sunmanman00 are always posting the rarest stuff.
Kendall Jenner and Cara Delevingne have recently been spotted wearing Supreme. How do you feel about extremely popular celebrities wearing the brand? Does it affect you in any way?
Celebrities wearing the brand doesn't affect me in any way, shape or form. It's been a thing since MCA from the Beastie Boys was pictured with the Dalai Lama in '95. It's definitely becoming more and more common, however. I think from 2012 (OF days) and on, it's become more and more common for rappers to flaunt the brand, therefore leading to the likes of Kendall and Kylie wearing it.
Do you consider yourself an avid fan of fashion and sneakers? What other brands besides Supreme do you wear?
Definitely passionate about fashion. I'm not crazy into sneakers. I like what I like — Palace, adidas and Raf Stans are my everyday shoes, but I've never been big on Jordan's and rare SBs or anything like that. Other than Supreme, I like Gosha, Midnight Studios, Fucking Awesome, Parardis3, A.P.C., Palace, Acne, Heron Preston, FTP, etc.
Do you have any favorite Supreme pieces you own? What's the personal story behind them?
I don't really love anything that is riddled with the word. My favorite pieces off the top of my head would probably be FW '14 plaid rugby, FW '13 Basquiat 'Replicas' button-up, '06 Kate Moss tee, and pretty much any graphic from 2004. That was a great year.
How did you start getting into Supreme? Have you ever stood in line for any Supreme drop? Ever stood in line or camped out for any other brand's releases for that matter?
I've never camped out. I've had to stand in line before yeah, but not on a drop date or anything like that. I got into the brand from a mix of my interests in music and skateboarding. I have not waited in line for any other brand.
What do you hope to accomplish as you continue to educate followers about Supreme's design inspirations?
Just that, teach the community and everyone in it. I have people that I've looked up to for years now following the page. The fact that I'm reaching them is amazing, no matter the reason as to why they follow.
You mentioned not being able to include all the references in the project due to legalities. If you can discuss, what legal stipulations did you face in making the book?

So a few things come into play with this. Since I'm printing the book in full color, it costs a lot more. So for me to still be able to give an affordable price (like $32), I, unfortunately, cannot print as many references as I'd like. Now, in terms of legality, there are references I simply can't feature for permission purposes. For example, I cannot publish "many" album covers/movie covers, things along those lines, simply for the fact that it's difficult to reach those owners.
Educating fans and buyers seems to be your top priority with the book, do you feel the project will fulfill its mission? What do you have to say for the naysayers?
If you're against the page, I'm not sure why you would be. So to the naysayers, I say nothing. I think the project's mission will definitely be fulfilled.
What are your thoughts on the Supreme x LV collaboration?
Over-branded.
What is your overall opinion on the state of Supreme today compared to the past?
In terms of now, as on March 8, 2017, it is literally a meme (I fw the vision!!!). In all honestly, it's become a word more than a brand. Like people don't give a shit about who Sade is — the shirt says Supreme. It used to be an in-the-know type thing and even up until 2015, I think it still somewhat remained that way. But the way market prices have gone up and the amount of new kids interested in the brand, it's become anything but that. That's part of the beauty of my page — it's for lovers, haters and new kids alike.
What is your personal opinion on the state of streetwear now?

I think streetwear has become popular culture. I also think it's becoming layered, as in no one can really fully define it. If I were to though, it would be @zacftp. FTP is what streetwear is.
In terms of Supreme's collaborations, is there a company out there that 'Preme hasn't worked with that you'd like to see create products with the NY brand?

I like the idea of them collaborating with one of their most referenced brands, either Tommy Hilfiger or Ralph Lauren. I doubt it would ever happen, but it would be interesting, to say the least.
Besides running the @supreme_copies Instagram account, what other hobbies and interests do you have?
Skateboarding, photography, writing, fashion, music, etc.
Do you get a lot of hate from loyal Supreme fans and haters? How about love from Supreme fans or haters?
I mean my biggest demographic is definitely Supreme fans. I've definitely gotten a range of reactions, hate and love alike.
What's your top five favorite Supreme "copies" of all time?
The Fuck Denim series, the Heels button-up, the Stardust tee (2008), the "Fuck The World" long-sleeve, and the Marlboro Man tee from '98.
Where do you see Supreme as a brand 10 years from now?

Some think they could be peaking currently. They "could" fall off and 10 years from now, become popular again (trends tend to work in circulation like so). It's hard to say, though. Who knows?
More importantly, where do you see yourself and @supreme_copies 10 years from now?
A brand owner. Right now that's very cliche I understand, especially coming from me. I'm not referring to making runs of long-sleeves and hoodies with an edgy word on it, though. I want to do something most comparable to Shane's Midnight Studios. Put quality and authenticity first, and everything else second. We'll see what the future holds.
Will the book be available in the EU? Worldwide?
I'm working out the details right now. I'm near positive EU will be able to purchase, as well as any other country that can receive products from Amazon.
Does the book have a pre-order?
No, sadly not. The book is being published on Create space through Amazon, so when the book is finished, it goes live. There is no pre-order option for some reason. However, there is no limited quantity; all books are made to order. If you want one, you get one.
Things we can expect from the book?
Full-color pages, every page. Matte-printed roughly 120 pages (for issues stated above on legality, as well as costs). Foreword in the first couple pages explaining the brand, the book, etc. The left page will show reference pictures, short descriptions. Right page shows Supreme piece (not stock image) and a short description. Full-on captions will be left to the Instagram page. There will also be acknowledgments (people whose photos were used) and last but not least, interviews in the back — those are a surprise, though.
Expected release date?
Aiming towards the end of May. I will reveal soon.