Banksy Opens a Hotel & Breaks His Instagram Silence
Banksy surfaces in Bethlehem with a brand new project.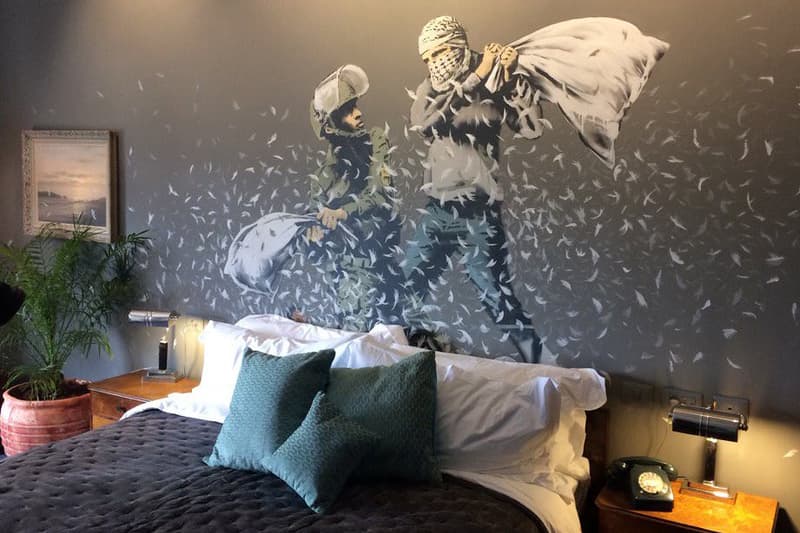 Robert Del Naja rumors and upcoming documentary aside, Banksy has been unusually quiet since opening Dismaland back in 2015. And now we finally know why: the elusive creative has been hard at work on a brand new project — a hotel, of all things.
Dubbed the Walled Off Hotel, Banksy's new project just opened its doors along the controversial barrier that separates Israel from the Palestinian territories. Home to ten rooms in all, the space boasts new Banksy works throughout and aims to shine a spotlight on the Israeli-Palestinian conflict while bringing jobs and tourism to the area. And, to further the dialogue, the hotel — which is located just outside Bethlehem in an area under Israeli control (Israelis are banned from the town and many of its tourist sites) — is specifically geared toward "young Israelis who might normally spend their weekends clubbing in Tel Aviv" and will host exhibitions by various Palestinians, many of whom have never had a chance to showcase their work to an international audience.
The Walled Off Hotel marks just the artist's latest attempt at bringing Palestinians and Israelis together as the aforementioned Dismaland displayed works from a trio of Israelis and Palestinians side by side.
Take a look inside the hotel below, the opening of which also coincided with Banksy's first postings on Instagram in nearly 80 weeks.