Growing up With King Krule
We sat down with the erstwhile Frank Ocean collaborator to discuss his long-awaited second album.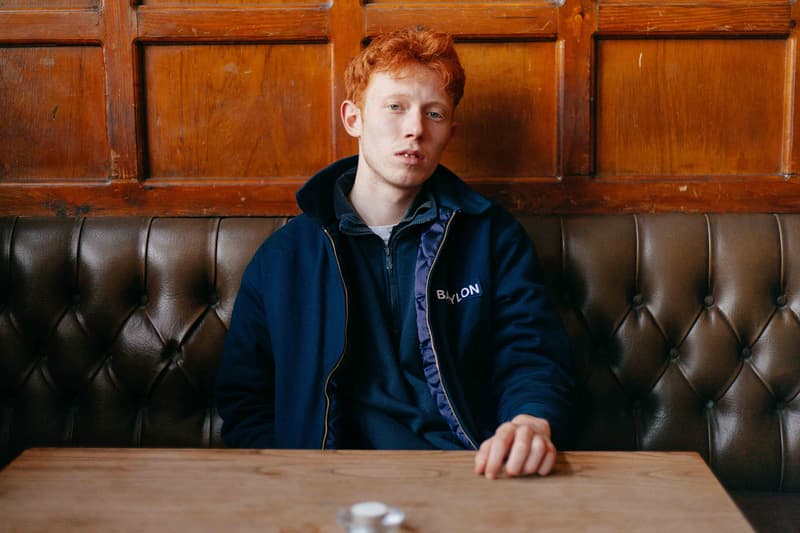 It's been the best part of a decade since Archy Marshall — better known nowadays as King Krule — began uploading music under the now-retired pseudonym Zoo Kid. Back in 2010, the 15-year-old from South London sent the British music industry into overdrive as he became one of the country's most hyped young artists. The record label scramble culminated in Marshall — still shy of 20 — releasing a critically-acclaimed debut album in 2013.
Discussing that early success in a pub not far from the house he was born and raised in, his new status didn't exactly surprise him. "I guess I always believed in my own music," he says, "so I was kind of expecting it in a way. I wasn't prepared for that whole thing where you spend so much time personally with something and then all of a sudden all these motherfuckers can touch it, and listen to it, and have their opinion on it and critique it, and analyze it and have their own experience of it."
After the success of the album — Beyoncé was a fan and Willow Smith covered the lead single — Marshall stepped back from the spotlight. He continued to work, releasing a joint art and music project with his brother, debuting the odd track at live performances and producing for other artists (he recently revealed he produced for Earl Sweatshirt and that he had a scrapped collaboration with Frank Ocean). But, temporarily at least, the King Krule project seemed to be over.
That time away from King Krule was clearly hard for Marshall. "I was unhappy with myself and what I was creating," he says, "and when that happens you feel like you're useless and anything you do is shit. Musically I felt so useless. There was just so much good music coming out and I was just nothing to do with it and I wanted to be a part of it, and I wanted to be something good."
Despite feeling musically redundant, Marshall continued working at other projects. "I'd done exhibitions, done the book, another record, was constantly and still am constantly working with other musicians from my area, facilitating their music," he says of the hiatus, "but, symbolically for me, it was a void, even though I was creating, even though I was doing things. I was still unhappy with myself."
Taking a break — from King Krule at least — wasn't all bad, and Marshall recognizes how it figures in what he's doing now. "I guess I saw myself maturing, because I was mixing mediums and we were working towards different stuff and different outcomes. It was a creative holiday." Those different projects saw him collaborate closely with his brother, hosting a joint art exhibition in 2014 and releasing their multimedia project the following year.
While he was away, Six Feet Beneath The Moon continued to spread around the world. As well as winning over famous fans, the record also chimed with an entire generation of young people, both in Marshall's native South London as well and on the other side of the world. "It was interesting because slowly it was developing and still reaching out to different parts of the world," he recalls, "so I guess when I came back, and it was a long time — it was like three, four years — when I came back there were a lot of people waiting for me." Marshall, or rather King Krule, is definitely back. The last few months have seen a string of single releases, performances in tiny venues in New York, Los Angeles and London and, finally, the upcoming release of his second album, The Ooz.
The road to The Ooz wasn't always simple, and had false dawns as Marshall worked to get it finished. "I had all these compositions and I didn't know what to make of them," he says, "they just haunted and taunted me. Then all of a sudden I scrapped them and was like 'fuck them, I'm not going to think about them, let me start something fresh.'" One of the reasons for the break from his existing efforts was the arrival of two people from Spain who managed to spark Marshall to life. One was a girl from Barcelona, the other was a musician called Ignacio Salvadores, who plays saxophone on the album.
"This girl was staying with me from Barcelona. It was like a different environment, different surrounding," he explains of one of the unlikely collaborators. "I felt like I was in a rut for so long, and then someone like that came along and gave me something to throw stuff at and try and impress." Similarly, the arrival of Salvadores also changed the way that Marshall was working. "When I met him he changed a lot of how I saw music, I was kind of wrapped up in working boxes and samplers and laptops and I was staring at screens too much. It was good to play music again with someone organically."
The new album builds on the work of the first, developing themes and developing ideas. "I like to use my work to transport me out of the area, and into the sky or the sea and vast landscapes," he explains of his lyrics, "I used to write a lot more about social realism and about what I'd see on the street, but I wanted it to be social surrealism and I wanted it to be kind of out of this world as well as talking about the fact I can't get on the bus because I don't have an oyster and I've got no fucking change. But at the same time being transported into the universe just by memory, emotion and mood. It's simple stories, but it's what happens in your head while you do them."
Even though The Ooz has been four years in the making, this isn't the finished product. Rather, it's a marker along the line of King Krule's development — or, as he repeatedly calls it, a "vomit." "I think this album set me up for my next one, which I'm working on already," he says, "right now I'm in a good place creatively, I'm writing these songs that I wish I'd written before so I could release them now."
Although album number three is already in the works and Marshall is, understandably, excited, he's keen to not repeat the mistakes of last time. "A good way to understand your art is to not put pressure on yourself to make something good or bad," he explains, "I spent a lot of time hating what I was doing, and then all of a sudden it clicked again."
The Ooz is set to release October 13 on XL Recordings. While you're waiting, here's why King Krule turned down working with Kanye West.