Skepta: Rewriting Records
The Boy Better Know MC on the rise, fall, and rise of grime.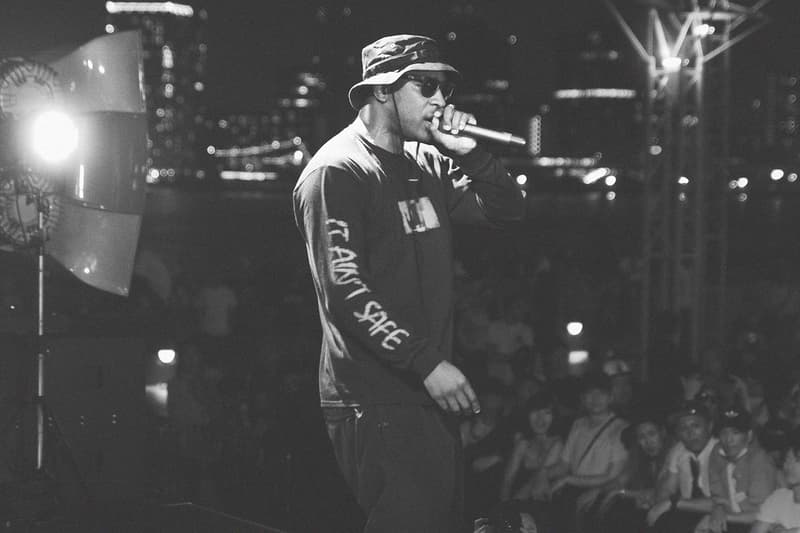 "First class bro, UK shit, London shit," said Skepta confidently as he lifted his eyes from the microphone to a sea of fans in Tokyo's Harumi Port – a shipping terminal responsible for much of the city's imports, and on this warm summer evening, the arrival of a cultural ambassador. The crowd screamed in hysteria, and the 33-year-old rapper, real name Joseph Junior Adenuga, draped entirely in black, took a second to breathe, bathing in his triumph. His mission is complete.
It was the eve of the launch of Konnichiwa, Skepta's fourth studio album (named after him and his little brother's affinity for Japanese culture and grime's early influences), and the Tottenham rapper stands assured and sentimental for the first time in front of a Japanese audience. "Whether it's computer games, language, fashion or lifestyle, my brother [Jason's] whole life has been into everything to do with Japan, so we sat down and came up with this title. Initially we were going to make a whole 8-bit computer game-type album. As time went on, different people came to collaborate, so the sound changed slightly, but it's still an homage to grime as we know it," said Skepta after the show, backstage, ahead of the album's Boiler Room listening party in Shibuya. "I played a lot of computer games as a kid. Since I can't play the piano or any instruments, I would always have a melody in my head that was stalking me. If you play Tetris for eight hours straight, the tune just sticks to your head."
As children of the '90s, grime linchpins have long drawn sonic elements from Commodore PC systems like Amiga, in addition to soundtracks from the likes of Street Fighter and Shadow of the Beast. Such samples make up the backbone of grime's enigmatic productions, one that has prevented the genre from reaching a mainstream audience since its inception in the early 2000s. Hence, for an independent album filled with raw, 8-bit influences to hit number one on the iTunes charts – not to mention swathes of foreign fans chatting along to every belligerent British slang-riddled rhyme some 9,500 km away from its hometown – is not just another accolade. "We've gone full circle" Skepta mutters pensively. But how did this genre, esoteric and niche at its core, reach this point?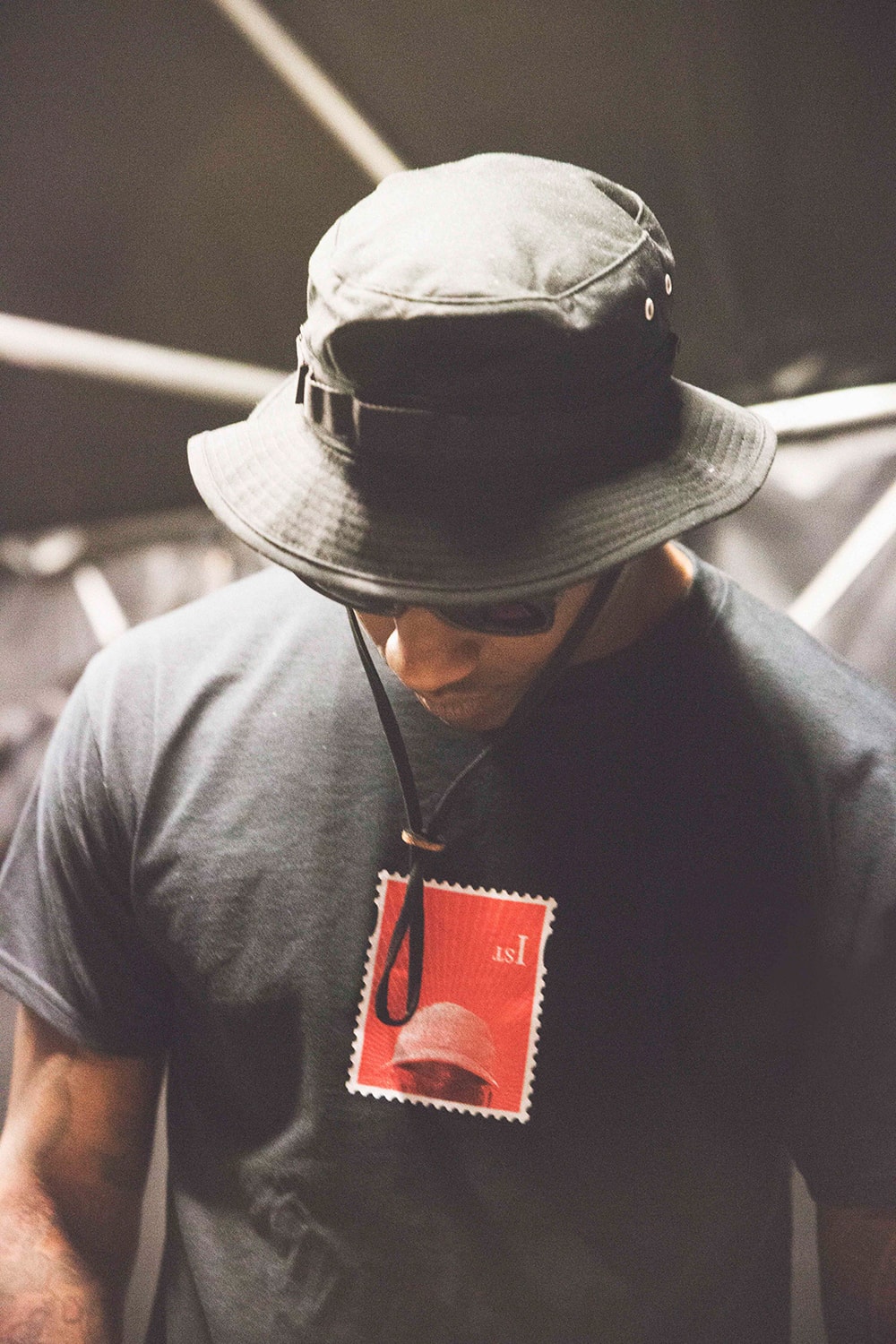 The ebb and flow between subcultures and mainstream is an inevitable part of the evolution of new domains. Dick Hebdige's book,
Subculture: The Meaning of Style
summarizes this course in three steps. First the fledgling movement is frowned upon for its counterculture existence, then it undergoes what Hebdige calls a phase of "moral panic" in which it is blamed for a part of society's inadequacy. Finally, the group then integrates into popular culture after having been rehashed in a digestible form for the public. While this analysis is applicable to many subcultures between the '60s to the '90s – that use style to form symbolic resistance – for grime, the genre underwent an additional crease, revisiting mainstream in an unfiltered form with Skepta at its helm. To get a firm grasp of how grime reached mass appeal, one must first understand its origins.
Classified by British music editor Joe Muggs as "mongrel music," grime began life in the UK underground scene as a DIY, self-motivated movement that consisted of a melange of the UK's musical subcultures including garage, jungle, house, dub, drum 'n' bass and reggae.
"London's a multicultural city," said Skepta. "It absorbs cultures from all over the world, so it's natural for grime to incorporate Jamaican rudeboy slang and dance elements. It's our version of hip-hop told from the council estates." For the nascent grime scene, Bow-bred MC Dizzee Rascal's 2001 Mercury Award-winning Boy in the Corner was the genre's first milestone, and it championed the nation's heart with a heavy helping of homegrown beat and rhyme.
Grime was the antithesis of its forerunner, UK garage's club-friendly odes with their glitzy scene, epitomized by club knights who indulged in champagne, cocaine, Moschino and satin button-downs. Grime was anti-trend, and departed from the awards, ceremonies and garage charts in dance magazines. If garage was a spillover from '90s house euphoria and provided a sugar coat to the turmoil from inner-city struggles, then grime was the bleak and honest expression of London's working class. The name pulled the genre from its lavish roots and smudged it in filth and crime, orchestrating the perfect backing track to the merciless tower blocks of Britain's capital. Among the first releases to be labeled as grime were eskibeat, 8-bar and sublow, genres which culled their names from the lyrical track constructions and bone-chilling samples used to create lo-fi, eerie beat patterns.
Grime took the attention off the dance floor and placed it on center stage. It introduced the rise of the MC. In past British genres, cohorts of DJs would headline acid house raves or reggae soundclashes, yet here the MC was put on the pedestal. After all, a framework crafted from drum 'n' bass's fast tempo only paved the way for the MC's quick, punchy bars. As seminal grime crew Roll Deep's DJ Target mentioned on his 1Xtra Stories documentary, "It's a 140 BPM type of life," describing the genre as fast-paced, anxious and always progressive. While past genres would see a separation between the performer and the audience, grime MCs take stage as the orchestrator, and the crowd as its orchestra. The crowd's energy is crucial to the overall performance, which in turn depends on the MC's ability to curate a session to keep ravers on their toes or listeners locked onto the radio.
Through intelligent wordplay and quick wit, grime's candid expression gave agitated youths a platform to flex their thoughts. Suddenly, every other hooded, ski jacket-wearing teen who had a PlayStation console which doubled as a production startup kit, a bag of drug-ladled hustle stories, and a chip against the law was an MC. "We started making music on PlayStation 2 with Music 2000 and on Nintendo with Mario Paint, nearly 15 years ago. Me and JME would always try and one-up each other," said Skepta in reminiscence.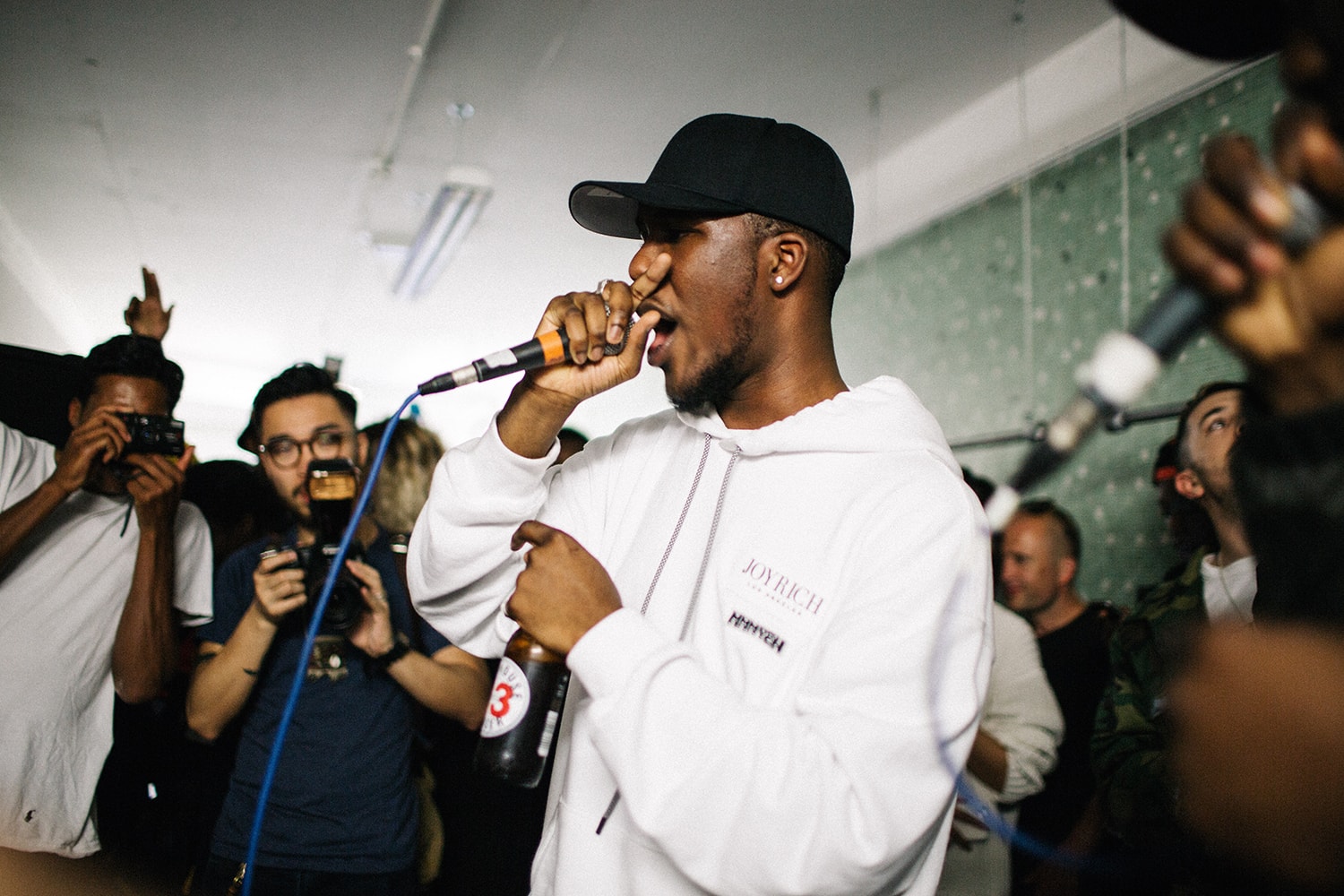 Grime was born in a generation with technology, hence from the start the format was digital. With many youths latching on to their first cellphones as a tokens of independence, it was only natural that much of the burgeoning sound stemmed from the ringtones of Nokia 3310s and the like. "People at school used to come up to me and ask me to make them ringtones on their phone," said rapper and producer JME in an interview with Noisey. "On Nokia, it was second nature. I could make a song without even paying attention, but I remember the baby Ericsson flip phones had a little ringtone thing on them too. I had to pay more attention with these phones because they were harder to work with."
A quick skim through Konnichiwa and you'll find an odd familiarity in the start of tracks like "Nasty" and "That's Not Me" as digital alert notes are repurposed by creatives far from the grounds of Cupertino. Often created on a cracked version of Fruity Loops or Reason, instrumentals split from the atom of 2-step and were simple but aggressive, uncanny but sharp, inflicting irresistible head-nods and crowd-frenzy rewinds. "Ten MCs in a room, one microphone, with everybody wanting to say something they made up a few days ago just to see everyone else's reaction – that's grime," said JME, Skepta's brother and founding member of the two's Boy Better Know imprint.
Those without the spitfire enthusiasm and hunger needed for clashing on early platforms like Wiley's Eskimo Dance raves, Risky Roadz or Lord of the Mics would fall off the radar. Yet regardless of stature, the music opened a new dialogue in 21st century disillusionment. It reflected the views of British youth who aside from close CCTV monitoring were neglected by the top of Britain's layer cake. As the scene grew, it began to cause public harm, with many drawing comparisons between grime and pre-Thatcher punk. Hebdige's prediction of it undergoing a phase of "moral panic" prevailed. Night clubs and venues enforced a "No Hats, No Hoods" policy in safeguard of the public who were agitated by the subculture. Helmed by creatives who are discontented with the establishment, both grime and punk are sonic assaults created by a social sector that suffers from alienation, and in turn they challenge norms and politics.
In Novelist's "Street Politician," the South London MC rhymed in defiance: "Yo, always thinking fuck these feds. They don't give a damn about the mandem. Who's criminals? Us or them? They hate us and we can't stand." From the start the genre had a vexed relationship with authority, initially appearing on the airwaves of illegal pirate radio stations. Rapper Lethal Bizzle's "POW" was dubbed the unofficial song of the 2011 student protests, making headlines in The Guardian which questioned how the track went from "grime-scene scapegoat to righteous rally cry." More recently, in Skepta's hit "Shutdown" (a track inspired by the cancellation of 2015's Just Jam at the Barbican in scaremonger of "public safety"), the Boy Better Know MC rhymed openly about his discontent with the police who disrupted his performance at an illegal party in Shoreditch.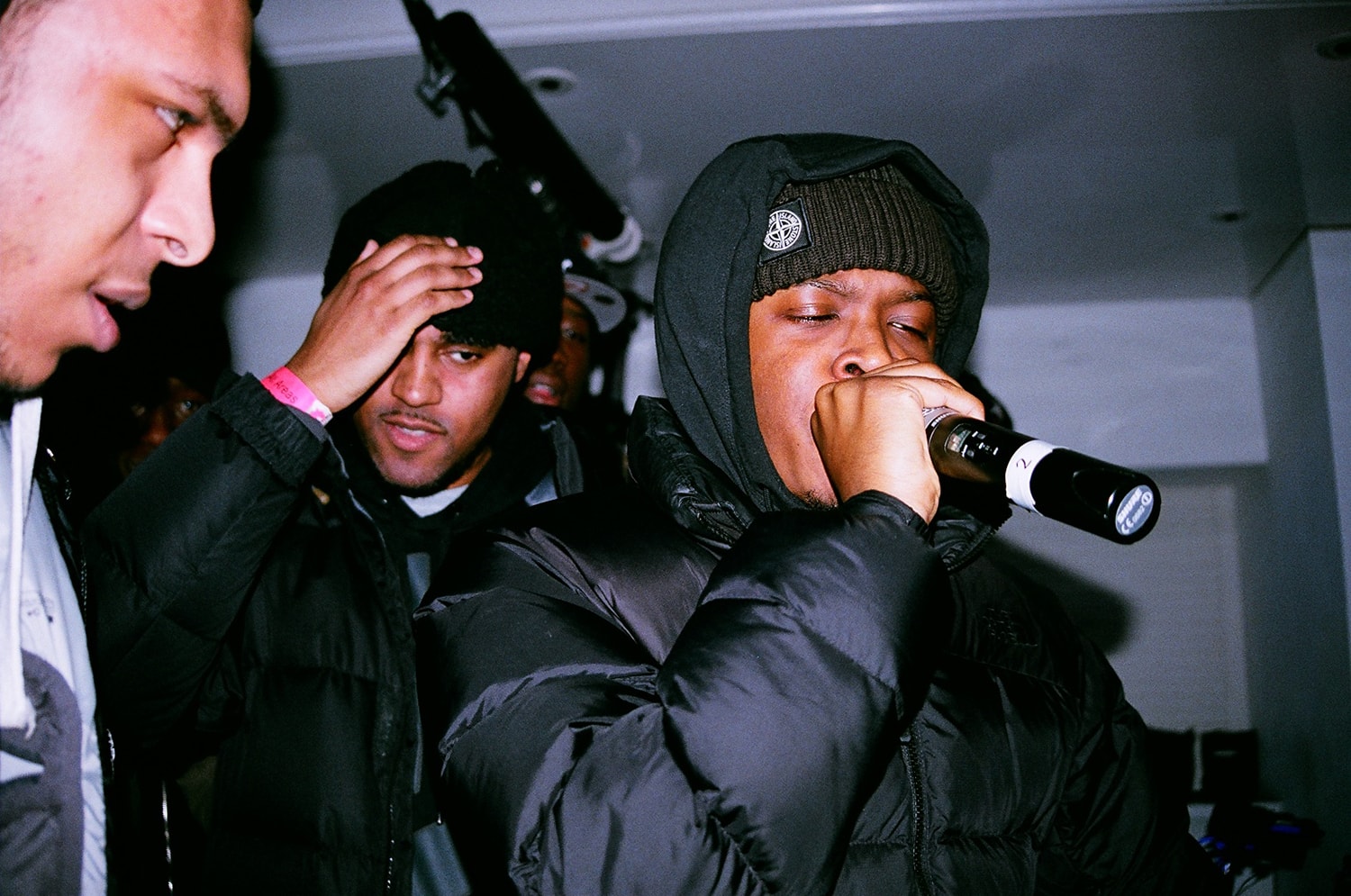 Encountering Hebdige's third step, grime's growth would lead to it being contrived, with various disingenuous stabs at the mainstream that never allowed the genre to blossom fully in its purest form. Dizzee Rascal's 2008 Ibiza poolside party LP Tongue & Cheek resembled few of grime's roots (apart from the heavy British accent). Similarly, Chipmunk's 2009 platinum-selling I Am Chipmunk departed from the artist's clashing past with hi-res panning videos and poignant R&B features. By the turn of the century, many MCs from grime's pioneering group Roll Deep had made the full transition, constructing club anthems that painted an inflated picture of success including a fascination with jewelry and women.
Even Skepta's "Rolex Sweep" (which sampled from Wiley's "Wearing My Rolex") confirmed that the once subversive, underground sound could be reconstructed by music executives and sound engineers to become a cash-cow formula. The genre that had seemed invincible suddenly felt phony. Its failure to gain appeal outside London, let alone Britain, alongside the decline of pirate radio, was only reflected by the scene's lack of original output. "At that point, a lot of rappers moved to the U.S. and embodied the rapper lifestyle because we grew up on Biggie and Tupac, but the money [grime MCs] make is never as much as theirs so you end up looking stupid. This is where we get lost training our fantasies," said Skepta. The once senseless comparison between grime and U.S. hip-hop was starting to become a reality. The imitations to appease the masses watered down the once untouchable genre, speeding up the process for it to run its course. If Skepta's 2009 Microphone Champion was a leap to approachable bassline and funky productions, then by 2011's Doin' It Again, little was left of the genre's menacing roots, with R&B-featured numbers like "Rescue Me" and "Cross My Heart" doing rotations at West End clubs and on the UK chart. No wonder many people said that grime was dead.
Then came the turning point. In April 2012, Skepta released a video from his personal YouTube account dubbed "Skepta – #UnderdogPsychosis no.1." The video remains the only upload in the account's four years of existence. It featured the British rapper slouched on a sofa with his hood up, in introverted thought. Fans described the video as "the deepest and realest video in the scene," as a distressed Skepta started the candid vlog with a recollection of how the British school system prevented him from excelling despite his good grades. This left him searching for other channels of expression. The 25-minute video narrated Skepta's experience being looked down upon by Britain's upper class, and dissected the looting of 2011's London riot. It also touched on the racism he witnessed in British society. The deep but uplifting note showed a side of the rapper away from the chart-topping braggadocious music videos. Moreover, this awareness would play a formative role in his career, putting grime on the map as another form of urban music to be reckoned with.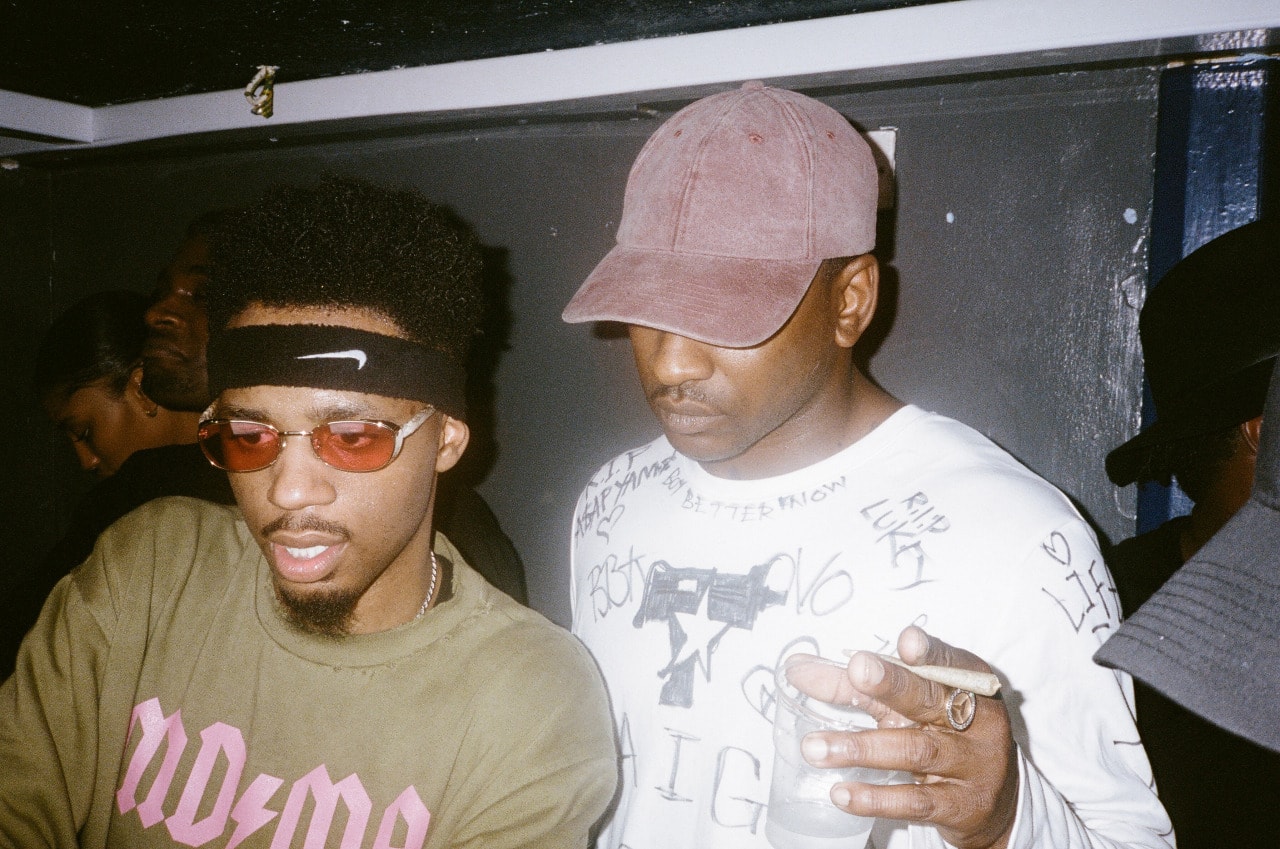 Later that year, Skepta dropped the Blacklisted mixtape, a release which he described as his "midlife crisis album." Packed with emotion and self-reflection, in "Somebody's Everything" he even called himself a hypocrite. A far cry from his late '00 releases, the artist seemed to be in a state of reflection. In an interview with independent magazine Crack, he noted: "Between 2012 and 2014, I felt myself become real, I focused on being Junior rather than Skepta. I didn't have to think about who I was… I'll always love Blacklisted. I listen to it and realize that's when I became a man." Skepta's output stayed muted for a while, and then in March of 2014 he dropped a quick verse to the remix of fellow Tottenham MC Meridian Dan's "German Whip," and in the same month released a new single "That's Not Me."
What was a freestyle at first became an anthem heralding the alleged return of grime. The track showed a Skepta comfortable in his own swagger. In an interview following the release, Skepta told HYPEBEAST, "I know who I am in this world. When I'm in the States I'm fully kitted in Air Maxes, tracksuits, and a curved peak. I come through with my Sports Direct and JD Sports swag; you get me? I'm looking like some ASBO kid and shocking people. I want to spread my culture and have people accept grime as just another form of hip-hop." Aside from taking the soundwaves of his hometown London, the track also had a knock-on effect in the U.S., and for the first time without the help of mainstream cosigns. "That's Not Me," which became the hit single on Konnichiwa, reintroduced grime to the States via a raw and impromptu freestyle session on underground radio Know Wave with New York rapper Wiki from Ratking, whose battle rap demeanour matched Skepta's no-holds-barred approach to rhyme-saying. "Wiki is from New York but to me he is grime. He's got the attitude, the focus on the bars." said Skepta.
The rest is history. Without the overdone lamination of yesteryear, Skepta cemented himself as the harbinger of grime's worldwide appeal. Waving the flag for his nation and bringing with him a slew of artists who would otherwise live under the radar, Skepta rallied "30 goons" which included Novelist, Kept & Konan, Fekky and Stormzy for Kanye West's "All Day" performance at the 2015's Brit Awards. Anchoring the cross-Atlantic love for grime, he also brought Drake out to a Section Boyz show in East London. Skepta reminisced about a conversation with Virgil Abloh during Paris Fashion Week. "He was telling me about how I can bridge the gap between America and England, since our music is both at the same tempo. At the level he's on, it was so positive and refreshing to talk to. He really powered me up and I walked away inspired by his words. I went home, had a good think and this tune came into my head, which became 'That's Not Me.'" At a new level, Skepta's maturity as an MC, and to not let the scene's past feuds effect the bigger picture is also reflected in releases on Konnichiwa. He told BBC Radio 1Xtra DJ Semtex in an interview: "I'm fully supportive of everyone from London, any ends. If you have a banger, I'll retweet you fam." He continued: "We need to focus on creating songs, not clash tracks. Making music for DJs to play."
I come through with my Sports Direct and JD Sports swag; you get me? I'm looking like some ASBO kid and shocking people. I want to spread my culture and have people accept grime as just another form of hip-hop.
With a global audience now grabbing every word he raps, Skepta continues to evolve the genre with unlikely pairings. In Konnichiwa's "Lady Hit Squad," he notes "I work for my hometown, London, and the world so I try to put everything into consideration when making music. That's why I brought the legendary MC D Double E alongside A$AP Nast in a song. I've also featured a Chinese artist called Fifi Rong." He continues, "Since I'm so left-field, to have Pharrell on the album and have him give certification is a blessing." Regardless of who's vouching for grime's revival, one can't help to think that the thick accent, lack of Lex Luger trap beats and catchy hooks may prevent it from living past its phase in hip-hop. Yet Skepta assures us that this isn't a worry in sight."If you are still saying you can't get past the accent, then you are very behind. It's about the energy," Skepta told DJ Semtex following the release of Konnichiwa.
Similarly, in a Boiler Room roundtable, longtime grime DJ Logan Sama concurred, "If you asked Kanye West what his opinion is on D Double E's 'Practice Hours 2' freestyle, it would be based literally on the track. But that's not what grime is about; you need to put him at the back of Eskimo Dance with 2,000 people in the front, and D Double spitting those bars, then he'll give a proper opinion." With Drake even going as far as tattooing BBK (abbreviation of Skepta's label Boy Better Know) on his arm, there's no denying grime's appeal in the U.S., let alone worldwide. The cosigns and collaborations with commercial stars could possibly dilute grime's core elements, which is grounded in the fierceness trained from battle rap circles. Like its bass-fueled brother genre, dubstep mutated from the dingy basement sound to cheesy, arena-filled EDM. Could grime again succumb to commercialization?
As his tour manager ushers us on from backstage following his jam-packed Japan debut, we slip in one final question before a cohort of nylon tracksuits mob through. What's next? "Greatness. There's no point saying these numbers to us anymore, we've seen them. It's what we care about or nothing. As a grime artist, we MC to clash. We'll just keep murking."