Serena Williams Wins Australian Open and 23rd Grand Slam, Most of All Time
And she unveiled a commemorative sneaker collection with NikeCourt and Jordan Brand.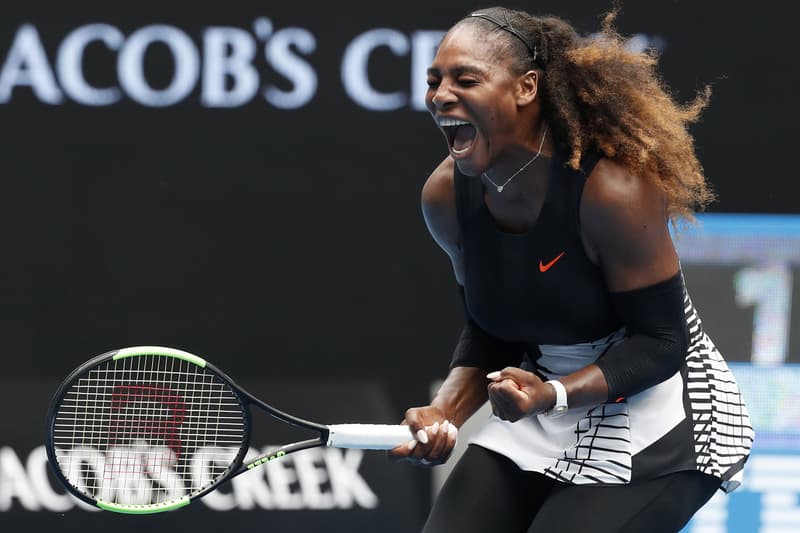 Serena Williams won the 2017 Australian Open earlier today, beating her sister, Venus Williams, in their 28th pro match against one another. In winning her seventh AO trophy not only does Serena become the oldest player to win a Major at 35 years old but she also moves into the number one spot for most Grand Slam singles titles in the Open Era with 23 in total, surpassing the great Steffi Graf (Margaret Court holds the all-time record of 24).
The ninth Grand Slam Finals meeting between the Williams sisters started a bit rocky for Serena as she smashed her racket on the ground after slipping on the court in the opening minutes of the first set. However she would immediately settle into her game, winning straight sets 6-4, 6-4, while Venus, playing in her first Finals since 2008, just couldn't get close enough to take over the match.
When asked about all the talk of 23 during the tournament, the new number one ranked women's tennis player in the world told ESPN:
I don't like to talk numbers during a tournament when I'm trying to come through a big milestone, it just hadn't worked well for me in the past. I'm like 'no more numbers, just let me play and do what I do best.' Now we can talk about it. It's pretty awesome. It really is. I really wanted it. I really wanted to get to 23 so bad, more than you can ever imagine, and I kept telling myself 'it's ok, Serena, you got 22. It's not bad, really.' But I still wanted to get to that 23. I really can't believe it.
As Serena celebrated her unprecedented milestone on set with ESPN, the tennis legend received a letter of congratulations and presents from another athlete famous for the number 23, His Airness, Michael Jordan. Our sneakerheads would be happy to know that she received a special "Bred" colorway of the NikeCourt Flare and a pair of Air Jordan 1s in her favorite color, pink, both of which will begin retailing today. For more information and a closer look at the commemorative sneaker collection with Nike and Jordan, head over to HYPEBAE.