HYPETRAK Mix: SKULS - The I-5 Tape
A 44-minute mix of unreleased original music plus songs by Rustie, AJ Tracey, Majid Jordan, Esta, Arca, Kevin Gates, Eric Dingus, Baauer, Maxo Kream and more.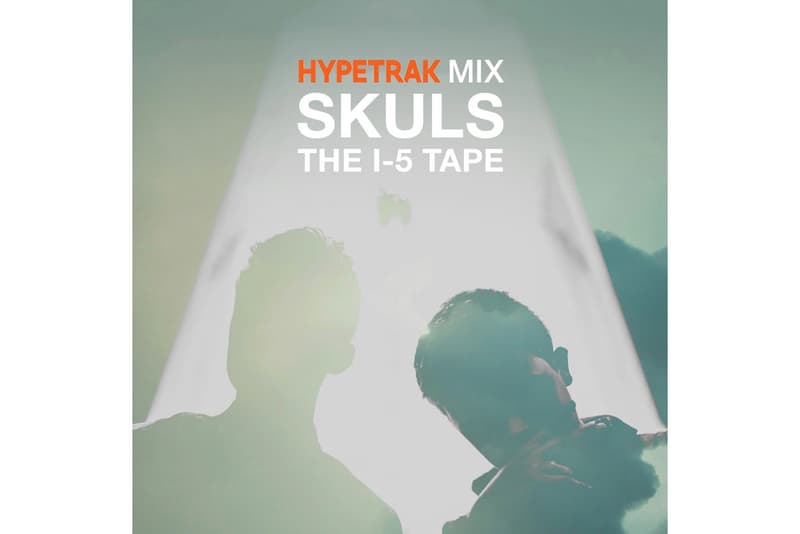 If you haven't been put on to SKULS yet, this is your chance to get woke. The production duo consists of members David and Seamus and are based in Los Angeles, California. We're excited to present their brand new mix today, The I-5 Tape. This project conceptually ties into the outfit's next two releases: a two-track EP titled Transient and another titled Terminal — SKULS will release the latter via Terrorhythm records, a label founded and ran by renowned Grime legend and BBK family member Plastician. Having recently moved from the Bay to LA, this mix and the aforementioned EPs thematically revolve around the move: the ups and downs in the process, the people they met and new situations that arose. The collection of music aims to showcase their journey through a storytelling perspective and showcases an eclectic blend of different styles like grime, hyphy and more. Running 44 minutes long, it features unreleased original music plus songs by Rustie, AJ Tracey, Majid Jordan, Esta, Arca, Kevin Gates, Eric Dingus, Baauer, Maxo Kream and more. Give it a spin, check out our Q&A with the duo and peep the tracklist below.
What is the theme of this mix? How did you approach it conceptually?
The name of the mix is called 'The I-5 Tape' and that's due to the amount of time we've spent going back and forth between LA and the Bay Area on that highway. Conceptually, this mix ties into our next two releases – A two-track release entitled "Transient", and our upcoming (Terrorhythm) EP, "Terminal". What is crazy about all of these releases (including our mix) is they are connected and revolve around our move down to LA. Even the tape sound in the beginning of the mix refers to our artwork for "Transient" – which in the end has several connections to "Terminal" as well. We love creating a story through our music and art, and this mix is a part of that.
How did you spend 2016 so far and what are your plans for the remainder of the year?
We spent most of 2016 adjusting after our move to LA and dealing with all of the struggles that come with that. We are releasing "Transient" (the prequel to our upcoming EP) in the next week or so, and then are releasing "Terminal" in mid-October. Additionally, we have a few remixes in the works and have been setting up sessions with tons of singers and rappers.
What can people expect from an SKULS live set?
The key to everything we do is authenticity, and we want to display that by playing what we represent. It's about emotion and the story, and we take listeners through that during our sets.
Describe your work process when it comes to producing.
When making original content, we always try and take whatever we are going through in our lives and reflect it in the music. We feel that that is the way we can get the most unique pieces. It's usually David and I (Seamus) sending a song back and forth to each other until we have something that's completely different then we had when starting out. It is a mesh of personality, feeling, and creativity bouncing back and forth.
When do you know you have enough material for a full-length release?
It all depends on what you want to achieve with each release – but we like to curate a body of work (music, art & the meaning behind it) around a concept and whenever we have the amount of content that we need to convey that idea, it forms together and feels final.
What can we expect from your upcoming EPs Transient and Terminal?
Transient and Terminal are both pieces that we made in the past year that deal with life changes we've experienced. They're a realistic look into what it's like to leave home and to go after something bigger than yourself. We are releasing them both with Plastician's label, Terrorhythm, because they have given us loads of support in our journey and it only made sense to have them release this and have everything come full circle from our first release with them ("Lost Knowledge") which we released right before the the experiences we depicted on these upcoming EP's, which everyone will hear soon enough.
SKULS – The I-5 Tape (Tracklist)

SKULS – ID
Djemba Djemba & Mr. Carmack – DARKERNATUREV2
Rustie & Kevin Gates – Wait In Line
SKULS – ID
Inkke – SE
Baauer – Body (SKULS RIP)
Sinjin Hawke & Morri$ – One Kiss
AJ Tracey – Trapsuit (Glacci Remix)
Sami Baha- Cash Rain
Eyez – From The Road
Iglooghost – 悪DENG悪
Dougie F & DJ Fire – Jasmine (dubbel dutch RMX)
Majid Jordan – Too Far
Girl Unit – Wut (Harmful Logic Bootleg)
Maxo Kream – G3
Two Fresh – Pay it
$ Dot & Eric Dingus – Magic Lost
100s – Land Of The Laced
Esta – Peache$
Thast – Gucci Bag (Zora Jones Edit)
Big Von – On Top (ft. D-Lo & Hustla)
Sam Binga – No Go
Arca – Front Load
Skit & Tijani – Sweat
P Morris – Moving On
Z Money – Dope Boy Magic
Feral – Relay (VIP)
SKULS – ID