Ron English Talks Reimagining Pablo Picasso's Iconic 'Guernica' Painting
Relaying his thoughts, inspiration and creative processes behind the latest series.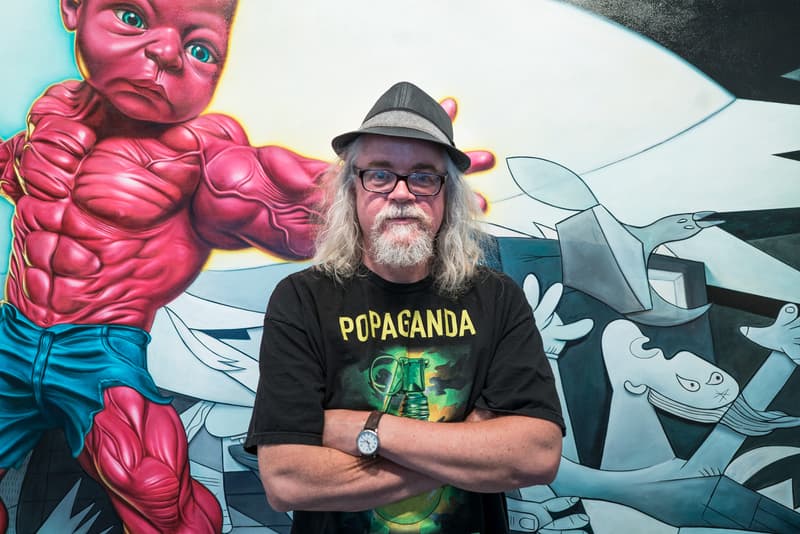 Ron English loves to box himself into a corner. For his recently completed series titled Ron English / Guernica, the 57-year-old pop surrealist of Chicago, Illinois forced himself to reinterpret a single Picasso painting in a myriad of ways. The series which is currently on display at the Allouche Gallery in New York City is comprised of a hundred if not more Guernicas that English painted in just two years. The original painting created by Picasso was a response to the Nazi bombing of Guernica, Spain and most would consider the artwork to be one of the most iconic anti-war paintings in history. For English, this infamous piece was merely a catalyst to leverage his POPaganda in ways that even his die-hard fans has never seen before—to overwhelm the viewer with explosive color and manipulate the masses even further.
Anyone who's ever followed English's artwork over the last few decades will know that he has a knack for fusing high and low imagery—jamming popular cartoons with art history visuals in his notorious paintings, sculptures and billboards. English is Walt Disney if the latter was a left wing liberalist with a talent for painting a collage of hyperrealistic figures. Throw anything in his way and the Godfather of Street Art will filter it through his sinister yet comical guise of American culture. HYPEBEAST recently sat down with the pop art stalwart who relayed his thoughts, inspiration and creative processes behind his latest series.
Read on to learn more about Ron English / Guernica below.
1 of 2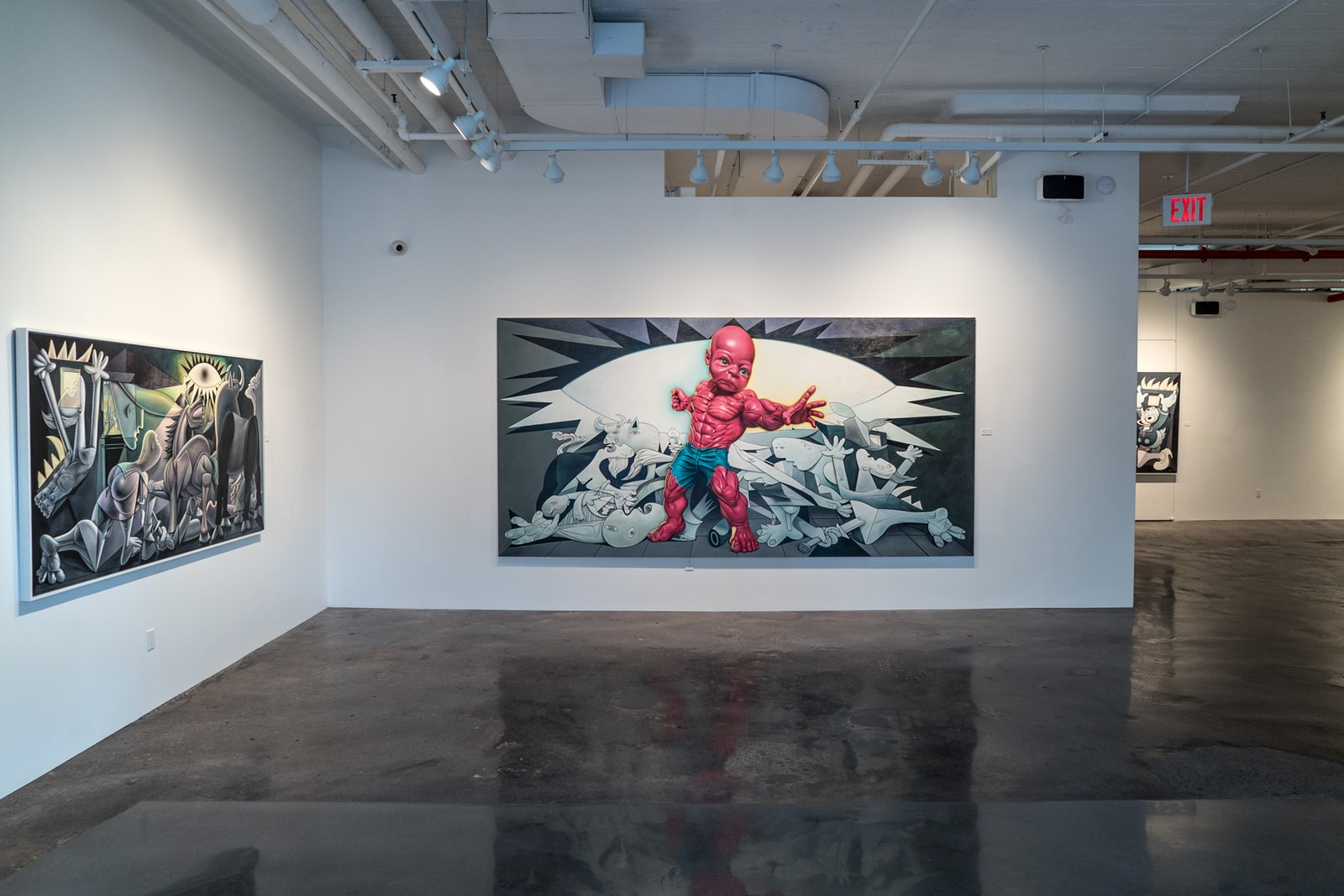 2 of 2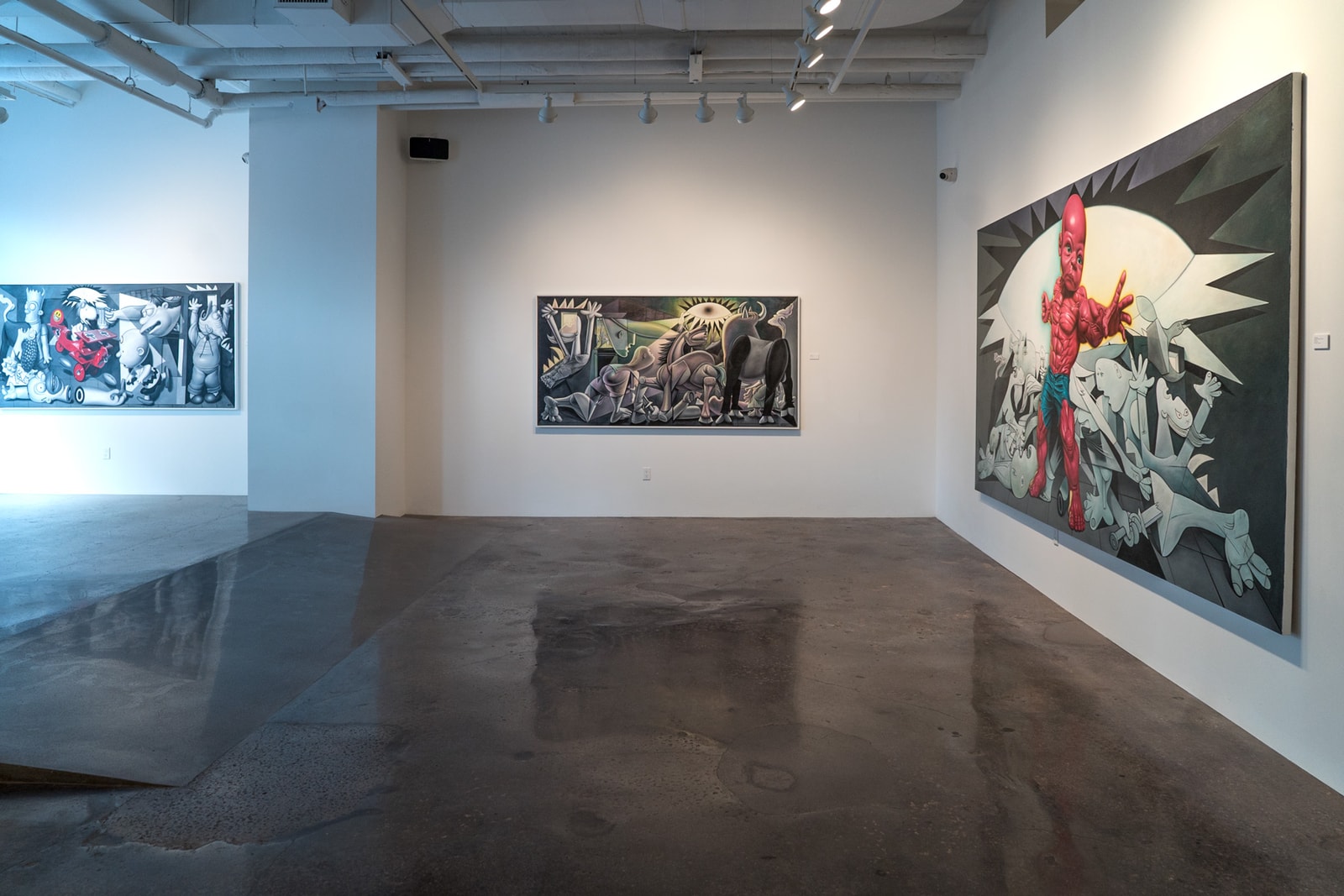 Why did you choose Pablo Picasso's iconic Guernica painting as the focal point for this series?
If a piece of art exists for that long and it was that famous and people know what it is and it's imbued with a certain narrative and a certain meaning, that meaning becomes like an automatic (sic) to whatever you're saying. You already told half the story and then you tell the rest of the story. It gives you a point of departure. You know that this story is coming from here.
Picasso was angry about that situation and he made a painting that spoke of that situation, but also he created an initial layer of distance from that painting, from that event. If he really wanted to express the horror of that event, he would've painted it photo-realistically. That would hit you harder in the gut. Instead, he made it a Picasso cartoon, so it already took you away from it and that's also kind of the process of being human and not being overwhelmed by things as you have to kind of put a distance between things to keep going. Otherwise, you'll get shell-shocked and be nonfunctional. As a society, you could also be nonfunctional if you can't contextualize something and find a place for it. That doesn't need to dismiss the horrors of what it was, but it means also that I can't obsess on those, I have to put it in a context. Making a cartoon for him, gave it a separation context. Then I tried to take that separation context and reinvigorate it with other layers of meaning.
What are some of the hidden messages in the series?
The one with the Temper Tot boy, for me, he represents power but immaturity. If Donald Trump got elected, he's a wildly immature person who was born with a lot of power and is about to be granted a lot more power, but he doesn't have the maturity of Clinton. He's not really dealt with all of this stuff before and he's almost like the enfant terrible. That's kind of what that character is, he's still a little kid but he's still way too powerful for a little kid.
1 of 5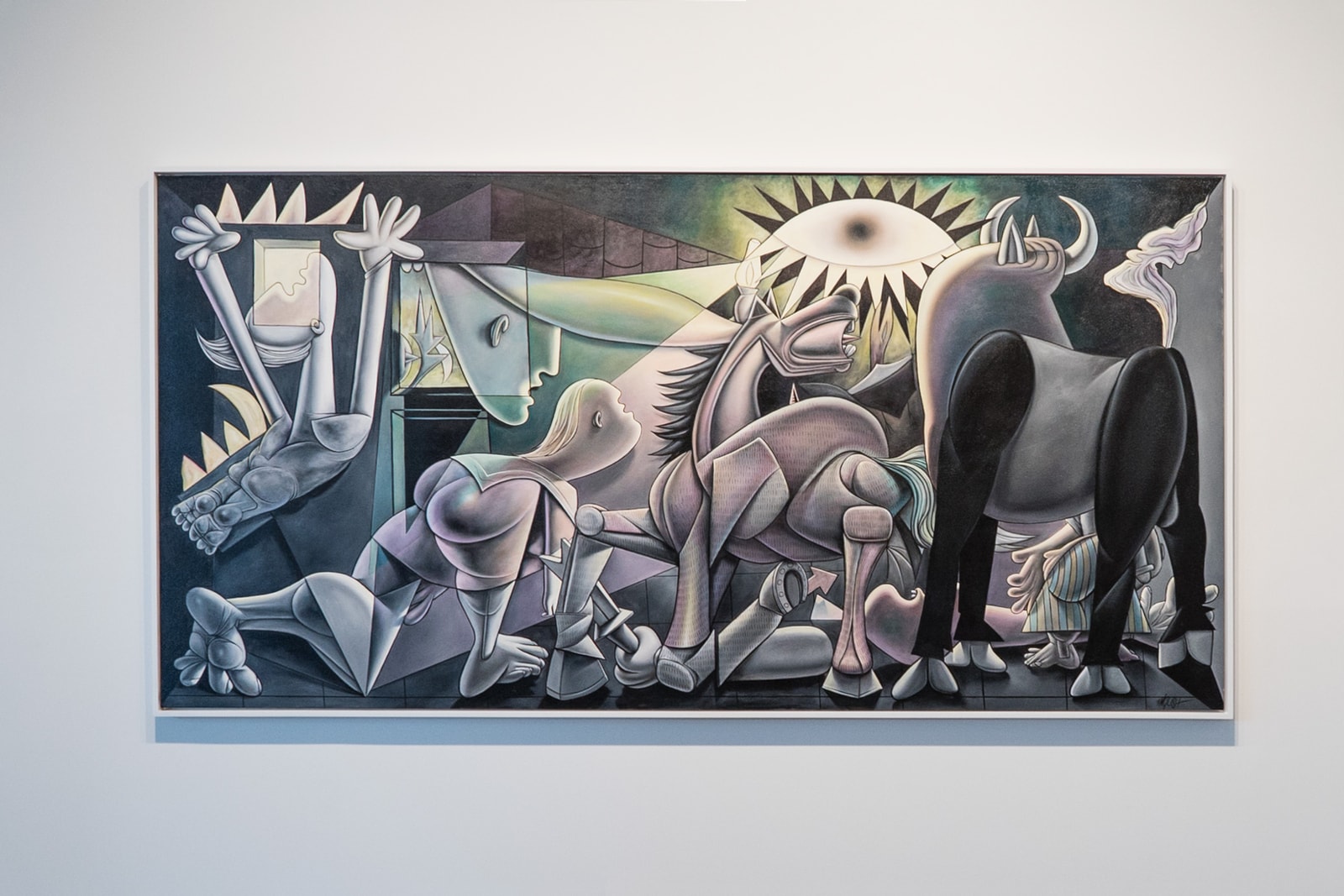 2 of 5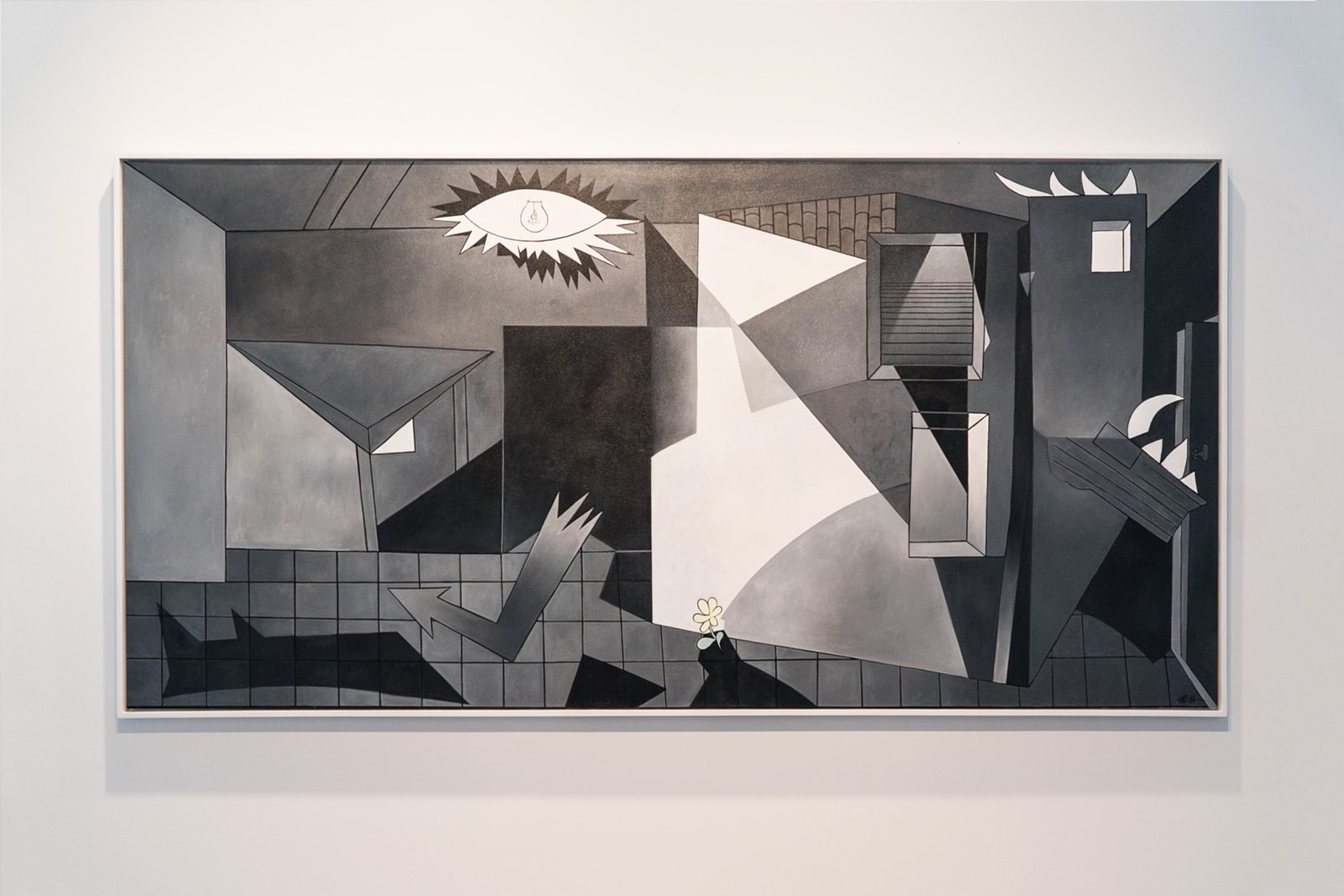 3 of 5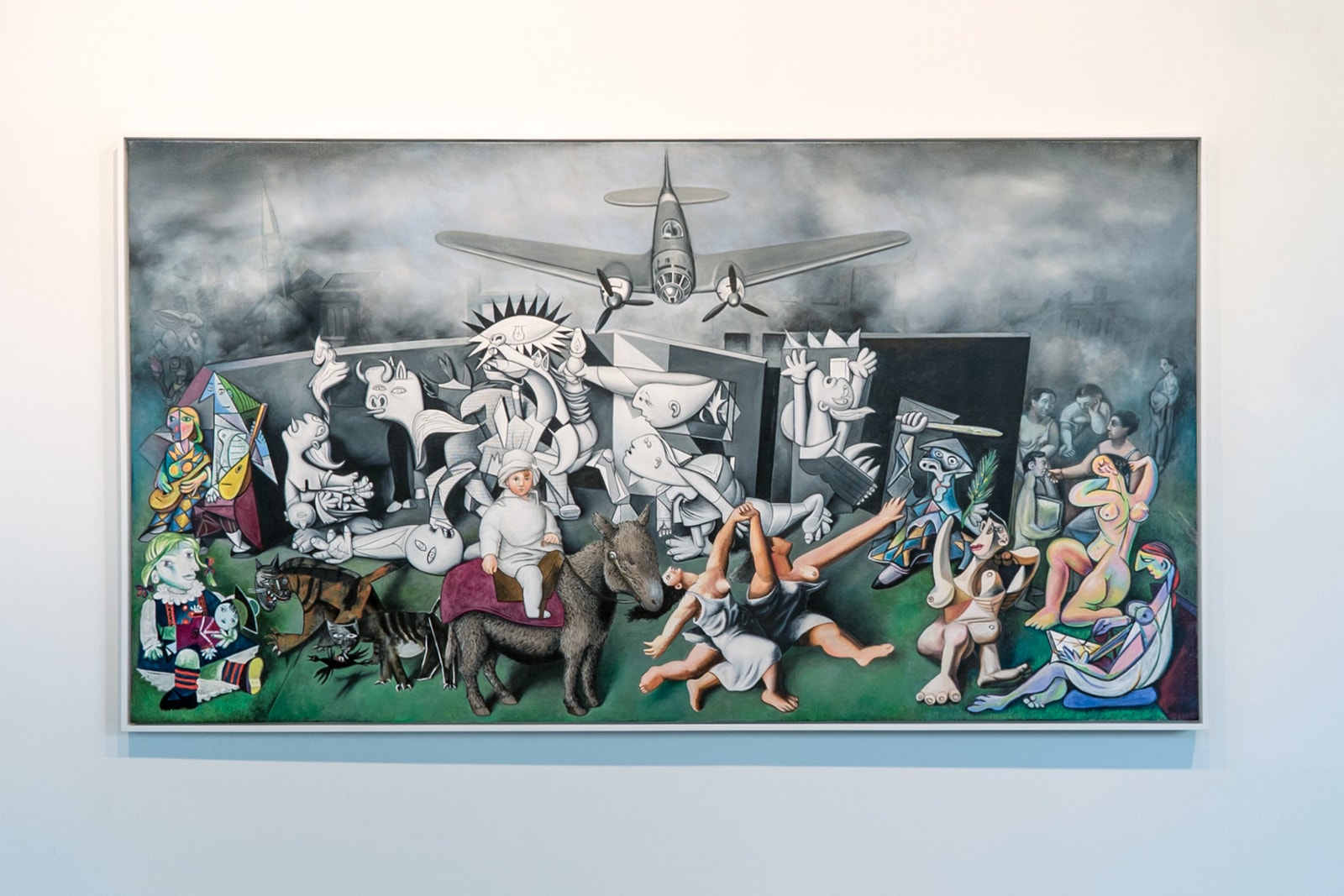 4 of 5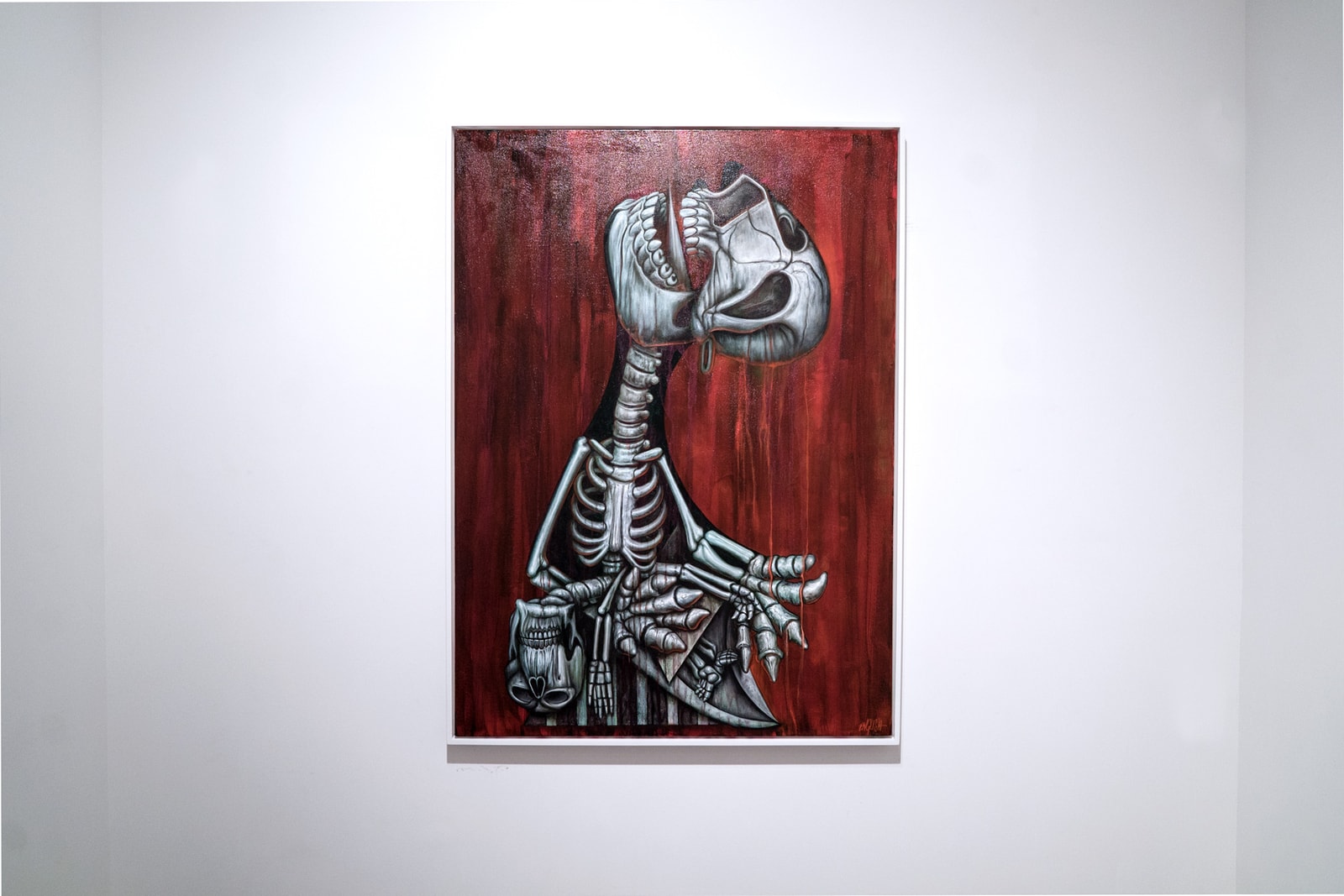 5 of 5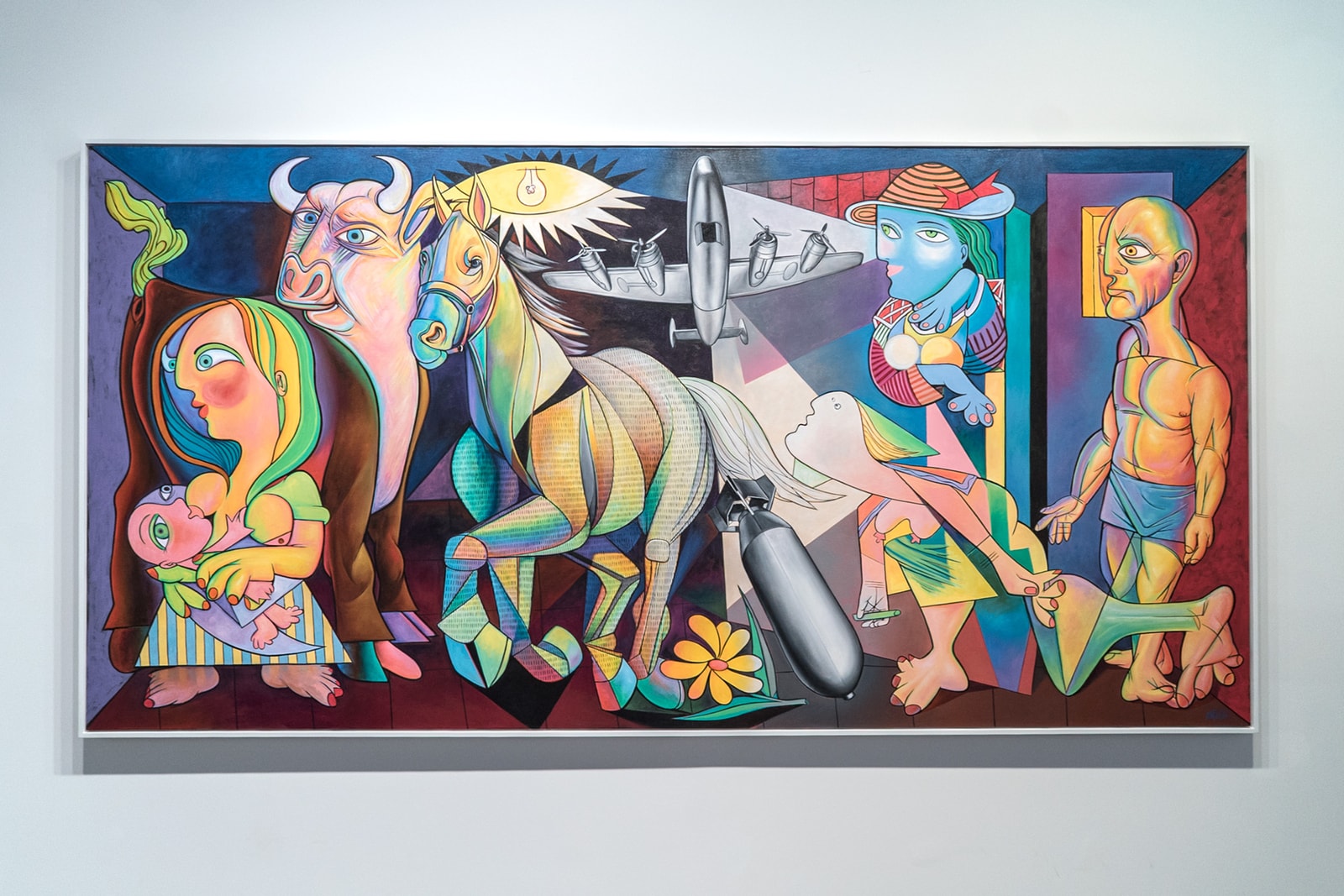 I do a lot of weird stuff that I don't know if people get or not.
Did you ingrain some of Picasso's messages of creation and destruction in the series?
I just sort of laid level. Somehow, he just trampled this painting and made it his own thing, kind of what I did I guess. I was looking at one of Picasso's still lifes and I stared at it for an hour and then it went "POP!" and then it became 3D and I was like "Woah!" It's all there, but he lays it down a different way and it's kind of like if you wore some glasses that turned everything upside down. In a few hours, your brain will turn it all right side up. Your brain will fix it. If I stare at it for so long, at some point, my brain goes "OK, we're going to fix it, because that's not right, it shouldn't be all flat." He had it set up so you can actually have that experience. A little bit of that painting is playing with that weird moment where I had that experience where things kind of popped. But I don't know if that comes off or not. I do a lot of weird stuff that I don't know if people get or not.
What are you trying to accomplish?
I'm going to create a certain emotion or feeling or intellectual resonance from something… and you kind of know what you want to achieve and it's just like being a musician, you can create music that will make people feel a certain way. I mean, you're manipulating them, but people like to be manipulated. People like a movie that makes them cry and you put the right music and hopefully, if you're really good at it, the manipulation is invisible. I think if it becomes visible then it becomes hokey and doesn't work anymore — it sort of destroys itself.
I've been in a room with a painting where I get the same sense of the painting when there are other humans in the room. If you're sitting in this room by yourself and maybe you don't notice somebody coming in, but you know how you can feel somebody else in the room? You feel the presence of somebody else? It doesn't happen very often, but every now or then somebody's able to create a painting that actually has a presence, that you feel there's another entity in the room and I think I really want to try and achieve that. It's like you really kind of embedded some of your soul into this painting so it can have its own presence beyond just being some painting on a canvas. It's like alchemy.
1 of 5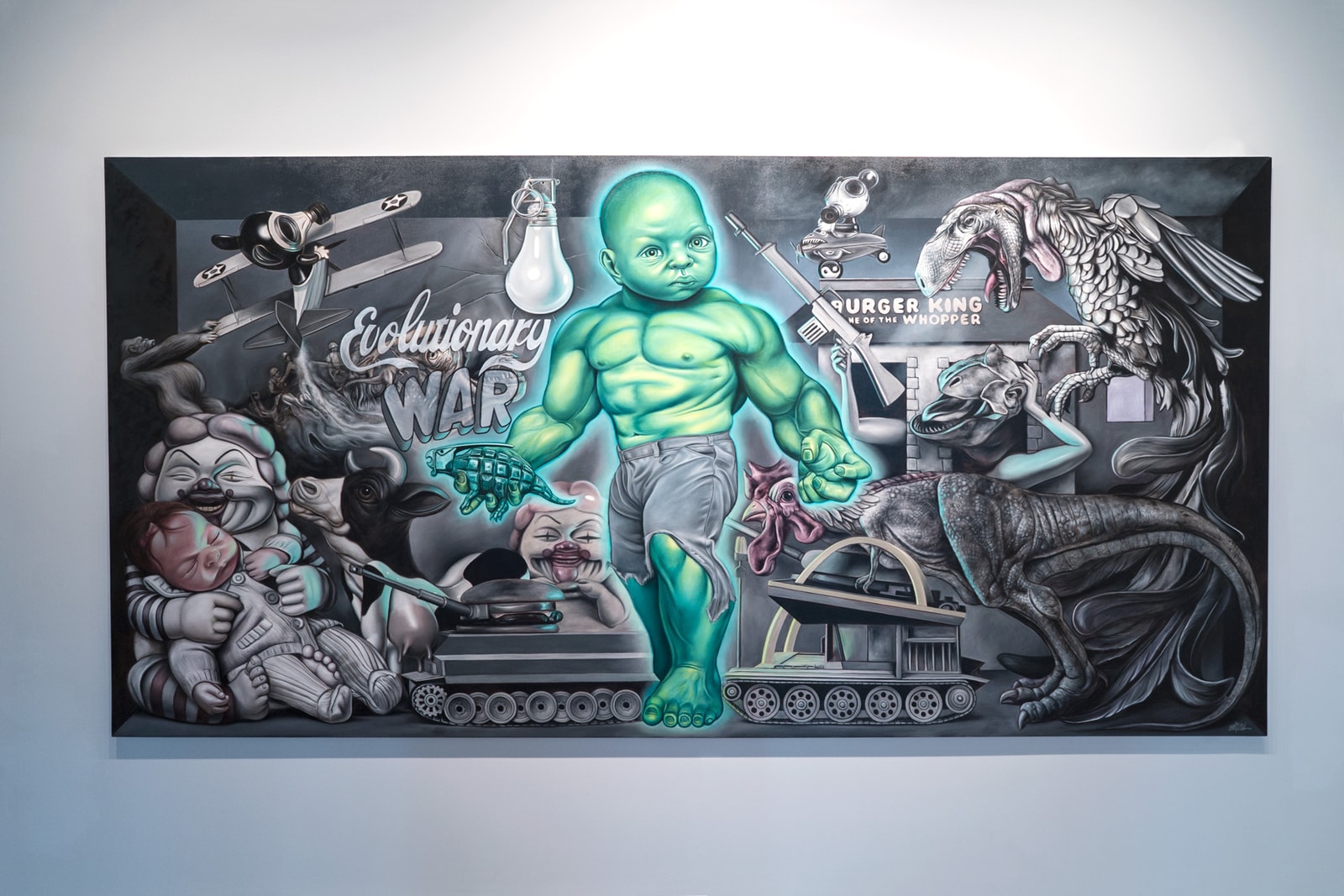 2 of 5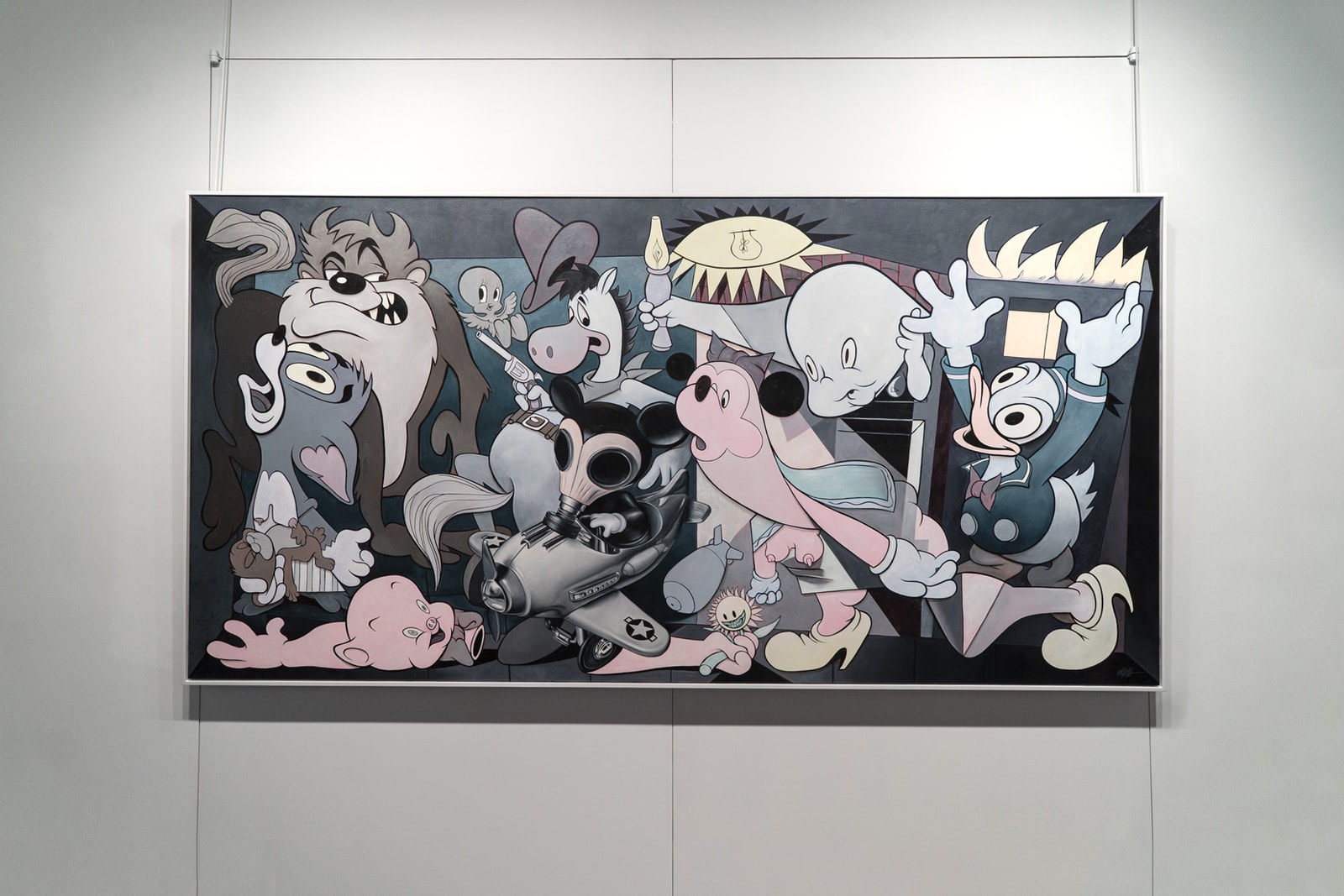 3 of 5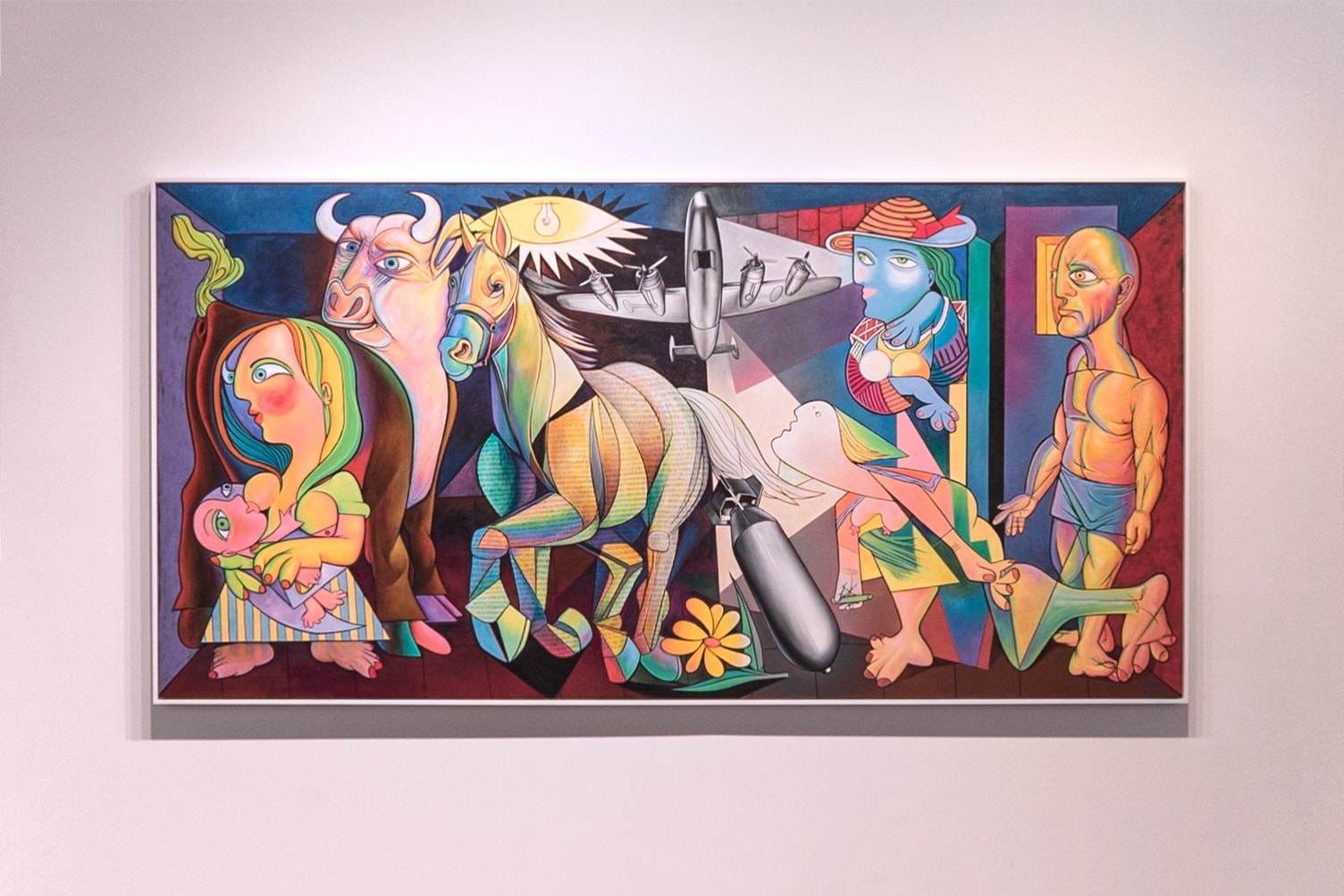 4 of 5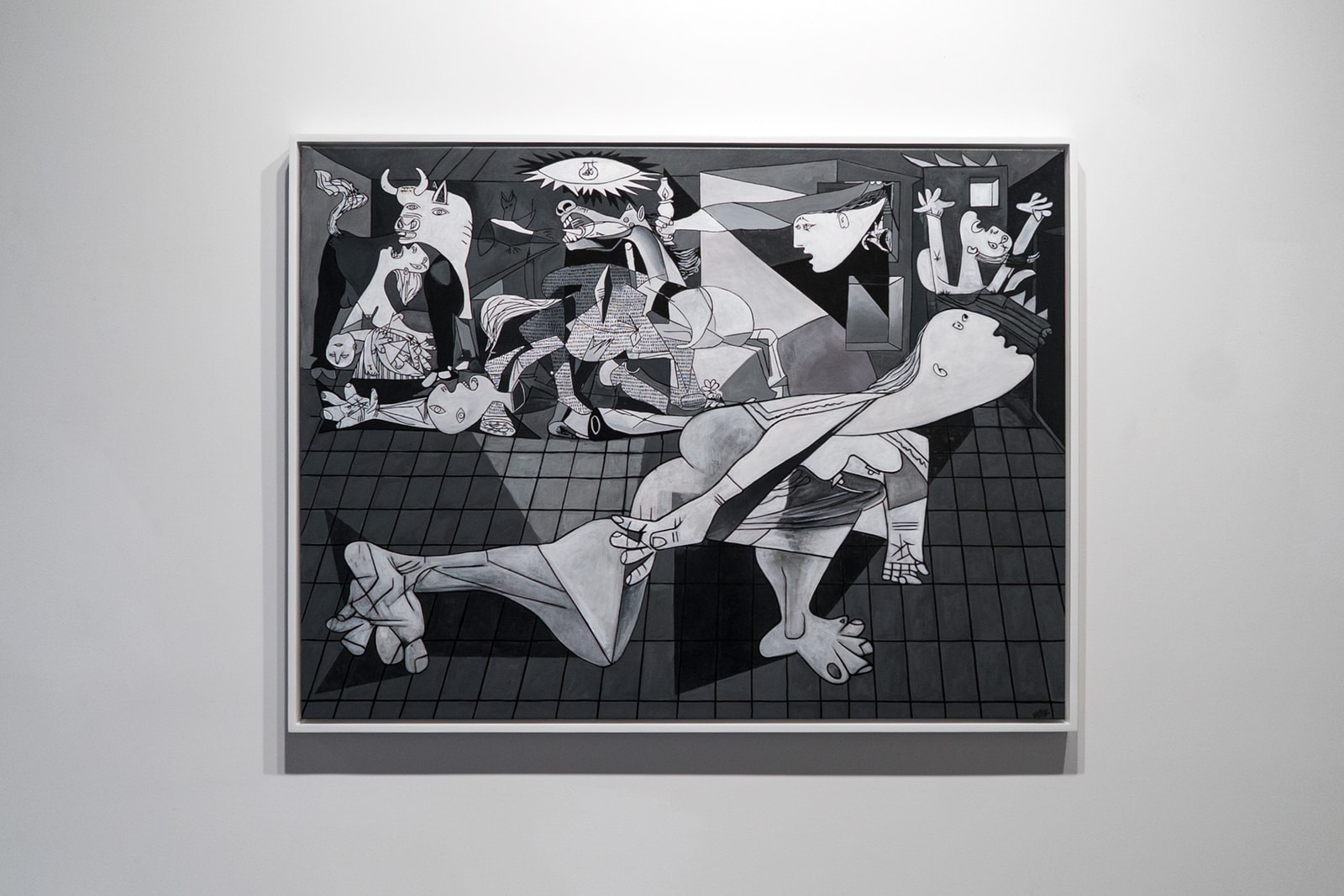 5 of 5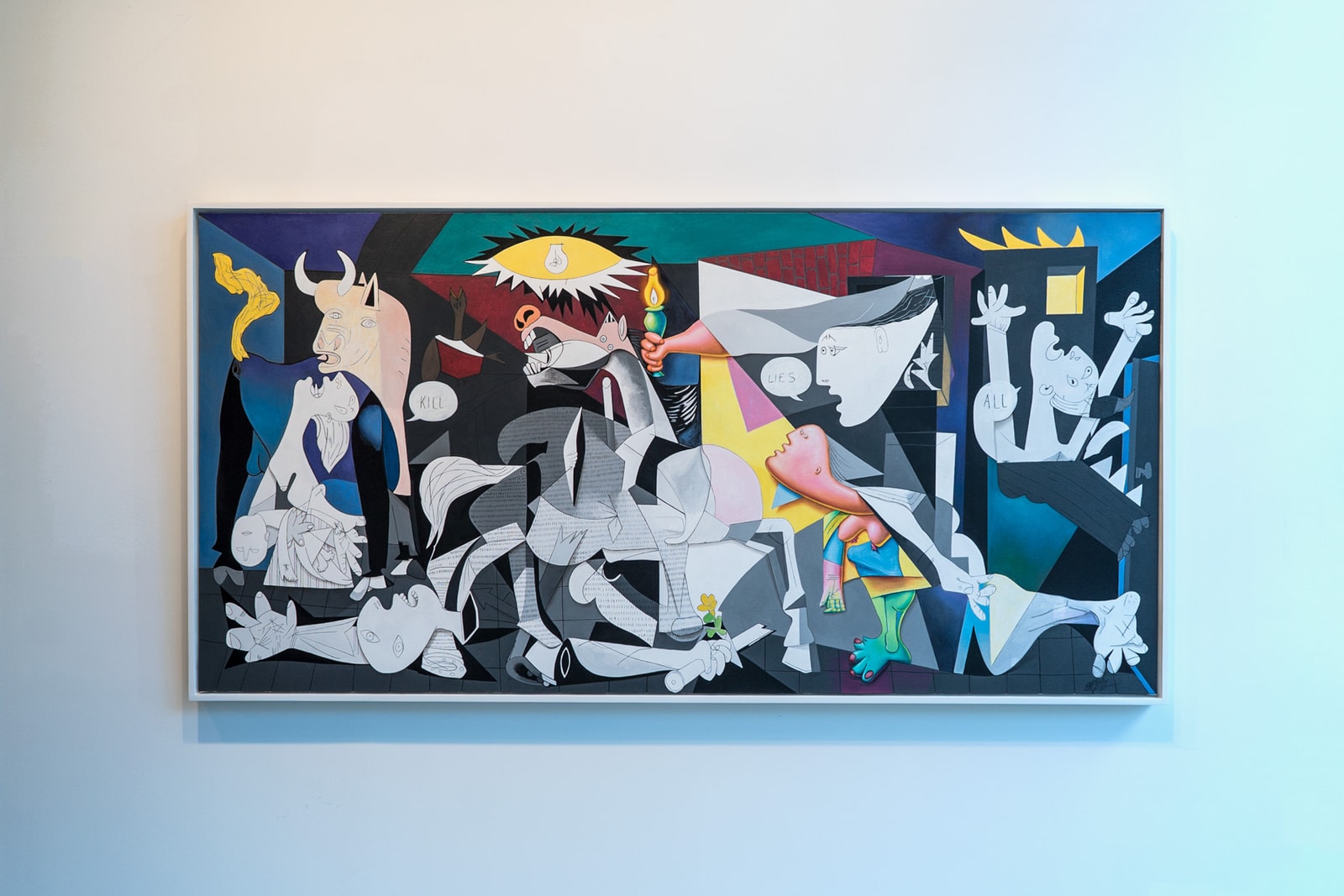 There is no such thing as original.
Why did you choose these particular pop culture cartoons to feature in the series?

Some of them are intended to be playful. I flattened out the Flintstones because they're flat cartoons and stylistically, the actual stuff they lifted from Picasso. A lot of the cartoons at the time were stolen from Hollywood. Beh Shahn or Picasso or somebody would do something and it would be stolen. Somebody doing cartoons in Hollywood would see it and say "that's cool, throw that in the background." A lot of their stylistic innovations actually came from the art world and were brought into the world of cartoons — so it's kind of playing with that and then it's also playing with what would it be like if they were real, if Fred three-dimensionally existed as this weird cartoon and Dino was really a dinosaur. It would be a very threatening thing to see, a real dinosaur.
I play with perspectives and what we think about something and what it really is. There is no such thing as original. The Flintstones, you know, some guy probably said "Hey that show, The Honeymooners is doing really good. What if we did a show like The Honeymooners except they were in the cave man days?" Fred is Ralph Kramden you know.
Did you run into any challenges or difficulties during the creation process?
No, because it's actually the opposite. The first time I did a Guernica, I knew what my idea wanted to be and I made everything in full color. I did it and I was happy with it, but you know, I thought either I can render it in full color, make it pop, or make everything flat and add color lights on it. Which would be better, you know? I had the initial context for it, like Disney vs. Warner Bros. in the original but for the following ones, I asked myself "Do I make them super poppy?", "Do I make them flat?" and then cast weird shadows or with different light sources. So what I'm really doing is indulging myself and letting me have the more expansive vision and not just the one off thing. I really explored the idea fully before I moved onto the next idea.
Most people only have about 10 really good ideas and maybe they've had these ideas their whole lives, but they don't do them.
For example the Dogme 95 movement in film, if you back yourself in a corner, in a weird way, you become more creative. I was part of a movement in the early '80s when I was still in school called Fabricated to be Photographed which was kind of what Dogme was later in a lot of ways, but it was in the world of photography. The superstar produced from that movement was Cindy Sherman. There was a good breadth of people doing this and the concept was you take the camera and you just go click. And if you see something wrong in the photo, you have to physically reverse the perspective in the environment and you're only using the camera for the voracity of the camera. That was your pact with the audience. In the photograph you can't tell because you only see it from one perspective, so it kind of blows your mind. This was way before Photoshop so there was really no way to create a stunning image without physically changing the environment to get the conditions you want.
1 of 2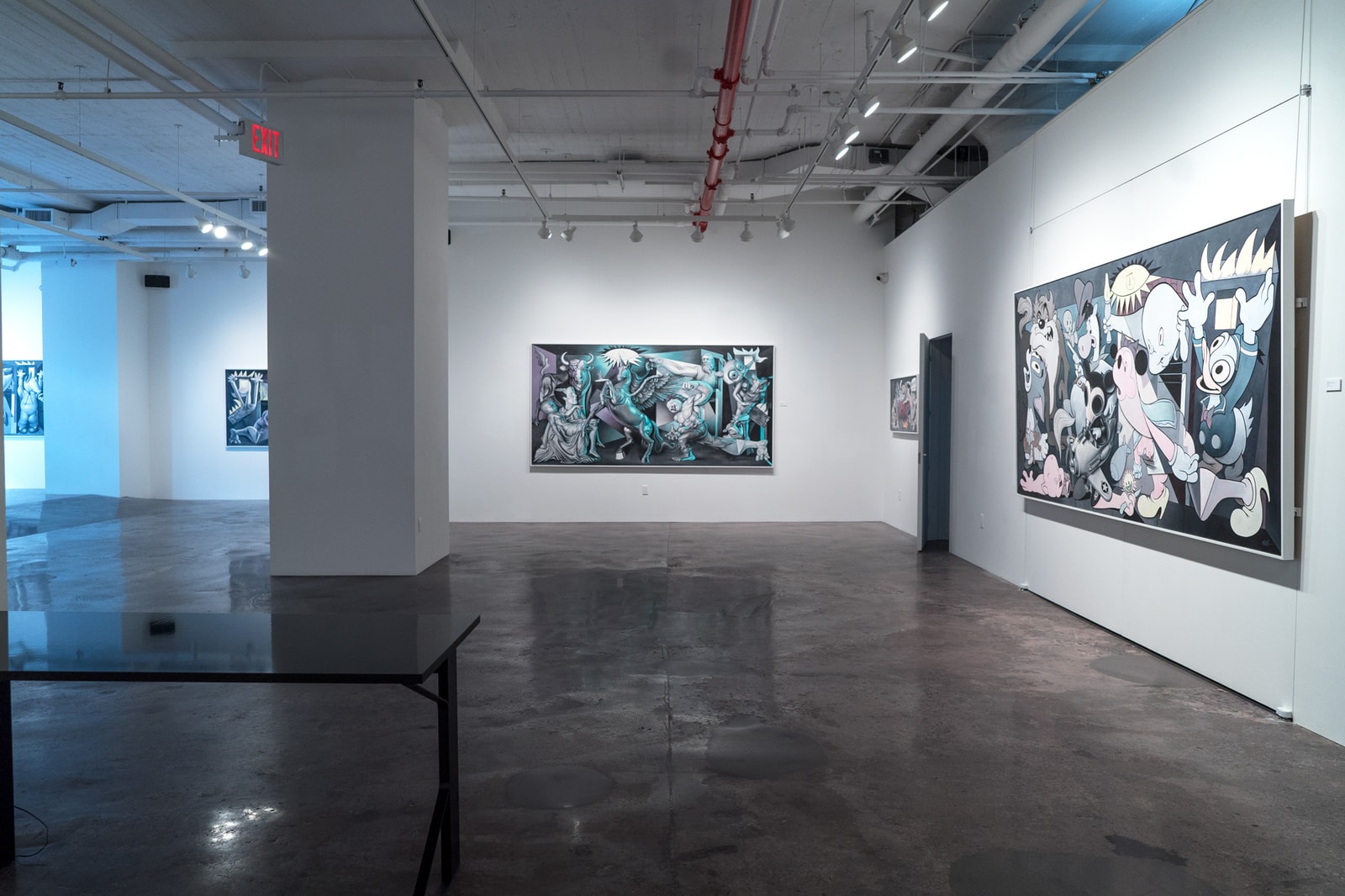 2 of 2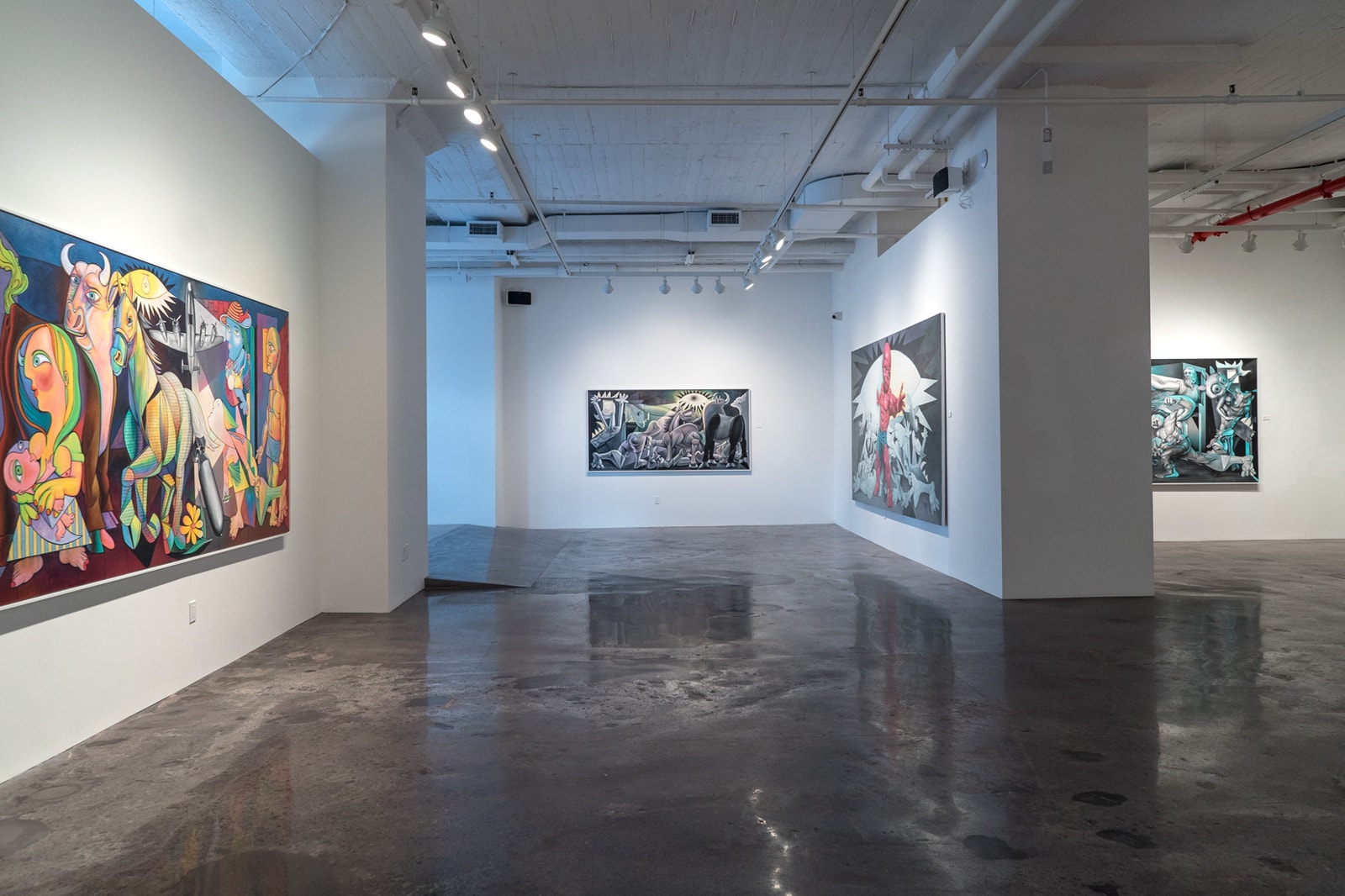 How many Guernicas have you completed?
With this work, I have done like a 100 Guernicas so it's kind of interesting to see them all. At some point, you're like "What the hell is going to do next?" For me, it's a challenge. When I did 80, I was like "What's 81 going to be?" And so I began brainstorming, telling myself, "I wonder what it would look like from the planes point of view?" or "I wonder what it would look like as an X-ray?" You can keep playing with the same idea.
What advice would you give to budding artists or creatives in general?
There's a weird thing that I don't think people who are in the creative field don't realize. Most people only have about 10 really good ideas and maybe they've had these ideas their whole lives but they don't do them. And the thing is if you create those 10 ideas then 20 ideas will come into your head. And if you make those 20 ideas then 40 ideas will come into your head. The more you push out and the faster you push out, the more stuff will keep coming into your head. A lot of people think they're going to have a few good ideas in their entire life. If they were able to achieve those ideas then more ideas will come. Your brain wires itself up. If you get rid of those ideas, it wants to replace them with more. It wants to have ideas.