Recent Tech Trends That Will Make You Rethink Electronic Accessories
Hi-tech tattoos, dancing robots and perhaps the worst Apple iWatch accessory ever made.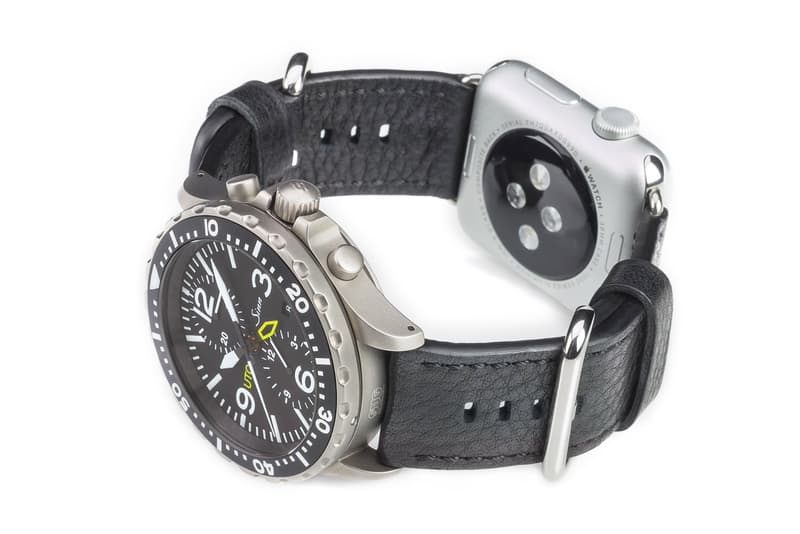 In today's society, countless individuals are keen to use digital devices and electronic accessories to help maximize various tasks for a certain period of time. Without the use of modern gadgets it may seem impossible to complete daily life duties and work with utter efficiency. We've become products to the products of our environment which some may argue is a bad thing, but hell, having an electronic dashboard in your car that tells you when the traffic light will change sure beats mindlessly waiting for the light to turn green. As a whole, today's gadgets are perhaps the only way we can make our lives more easier and comfortable. With that being said, here are a couple of tech stories that you may have missed last week that center upon electronic accessories.
Could This Be the Best/Worst Apple Watch Accessory Ever Made?
Sinn Spezialuhren is a German manufacturer of mechanical wristwatches that recently created a watch band that can hold two timepieces: a Sinn analog watch on one side and the Apple Watch on the other. Dubbed the Dual Strap System, this rather bizarre invention is comprised of four shortened straps that fastens your coveted timepieces quite nicely. According to ABlogToWatch, the band costs $120 USD when purchased with a Sinn watch and $210 USD when bought separately. Watch the video above and let us know if this product is useless, ingenious or just straight up ineffable.
MIT and Microsoft's "DuoSkin" Tattoos Will Let You Control Gadgets
A research team, comprised of folks from MIT and Microsoft, has recently produced a fabrication process called "DuoSkin." This process can be applied to your skin, resembling temporary metallic tattoos that have built-in interfaces. These tattoos can be used to control computers and mobile devices with your skin functioning as a trackpad or a series of buttons. It can also be used as a display that changes colors depending on your body temperature as well as a storage device for your smartphones or NFC-enabled devices. Check out the video above to see how DuoSkin works and peruse MIT's scientific paper on the project's official website to learn more.
Audi's Latest Car Feature Will Let You Know When Traffic Lights Change
Audi recently unveiled its newest V2I system, called the Audi Traffic light information, that allows car owners of particular Audi models to know when traffic lights are about to change colors. This new tech by the German automobile manufacturer seeks to improve traffic flow and the fuel economy since drivers will know when to brake and when to hit the gas pedal in a more timely manner. It works using servers that will send traffic signal information to the brand's cars—that information will be displayed as a minimal graphic on the cluster and head-up display showing how many seconds until the next light appears. According to Business Insider, the system will be available on the 2017 Q7, A4 and A4 Allroad that is fitted with Audi connect, and constructed after June 1. Watch the video above to learn more.
Engineering Student in India Constructs Full-Scale Ironman Suit for $750 USD
An engineering student by the name of Vimal Govin Manikandan in India has recently built a full-scale Ironman suit. Using exoskeleton technology and just $750 USD, Manikandan managed to develop a walking robot suit that Tony Stark himself would probably be proud of. The suit weighs approximately 220 pounds and can lift a whopping 330 pounds. On the downside, however, the suit is not at all adept when a person is inside the suit—making it rather complicated to walk or run. Moreover, it is powered by batteries which many will question its durability over time. Nevertheless, watch the clip above and let us know your thoughts.
China Breaks Guinness World Record for Most Robots Dancing Simultaneously
Not long ago, an army of 1,007 dancing robots invaded the the Qingdao Beer Festival in Shandong, China. These red and white robots helped the country break a World Guinness Record for "Most robots dancing simultaneously." A Chinese robotics company called Ever Win Company created the robots and orchestrated the quirky performance. According to chief technology officer of Ever Win, Quan Jinyou, the hardest obstacle to overcome in the whole shebang dealt with radio frequency interference amongst the robots. Watch the record-breaking robot dance above.