Ta-ku Brings His Cinematic Audiovisual Experience to the Sydney Opera House
The producer linked up with Intel Broadcast Studios and an impressive all-Australian lineup for the special shows.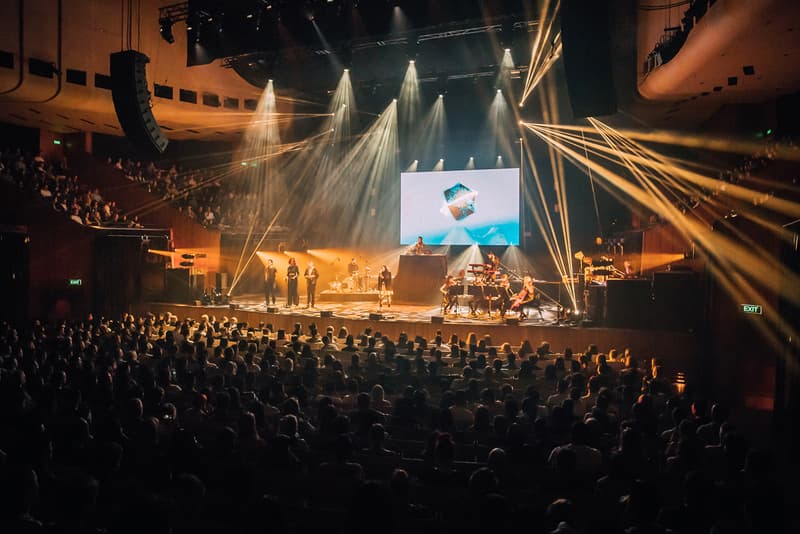 Back in June, Ta-ku (Regan Matthews) played two special debut live shows at the iconic Sydney Opera House. Linking up with Intel Broadcast Studios, YouTube Live, a string quartet and an all-Australian lineup of artists including Wafia, Thandi Phoenix, and Oscar Key Sung, the Australian producer pulled together a seamless spectacle of lighting and visuals to accompany his brooding music. In an interview with HYPEBEAST, Matthews delved into the technicalities of orchestrating such an immersive experience:
Nothing too crazy. I was surprised at how smooth everything went. We did have to hire someone that had experience of writing with an orchestra in order to take my music, give it to an orchestra, and write embellishments and other additional parts to my songs. But I worked with a guy named David Pritchard. He wrote all the music for the orchestra and killed it. He made it really easy to have strings in my set without them being too overpowering and to have them more accompanying than being the champion sounds. I learned that you should definitely work with people that you know can get the job done when you can't. Dealing with a string quartet is definitely something out of my range of knowledge and experience so it was great having him on board.
Ta-ku also discussed the magic of working with an orchestra:
Bring me a live orchestra anytime! It definitely brings a sonic value to the show. There were times during this set where I almost felt like crying. Hearing the strings onstage with me… especially the end of "American Girl." It's pretty crazy to have that all come together — to hear and watch it in real life and to see people reacting to it in the crowd. It was a lot more dramatic, cinematic. That, I'll never forget.
He also expressed his thoughts on the emergence of the Australian music scene:
I think the Australian music scene is burgeoning; it's on its way up, it always has been. Flume for instance, he's an Australian boy and he's doing crazy big things over in the States. And in my scene, among beatmakers and producers, he's one of the leading acts right now no matter where you're from. He's killing it at the moment. This Sydney Opera House performance was personally pivotal to myself. Whether this was pivotal to the Australian music scene, I'm not sure. But I'm sure loads of people outside Australia would see that these kind of things are happening in Australia. I haven't really seen something like this happen in America yet.
Earlier in the week, Ta-ku and Wafia dropped "Love Somebody," the second single from their upcoming collaborative EP, (m)edian. The duo are heading out together on their debut U.S. tour next month – see the tour dates below. Read Ta-ku's full interview with HYPEBEAST here.
Ta-ku x Wafia – Debut U.S. Tour (Live)

9/21 – Los Angeles @ Novo
9/24 – Oakdale @ Symbiosis Gathering
9/26 – Vancouver @ Vogue
9/27 – Seattle @ Showbox
10/1 – San Diego @ CRSSD
10/2 – Chicago @ Thalia Hall
10/4 – Toronto @ Opera House
10/5 – Montreal @ Berri
10/6 – New York @ Brooklyn Masonic Lodge
10/8 – Miami @ III Points