Benny Gold Pens a Heartfelt Letter to San Francisco Before the Tech Boom
The streetwear stalwart looks back at the struggles of running an independent brand in one of America's most desirable cities.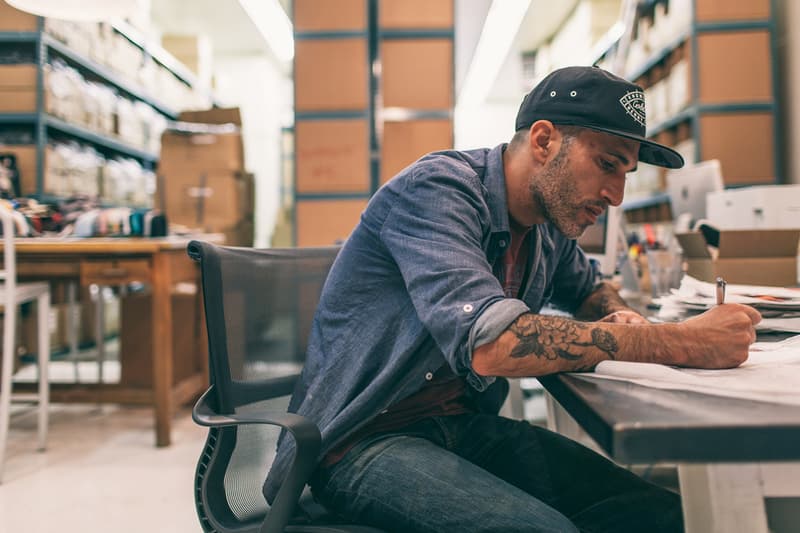 I remember the fear I felt when opening our first retail store. I was living in San Francisco's Mission District with my wife and working out of our small apartment. If I wasn't working, I was skateboarding. Life was simple and good. But as the brand caught on and demand increased, the boxes began piling up and finally my wife insisted I establish an official workspace. That was scary because up until that point I had no overhead — any profit after production and shipping went into my pocket. But back then the Mission was largely overlooked compared to other areas of San Francisco, making it a locals' neighborhood with lower housing costs that attracted creatives. An independent artist or entrepreneur could take a chance and do their own thing. SF was an affordable city compared to New York and other metropolitan areas, making it attractive for people like me.
However, SF's population has skyrocketed recently, with the city adding 28,500 new residents between 2000 and 2010. There just isn't enough housing for everyone, so even the largely overlooked neighborhoods like the Mission are now bursting at the seams. The Mission also has easy freeway access, making it convenient for people working in Silicon Valley to be shuttled back and forth by tech buses.
Since I started the Benny Gold brand, I have seen most of my peers relocate their business to Los Angeles in search of lower rents and employee wages, and an easier environment to run an independent brand. We are one of the last streetwear brands still operating in SF. Maybe I am too stubborn or I just love SF too much to move solely for financial reasons. Six years ago, I was able to secure a space for $1,500 USD and only a few blocks from my apartment, which is unheard of now in San Francisco. My rent is now six times that at our new store, which is located only one block from our original location.
Opening a flagship store when we did turned out to be the best move we could've made. It helped create excitement and a sense of community around the brand. It put us on the map basically. We had taken the leap from pet project to legitimate brand and people took notice. We built a small team to help manage the workload and eventually moved into an even larger retail space and a separate warehouse to handle mail orders and house our design studio. We are now in our seventh year of owning and operating our flagship store in the Mission District and have moved the studio and warehouse into an old pawn shop downtown after a fire broke out in a neighboring unit. I really don't think all of this would have been possible if we hadn't taken a leap back when we did.
The neighborhood has grown around us. It went from being one of those laid-back neighborhoods where everyone knows each other to one of the most desirable locations in the city. With the influx of Silicon Valley tech workers, everything has become more expensive, from commercial rents all the way down to the cost of a cup of coffee. I try my best to not judge people, but you can definitely spot a new SF resident from the back of any line at a hip Mission coffee spot. The people that were attracted to SF were part of various countercultures like skateboarding, punk or street art. We've since traded in our band T-shirts and well-worn jeans for Google and Dropbox tees and a pleated pair of Dockers. I embrace change and try to not reminisce about the past, but the bygone days of punk shows and skateboarding will always hold a special place in my heart.
It's a natural progression — the more desirable a place gets, the higher the cost of living, never mind operating an independent business. Some may assume that more people in the city equals more people shopping in brick-and-mortar stores like ours, but that's not the reality. Sales are down in physical retail stores all over America due to online shopping options offering highly competitive prices and free expedited shipping. It is very difficult for an independent to compete with that. I have no regrets about making my brand accessible to people. I still strongly believe in the community that is cultivated through retail stores, but it will be a shame if physical brick-and-mortar stores disappear due to brands focusing solely on online sales. At one point we will have to put down our phones and step away from our computers to actually interact with people again. The commercial market does not reflect the current state of retail, leaving landlords demanding exorbitant rents and offering only short term leases. Our lease was up at the beginning of this year at our Mission location. My heart sank when I got the letter from our landlord notifying us that they were doubling the rent, and we aren't even in a high-traffic area! The customer no longer has a need to visit a brand's flagship store when they can conveniently shop from anywhere on their phones — the technology has changed the landscape completely and you have to adapt or you'll be put out of business.
It was difficult to keep my cool with the landlord situation. We've built something special here that I feel contributes to the community and a part of me felt entitled to some leniency. If only there was some sort of commercial rent control to keep the business in the neighborhood that has helped to popularize it in the first place, but there's nothing like that. I had to take a step away from my emotions and start to plan my next move. We couldn't simply double the price of our product and hope for the best. I started to look around for a new location which had me wondering whether the cost of doing business in this city might finally be unsustainable for us. Many people suggested that I close the shop and focus on wholesale, but I couldn't bring myself to do that. It's important for the soul of our brand to have a physical space for people to gather and get excited about a new release or special event. Those independent mom-and-pop music stores and skate shops were critical to my youth, and so much of my personal aesthetic and lifelong friendships were formed in places like this. It's always been the driving force behind our brand, to preserve that sense of community and expression. It's what's allowed us to steadily evolve as a lifestyle brand.
We've made the decision to go all in. In a time when retail stores seem to be closing all around us, we have secured a new location on the main drag with a lot more foot traffic. This new space means more overhead cost than ever before. I had to take out a substantial loan to make it all happen. I'm also rethinking our entire retail model in the attempt to ensure a unique and meaningful shopping experience that isn't possible online. We are adding a cafe and creative hangout space within our new retail store. We want it to be a place where people can be inspired and encourage others to be creative. I will personally hold office hours in the cafe where aspiring designers and brand owners can come bounce ideas off of me or at least share a cup of coffee together. Much like the human experience, as a business grows and matures, it's put up against a series of tests. When you hit a wall, you either climb over it or you get left behind. If you don't believe in yourself and invest in your vision then you can't expect anyone else to. You can only be responsible for your own actions and do your best to create something positive. Honestly I don't have an end goal — I am just enjoying the act of creating and I'm thankful to be where I am even with all of our current business challenges.
Follow us on Snapchat as we build our new retail home on Valencia Street — and Stay Gold.