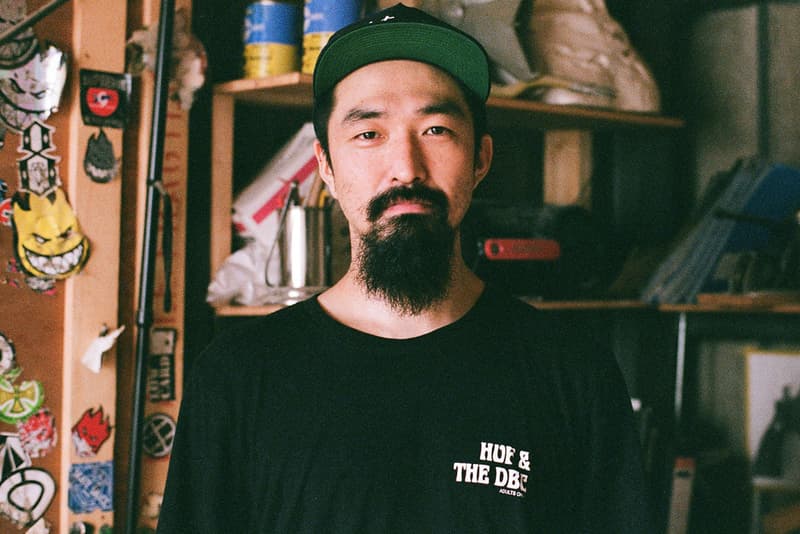 1 of 5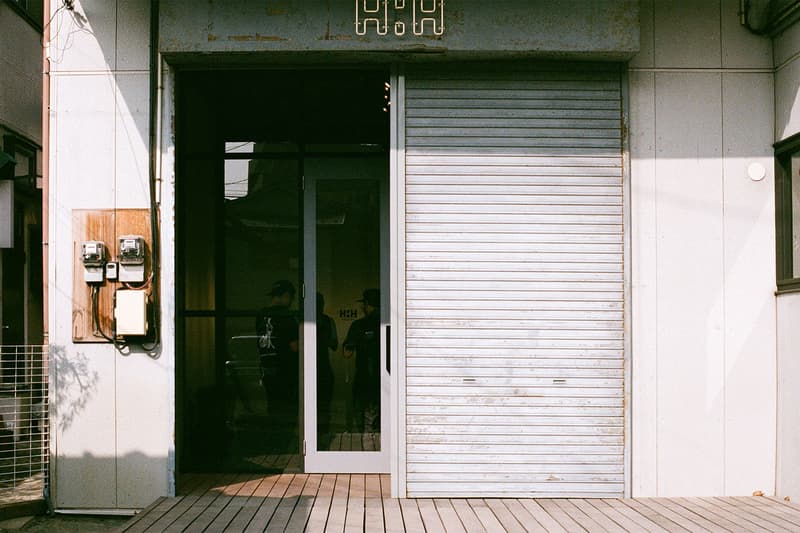 2 of 5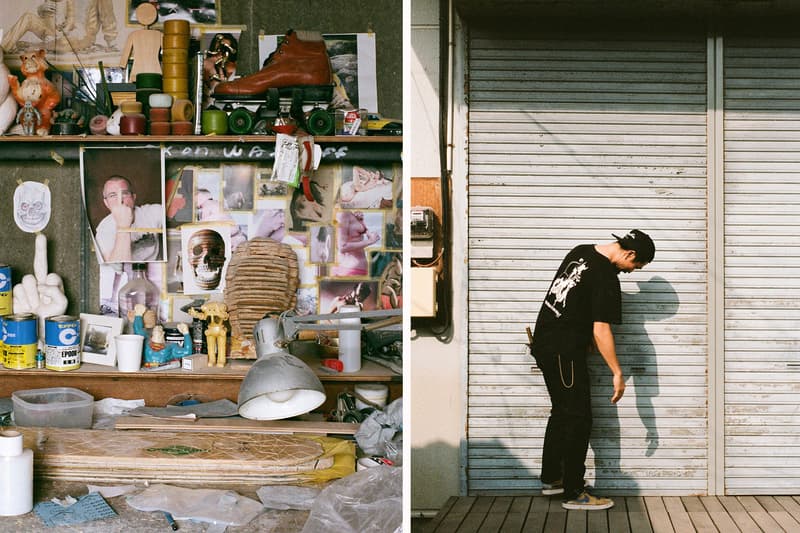 3 of 5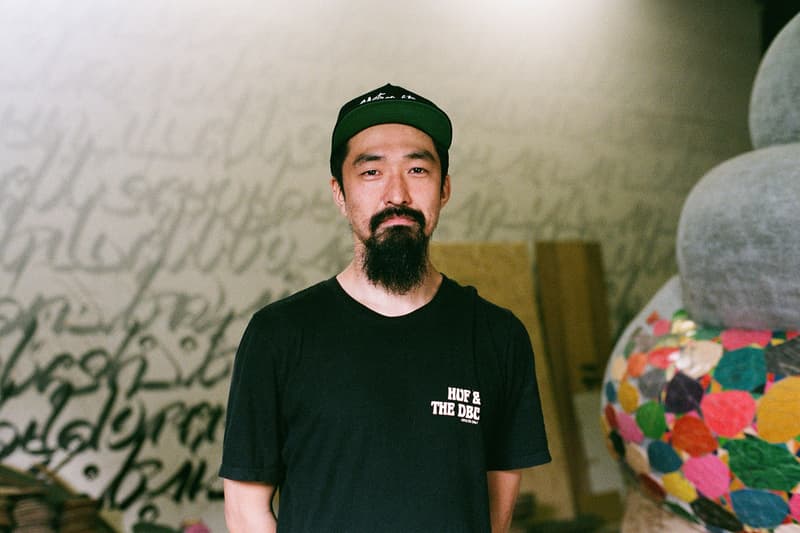 4 of 5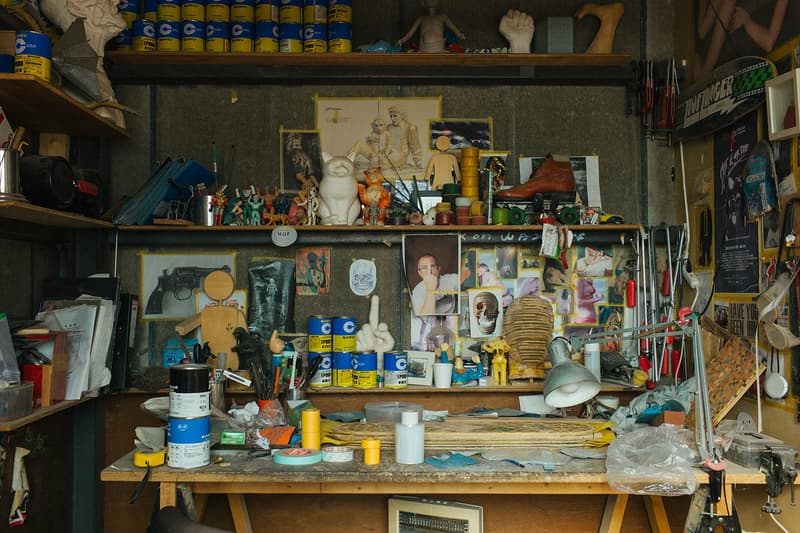 5 of 5
Haroshi Transforms Skater Trash Into Fine Art Treasure
The art legend turns broken, defunct skateboards into striking sculptures.
---
There's something refreshingly pure about Haroshi. The Japan-born artist has one simple driving force behind the immaculate and intricate sculptures that he handcrafts himself: skateboarding. Famed for creating iconic pieces like the HUF x Haroshi Vinyl Middle Fingers, Trophies for multiple editions of Battle at the Berrics, and commissioned pieces by Nike's CEO Mark Parker for the Jonathan LeVine Gallery to name a few, Haroshi has garnered a cult-like fan base for his sculptural masterpieces, all of which are made from secondhand skate decks.
Skate deck art is no exotic concept, however take one look at what Haroshi does with a stack of broken, used and abused wooden decks and you'll know why he stands above the rest for skate-related artwork. As a skater himself, the sport, culture, lifestyle is not only imbued into the pieces he makes, but into the very fabric of why he creates art in the first place. According to Haroshi, it's as basic as having a passion for all things skate, therefor create in all things skate. "It always goes back to what I think about skating, so I won't make anything that's not related to that" Haroshi tells us in our exclusive sit-down with him.
Having met in person during POW! WOW! Hawaii earlier this year, we wanted to get to know Haroshi better as an artist, to find out how and why he creates only skate-related artwork, as well as where he gets all these second-hand decks from and who else is behind the "Haroshi" title. Read our candid conversation with the coveted artist below.
Let's start by getting right down to your artwork. We know that you recently showed two of your pieces at POW! WOW! Hawaii 2016 when we were both there. Can you tell us why you chose those two particular pieces?
Hawaii is represented by the "Shaka," so I originally wanted to make a Shaka shaped piece, but  after thinking about more, just making something "Shaka" didn't come off very original. I wanted to figure out what I could do with hands in general — what kind of shape can i make as the Shaka, and I figured that shaking hands is something that I do all the time. So I tried to figure out how to evolve the notion of "shaking hands" into a Shaka shape, and after playing around with my own hands, I finally figured out a way —  that's how I came to the shape of the sculpture. Shaking hands is also what I really likes doing. Shaking hands brings people together.
"I get all my skateboard decks from all my skater friends, and from all the different skate shops that I regularly visit."
Where do you source the skateboards from? There's also always a certain color coding when it comes to all your pieces. Is the color effect something deliberate, or are they the result of random piecing?
I get all my skateboard decks from all my skater friends, and from all the different skate shops that I regularly visit. The shops, my friends, they all collect broken skateboards from their circle of skaters and they kindly give the over to me.
They would just donate them?
Right. It's all donated, because for them, they can't use it anymore. But I can still use them as a work of art. But I don't want to just take, so what I've done in the past, which I did for one of my larger scale projects in Japan, was if you donate three used skateboards, you get an original T-shirt that I made for the event.
That's a good trade off.
I hope so! So for another one I did in Los Angeles, if you donated one broken skateboard you get a new deck. There was a long line of people for that one.
You've also collaborated with skateboard brands before. Do you ever work out a deal with them to help with donating to your stock of art "material"?
There's a funny story about that actually. So with HUF and that huge middle finger sculpture I did with them, when he was working with Keith — the head of HUF — he made a designed a deck by using my artwork without asking me, and when I got there and found out, I was like "what are you doing with those decks? I never gave permission…" But Keith explained to me that this was to going to be used to give back to the public for all the donations that were originally given for the HUF sculpture, so I cool with that in the end.
So looking at your whole body of work, is there a certain sensibility that is carried out among all of the sculptures? Is there a parallel or underlying connection between all of them?
I don't really have like a main overarching connection. The main thing is that they've all been made out of used skateboard., but what I try to include in all my pieces is, as a skater myself, it's what I feel about skating — my passion for it. That's what I try to put out with my work.
It's the symbols and iconography that are connected to skate culture that's the underlying connection.
It always goes back to what I think about skating, so I won't make anything that's not related to that. So like, band logos. I'll never make that, even if there's lots of money.
So it has to be personal.
It has to be personal. It has to be what I want to make.
What's your approach to coming up with future work?
I  get a lot of influence from other artists, for example at the POW! WOW! Hawaii festival, looking at the massive murals of Slick or of you know, Hitotzuki, I usually make smallish sculptures, but it makes me think about making bigger sculptures, to challenge myself with something I've never done before, so I'm really excited about seeing different types of art, all the different artists, all especially all the massive art that happens at a place like POW! WOW!.
Is it safe to say that's the next move for you? Are you going to be doing more bigger pieces?
I actually made a huge sculpture in Osaka, Japan. That was like the biggest I've ever done. It was a skateable sculpture for the skate/shopping complex H.L.N.A when they opened a new store in Osaka. They hired me to make make something, so I made a skateable ramp with a huge sculpture on top that took up 500 different decks.
"It was six years ago when I first started making sculptures, and I've actually already reached all of my dreams as an artist that I had for those six years!"
What's actually the hardest part about making art with skateboards?
Honestly… it's ripping off the grip tape (laughs).
Go figure! As we mentioned earlier, you've collaborated with a few skate brands in the past, but what would be your dream collaboration?
It was six years ago when I first started making sculptures, and I've actually already reached all of my dreams as an artist that I had for those six years! So now I don't necessarily have any big dreams. I just want to work on different projects, different sculptures… continue to work and present what it is that I can do.
To try to really get into your mind as an artist, when you choose a symbol, or choose something that you want to create, how does that go through in your mind to let you understand that that's the design to create?
So for the Shaka piece for example, I thought about all the different ways to shake a hand, but I chose that shape because it looks like a Shaka. But at the same time, I wondered what people would think if they looked at the sculpture — whether people would wonder if it was just a Shaka, or understand that it was two hands shaking. That's what I think about — what people think of my art at the end, so I start off with different views and different images, but when I think about the viewer. that's when I finally reaches what I wants to make.
So the audience is integral to the process.
Right. So say there's somebody that comes out and draws the same kind of shape, then I'll know that it came from me — I influenced that person. Like in the skate world, you have different tricks, so one person created a new trick, and others emulate it, and they evolve it into their own trick. So what I want is to influence people to reach a higher state for themselves. If I can be the one who influences that, then I've done my job.
Last question: your wife seems to be your right-hand woman and seems to be heavily involved in you as an artist. What does your wife think about your artwork?
We actually make it together, so she understands everything there is about it.
She's the one who's actually ripping the grip tape, Isn't she!
(Laughs) Actually my wife's name is "Haru," and my real name is "Hiroshi," so we put it together to make "Haroshi." So we actually started doing it together. She was involved all along, and she's very much a part of it — grip tape and all!
Check out more of Haroshi's work via his Instagram.