As Manufacturing Becomes More Global, American Clothing Startups Want to Bring "Made in USA" Back
Will brands be heading home?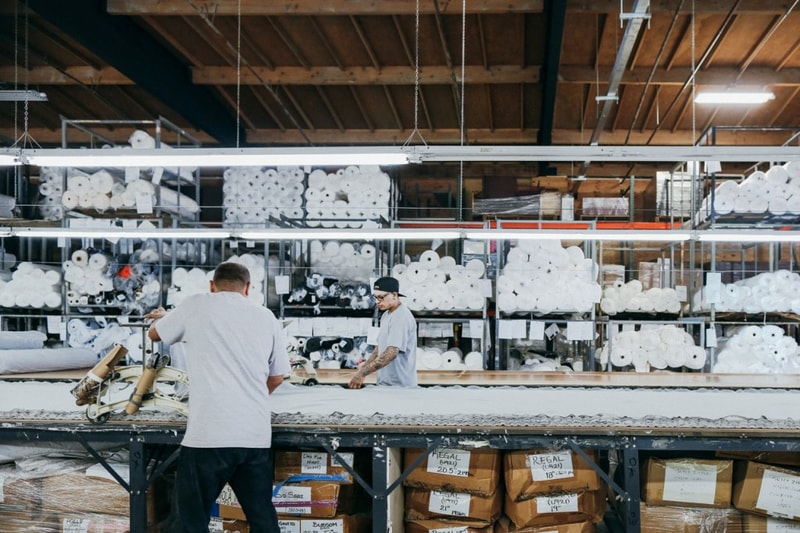 Forget established labels like American Apparel, a slew of American clothing startups are now deciding to make their products in their own backyard. A foreign idea in 2016, when globalization has resulted in most of the world's products being manufactured in lower-wage countries. But these startups aren't just investing in the idea of patriotism or marketing. Manufacturing at home has an ever-expanding résumé of benefits. For starters, it's a strategic move to foster innovation in apparel — which is especially important in sportswear and athletic-wear. Fast Company makes the argument that "Made In USA" is going to be the norm again.
A prime example is Yogasmoga, whose founder realized that most of today's athletic apparel was still being constructed of nylon and spandex — two antiquated fabrics. He wondered why companies weren't utilizing more advanced materials, despite the huge advancements in textiles. The reason for this may be because of small hiccups in communication. When he started his company, the decision to make locally was a no-brainer. All the factory workers understood English, and were able to quickly and effectively learn how to handle the new fabrics and materials. The founder was also able to make frequent trips to the factory to ensure that quality was in tip-top shape. Aside from Yogasmoga, another example is Buck Mason who believes margins are still respectable even if costs are a little higher to make in the USA. For Americans startups, manufacturing at home may be the next wave, with more and more designers deciding to take the local route whether it be for convenience or pride. Investing in an American supply chain can also help cut down on extra costs related to waste such as unsold products or extra materials.
The biggest concern naturally is price and affordability; if you're not targeting the fast fashion audience then it shouldn't be too big of a problem. For startups that are looking for help, there's also Manufacture New York. A factory which hopes to help budding designers understand the production process and tap into a local supply chain. Will the "Made in USA" tag make a big comeback?