NFL Finally Encourages Custom Footwear With #MyCauseMyCleats Campaign
Raising awareness for charities near and dear to the hearts of players.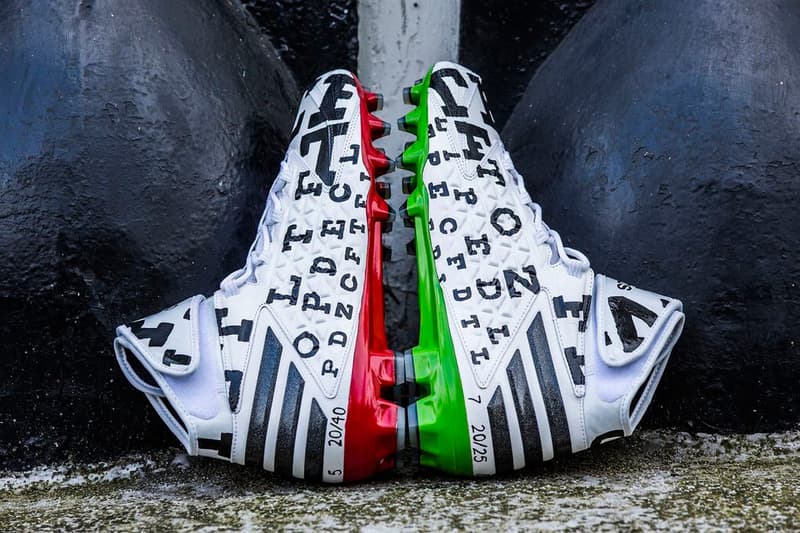 The NFL has a strict uniform policy, and rarely hesitates issuing fines for deviating from the league-wide dress code. Case in point: Houston Texans wide receiver DeAndre Hopkins was fined $6,000 USD earlier this season because his Yeezy cleats didn't have a solid base color.
However, the National Football League has lifted those restraints for this week's forthcoming games with a campaign dubbed "My Cause, My Cleats." With this, players are encouraged to express themselves with custom cleats that attempt to raise awareness for charities near and dear to their hearts. Players will have the opportunity to raise funds for these causes by auctioning off their cleats at NFL Auction; 100% of the funds raised will be donated to the designated charities, all of which must have 501c3 status.
According to the NFL, over 500 players will participate, and although we would love to show you every one, here's some of our early favorites.
Sean Lee's custom cleats embody his Sean Lee Dreambuilders organization for #MyCauseMyCleats
Learn more: https://t.co/Zbca0Jqh4i pic.twitter.com/sXWjCFcdve

— Dallas Cowboys (@dallascowboys) November 29, 2016
Rocking these dope cleats to help raise awareness for domestic violence… @adidasfballus #cleathead pic.twitter.com/tKs0JZ3CK8

— Deandre Hopkins (@Nukdabomb) November 29, 2016
.@EzekielElliott love for pets will be on full display on his #MyCauseMyCleats on #TNF learn more about his cause: https://t.co/Ly1fTzQARR pic.twitter.com/WCy1fFByYb

— Dallas Cowboys (@dallascowboys) November 29, 2016
The @SalvationArmyUS is near & dear to @FredoSauce that's why he chose them for his #MyCauseMyCleats
Learn more: https://t.co/XW8yQtiMig pic.twitter.com/SWfPjVkBSg

— Dallas Cowboys (@dallascowboys) November 29, 2016
I'm committed to making all kids better today and healthier tomorrow. #MyCauseMyCleats @childrensatl pic.twitter.com/FDLrNxyzV9

— Matt Ryan (@M_Ryan02) November 29, 2016
Excited to wear these cleats for #MyCauseMyCleats during week 13 to represent my dad and the @PFFORG #Cleathead @adidasFballUS pic.twitter.com/FBxfgEtnV3

— Jordan Howard (@JHowardx24) November 29, 2016
.@BBortles5 will support the @Bb5Foundation with his #MyCauseMyCleats!

Learn more: https://t.co/tmvBbs6n3Q pic.twitter.com/pCB59Tmyjk

— Jacksonville Jaguars (@Jaguars) November 29, 2016
.@buffalobills QB @TyrodTaylor's custom cleats for Week 13! ???? #MyCauseMyCleats pic.twitter.com/ViUoKhVi9g

— NFL (@NFL) November 29, 2016
Check out @bigdavis813's custom cleats supporting @AmDiabetesAssn for #MyCauseMyCleats learn more here: https://t.co/bRLd3FMnZf pic.twitter.com/nnU0jj0fXu

— Dallas Cowboys (@dallascowboys) November 29, 2016
.@Mathieu_Era's #MyCauseMyCleats this week.

The Honey Badger's cause is @RISEtoWIN. pic.twitter.com/71AD4MeLaa

— Arizona Cardinals (@AZCardinals) November 29, 2016
.@PierreGarcon will wear these custom cleats for #MyCauseMyCleats week supporting his Helping Hands Foundation.

????: https://t.co/tHtN2WyHmB pic.twitter.com/SCbiJQHaLs

— Washington Redskins (@Redskins) November 29, 2016
.@KirkCousins8 unveils custom kicks to support @IJM during @NFL's #MyCauseMyCleats Week: https://t.co/tHtN2Wh6v3 pic.twitter.com/XYFiKhmHnT

— Washington Redskins (@Redskins) November 28, 2016
#Bucs to Wear Custom Cleats for Charity!#MyCauseMyCleats #BucsforaBetterBay

LEARN MORE: https://t.co/EFqtwDQCyB pic.twitter.com/2hSKOF6640

— Tampa Bay Buccaneers (@TBBuccaneers) November 28, 2016