HYPEBEAST and 'Tom Clancy's: The Division' Are Giving Away a Special Survival Bag
Should you ever find yourself in a deadly global pandemic, this bag will get you started.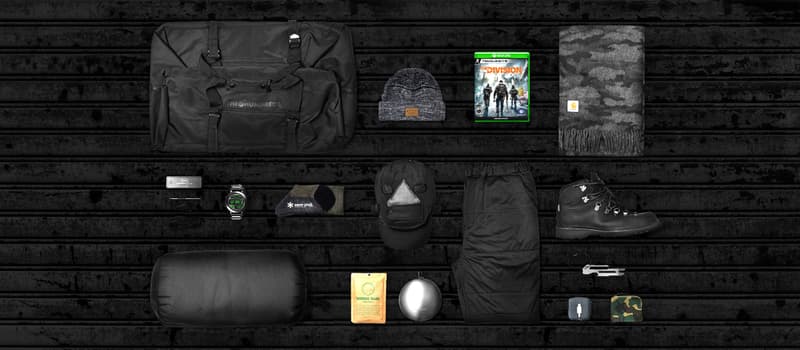 Best known for his novels and the films they inspired, the late Tom Clancy is also revered for the videogame universe he co-created, one that marries Hollywood's thrill-seeking storylines with groundbreaking gameplay. The latest entry in the series is Tom Clancy's: The Division™.
The story begins after Black Friday, when a deadly pandemic sweeps through New York City, knocking out basic services, such as electricity and running water. As the complex web of systems and services that make modern life possible begins to break down the city quickly descends into chaos. You play an agent of The Division— a classified unit of self-supporting tactical agents that have been secretly embedded amongst us in society and are activated during this national catastrophe. As an agent of The Division, you will work to stop society's fall and take back New York on your own terms.
With the highly-anticipated game slated to release on March 8, HYPEBEAST has paired up with Ubisoft and the Tom Clancy universe to giveaway a special survival bag that includes a collection of essentials should you ever find yourself in a similar pandemic.
Looting the racks of our online shop, HBX, the The Hundreds Black Jam Backpack includes:
1. POLER Black Napsack
2. THE QUIET LIFE Grey Marled Beanie
3. MAHARISHI Black Templar Cap
4. NIXON All Black/Green Unit SS Watch
5. SNOW PEAK Brown Washable Wool Cover Gloves
6. SNOW PEAK Olive Wool Socks
7. SATURDAYS Camo Suede Cash Half Zip Wallet
8. DANNER Black Mountain Pass Shoes
9. SNOW PEAK Black Flexible Insulated Pants
10. POLER Burner Bag
11. NATIVE UNION Grey Jump Cable Lightning
12. SNOW PEAK Titanium Curved Round Flask
13. FISHER SPACE PEN Matte Black Keychain Pen
14. OBSTRUCTURES Pry/Open Pocket Tool
15. CARHARTT WORK IN PROGRESS Camo Mono Scarf
The contest will run exclusively through our Instagram feed with the start and end dates listed below:
Start: January 28, 2016 2 p.m. EST
End: February 5, 2016, 2 p.m. EST
The winner will be randomly selected and announced on February 8, 2016.
Here's how to enter:
1. Follow @HYPEBEAST and @thedivisiongame_us.
2. Like our announcement image.
3. Tag a friend that you think would make the best elite agent in the comments.
Best of luck to you all!
Open to Global readers. All prizes won by minors will be awarded to their parents or legal guardians on their behalf.

The maximum number of entries allowed during the Giveaway Period is one (1) per person. Any attempt by a person to submit more than the stated maximum number of entries will be disqualified from participation in this Giveaway. We are not responsible for lost, late, incomplete, invalid, unintelligible, illegible, misdirected or postage-due entries, which will be disqualified. By participating, all entrants agree to abide by these Official Giveaway Rules.

Please allow 6-8 weeks for prize delivery.

General contest rules/disclaimer can be found here.