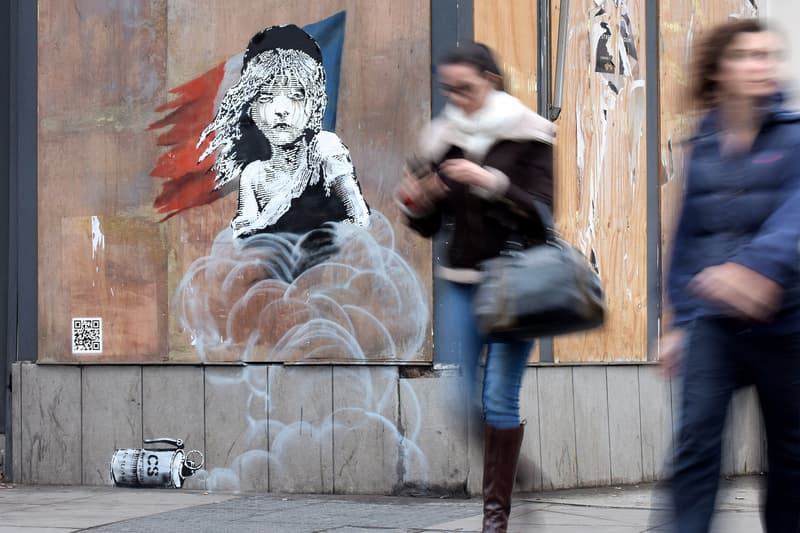 A New Banksy Piece Popped up in London, Quoting 'Les Misérables' and Calais
This also marks the first time that the artist has ever presented a work alongside an optical scan code.
---
Back in September of last year, Banksy announced that his infamous Dismaland attraction would be dismantled and the parts would be relocated to refugee shelters in Calais. Since then, a series of his unmistakable works have been sighted in the Jungle refugee camp in the French port city. Now spotted in London, the famed street artist has unveiled a new work on the edifice of the French embassy, a stenciled piece that features the iconic girl from the celebrated Victor Hugo novel, Les Misérables.
In the portrait, the young figure stands in front of a French flag and is tearing up as CS gas billows around her. This tableau is a clear reference to the incident of January 5th and 6th when French authorities used tear gas, rubber bullets and concussion grenades in efforts to clear an area in the camp. As a response to police spokespeople denying the use of tear gas, Banksy has included a QR code next to the new artwork that redirects to a YouTube video where footage from the camp clearly proves otherwise. The inclusion of the scan code is slightly surprising as it is the first time that he has ever presented his work alongside optical markers. The video from the QR scan can be seen below.