Kanye West Digs Deep Into Yeezy Season 2, Running for President and 'SWISH'
Learn more about his fashion show, the upcoming album, and what it's like to be a rockstar.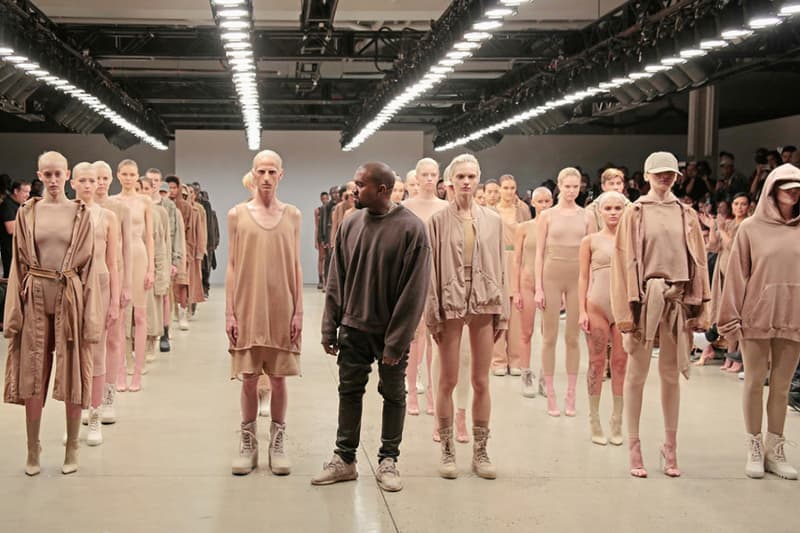 Pondering about the future may be one of Kanye West's most frequent thoughts when it comes to his music, clothing and presidential hope, but an overall growth is one that he aims to achieve. Sitting down with Vanity Fair, it seems, is one of the many things on the list of Yeezy's to-do's in the mix of working on the highly anticipated album SWISH along with the 24/7 job of being a father. Luckily, Kanye's passion triggers an intriguing conversation that'll also make you curious about what the next move may be in his journey. Read a few excerpts from the article below and check out the interview in its entirety here.
VF: When did you start working on this collection?
KW: The day after the last collection. Like, right now I'm thinking about Season 3. It's a long, long run. Unfortunately for me, I have a lot of visibility on my side which has tended to be a thing that creates a distraction to the creative process, like paparazzi showing up at my office in Calabasas. But I almost feel I'm growing just like my daughter. I hear my daughter start to say exactly what she wants and to finish sentences and I think it's like that. Like, maybe I got to finish a couple more sentences in the second one than in the first one.

VF: In terms of the soundtrack, was there a reason you chose that particular song, "Fade"?
KW: We had a couple options and I just thought it sounded good against the people. For the 40 theaters across the globe, for the kids that all went to see it in theaters, I thought they'd be happy to hear some new music. I've been doing that [making a new album] too. That's like a sonic landscape, a two-year painting. That song I played has been a year and a half in the making and it may be still a year from being complete. But it was to let people get a glimpse at the painting.

VF: Are you still thinking of running in 2020?
Oh, definitely.

VF: When you said that at the V.M.A.s, I thought the reaction was surprising. People didn't seem to dismiss the idea. You would have thought there would be more of an outcry.
KW: Especially from the six years of this misconception or the six years I went through of "We don't like Kanye." And then as soon as I said that, it was like, "Wait a second, we would really be into that, because actually if you think about it, he's extremely thoughtful. Every time he's ever gotten in trouble, he was really jumping in front of a bullet for someone else. He's probably the most honest celebrity that we have." I didn't approach that because I thought it would be fun. It wasn't like, Oh, let's go rent some jet skis in Hawaii. No, the exact opposite. I sit in clubs and I'm like, Wow, I've got five years before I go and run for office and I've got a lot of research to do, I've got a lot of growing up to do. My dad has two masters degrees. My mom has a PhD, she used to work at Operation PUSH. Somehow the more and more creative I get, the closer and closer I get to who I was as a child. When I was a child, I was holding my mom's hand at Operation PUSH. I think it's time. Rap is great. It's fun. It's fun to be a rock star, and I'll never not be one I guess, but there'll be a point where I become my mother's child. With all the things I've done that people would consider to be accomplishments, what's the point where I become the person that Donda and Raymond West raised? My parents' child.