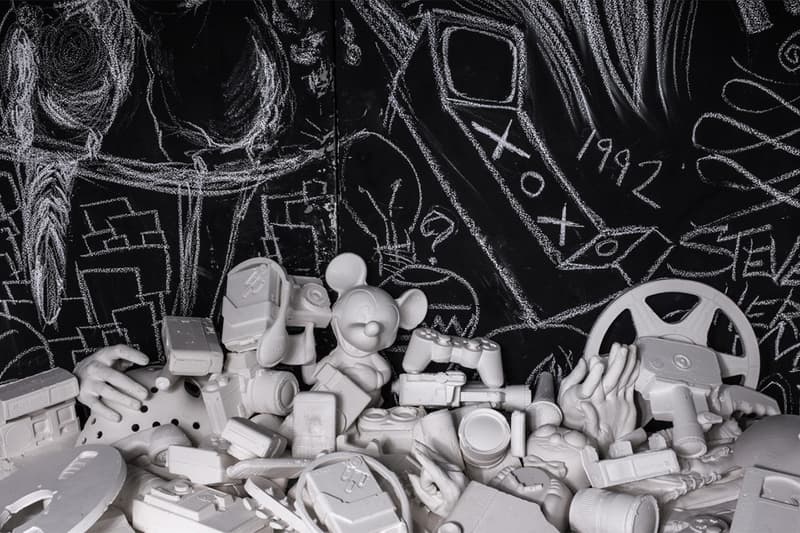 Daniel Arsham "The Future Was Written" @ YoungArts
Arsham has a special display in store for YoungArts Awareness Day.
---
Fresh off the opening of "Fictional Archeology," Daniel Arsham is set to launch yet another exhibition, this one in honor of YoungArts Awareness Day. Dubbed "The Future Was Written" and curated by the newly appointed Director of Pérez Art Museum Miami, Franklin Sirmans, the interactive exhibition will be home to nearly 2,000 of Arsham's signature "Future Relics." Here, however, each piece will be made of chalk, inviting attendees to see the devolution of each object as they mark, draw and write.
"The Future Was Written" will open with a special sold-out reception tonight and will be on display at YoungArts Miami throughout Miami Art Week. For Arsham's own thought on the work, check out the brief Q&A below.
YoungArts Miami
1st, 2nd, and 7th Floors
2100 Biscayne Boulevard
Miami, FL 33137
United States
Your work for the YoungArts gallery welcomes visitors to create their own art and drawings. What artist do you wish would make a surprise appearance and make their mark on your installation?

Visitors will be asked to make drawings or notes on the wall that relate to time. What is your conception of time? This work is not about a specific artist, rather a collective idea about the past, the present and the future.

If you had the time to have a totally different artist identity/alter ego on the side, what kind of art would you make/do?

I already have this. I am an artist, an architect, a film maker, a stage designer, and a photographer. These modes of working all feel the same to me.

You work with choreographer Jonah Bokaer often. How do you think your collaborations would be different if he did the visual art and you did the choreography?

Jonah will often make suggestions about the scenography and I will oftern make notes about the choreography. So, in a way this is already happening and our collaboration is about finding a grey area.

What's your earliest memory of art-making?

Taking photos after Hurricane Andrew.

We're about to have you at YoungArts for a Salon aka more questions and answers, so last one: What question do you always wish people would ask you but never do?

Any question I have never been asked!