Paul Rodriguez on Fashion vs. Skateboarding And His Feature Film 'We Are Blood'
P-Rod talks family, Primitive and being one of skateboarding's elite.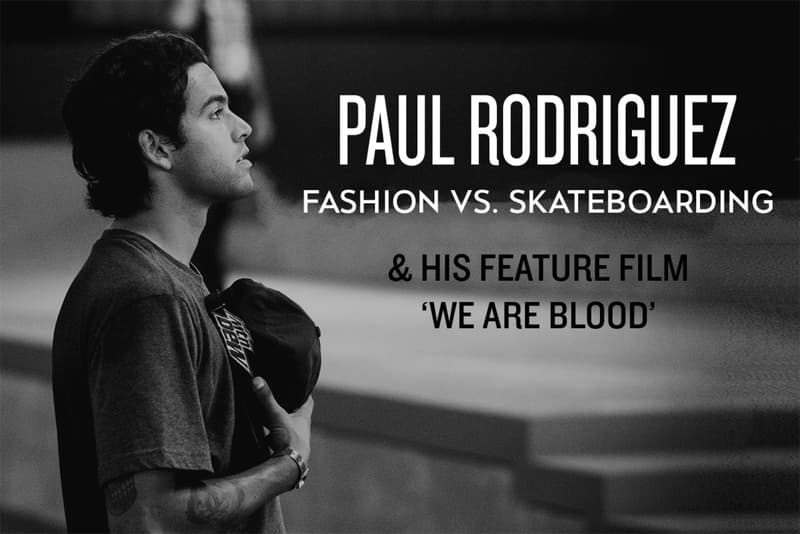 Paul Rodriguez, P-Rod to his friends, fellow professionals and sometimes his detractors, has been skateboarding professionally since 2002. After being linked closely with a variety of low-key, high-profile and near-enough iconic brands throughout his successful career, Rodriguez, in recent times at least, has begun to strike out on his own.
After forming Primitive, his own skate deck company, and releasing his eight signature collaboration with Nike in 2014, Rodriguez marked 2015 by featuring in the production of a feature length film title We Are Blood. Celebrating the bond that skateboarding creates between its esteemed global family, We Are Blood follows the Californian-born street expert as he attempts to get to the bottom of his childhood hobby, one which turned up to be a lucrative career.
We caught up with P-Rod at the brink of the film's premiere at this year's Dew Tour in Los Angeles, to talk about his ongoing journey on the two-wheeler, and the accolades he's garnered along the way.
So, you've been with Dew Tour for many years now. Do you notice any significant changes?
It's matured now. It's been ten years and early on it was kind of like a set, where they would take the courses down and re-assemble them. It was a bit dodgy. But as the year's have gone on they have progressed and hired top-line skatepark builders and designers. That aspect, as an athlete, is a great improvement. Beforehand it was just a bit of a festival, with a few bands and it didn't seem too thought out. It's more calculated now. The people they have aligned themselves with, how they have marketed it, they're just doing their job really good and turning it into a really cool experience.
What do you think your prospects are for this competition?
To be honest I'm not quite sure, man. I'm always skating trying to stay on point but, I'm not gonna lie, with the event going on and the premiere movie my concentration is more on the film. At least at this point, I am more excited about showing the world We Are Blood. That could be a good thing, maybe I won't be putting too much pressure on myself and I'll skate good.
Sometimes in contests I overthink, putting pressure on myself and ended up imploding. Other times I have been kinda nonchalant about it and it has worked out. It just comes down to how the course feels, how my body feels. Various factors.
Now that you're at the stage of being a professional in the industry, someone with his own business, someone at this level, how do you view your progression as Paul Rodriguez? As a brand, do you value yourself strategically?
Yes and no. I guess I am always my own worst critic, as most people are. I still feel like I am trying to get there, still trying to make it. I have never yet felt like "Ah. I have arrived." That's the thing that makes you want to keep going. If I ever felt like I have arrived that might be the point that I start taking it easy. As far as the progression of my career, it has been envisioned. Ever since I started skating, every single night I would pray, I would dream, I would picture this. Being held in the same ranks as the guys I grew up watching skate. Being considered at an elite level. All that stuff was certainly aimed for and worked towards.
In terms of working on a film and working with all these huge brands, like Mountain Dew and Nike, when I first started I had no idea that I could think this big. I just wanted to get on a little skate and shoe company, maybe get my name on a board, get a cover of a magazine and I've conquered the world, y'know? I didn't know it would come this far. It's kind of an accident, but maybe an educated accident.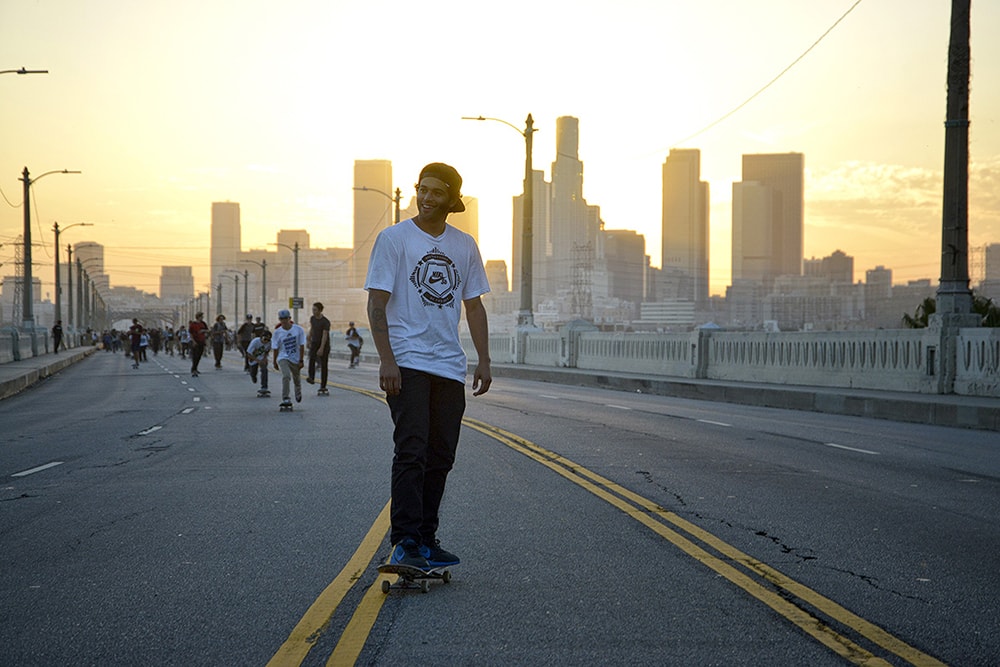 What is the business side of being a professional athlete? A lot of people aspire to be what they see, but what goes on behind the scenes?
It just has to be a desire. For me, I am just fascinated by that side of things. Business and taking control of your own destiny. There are so many opportunities that have come my way, that I would've beens stupid to not take advantage of them. I would have regretted it. That's all it is, I am a passion-based person, so if I am interested in something I will be motivated to the millionth degree. If I am not interested in it, I am the laziest person you will ever meet.
Tell us about Primitive. Has the brand opened doors to other sectors of the creative industry you were otherwise unfamiliar with?
I don't know that "doors opening" is the right way to describe it, but there are certain things that allowed me to get to the point where I was able to start Primitive. There are several reasons for that, one being that I have dedicated so much time to skateboarding that I could never imagine not having a connection to the skateboarding world. If I never started my own brand, then once I retire I couldn't fathom having no real connection to the world that I have dedicated myself to. The idea is that this brand will outlive my physical career so that I can always have my roots in the skate world. That makes me really happy.
I wanted to be my own boss. I wanted to decide what I was going to do and how I was going to represent myself. That's another reason for doing Primitive.
You're now a father. What's that been like for you?
Once you become a father you start to think in big picture terms, like "what am I going to leave behind?", not just physical and material things but what am I going to teach my child in their life. What sort of example am I going to set? That's really affected a lot of the decisions I have taken in the past six years. That's a huge thing for me.
Still though, away from the films and competitions and all the fancy stuff that comes around, I still love the physical act of being on my skateboard. At the end of the day it's just about getting on my skateboard, going out in the street and finding a good spot with my friends. The further I go in this career, the more I want to regress back to 12 years old and just skate.
Find out more about We Are Blood here.