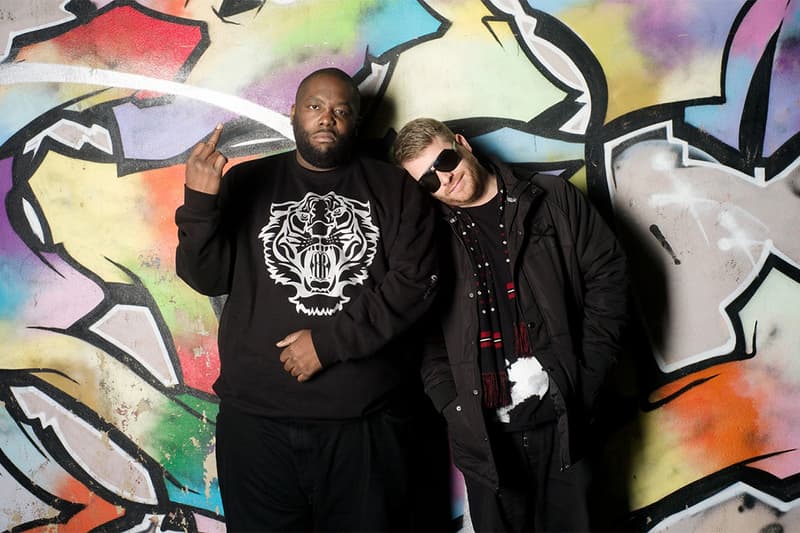 Banksy Meets Run The Jewels
Killer Mike and El-P sit down with Banksy before playing the artist's Dismaland next month.
---
Fresh off a rare interview in which the elusive street artist shed some light on the opening of his satirical amusement park, Dismaland, Banksy sat down with Killer Mike and El-P for The Guardian ahead of the duo's performance at the installation next month. Here the Run The Jewels partners talk everything from performing at amusement parks and the rock stardom of Kanye West to admiration for graffiti artists, the last time a YouTube video elicited tears, and more. An excerpt from the interview appears below while the piece can be read over at The Guardian's website in its entirety. Run The Jewels are set to perform at Dismaland September 4 while other artists like Pussy Riot and Massive Attack will also appear at the theme park next month.
Thanks for agreeing to play my theme park. Have you ever played in a theme park before?

El-P: I have not yet had the pleasure of playing in a theme park, or enjoying one for that matter.

Killer Mike: I have not played a theme park. My dream is to play [US theme park] Six Flags Over Georgia before I check out of life. Mostly because they used to have a teen nightclub called Graffiti's; I was there when I was a kid and that's where I heard dope music and danced with girls from the suburbs after we snuck in.

The clip of your speech at Ferguson after the verdict [when the jury decided not to charge officer Darren Wilson for the death of unarmed black teenager Michael Brown] made me cry. When did you last cry watching YouTube?

Killer Mike: The last time YouTube made me cry was watching Dr John Henrik Clarke speak about Marcus Garvey. I was overwhelmed with pain for a great man that was abused and mistreated because he wanted to better the state of blacks globally. It is scary to think a system exists that wishes not to see all people live with human dignity and respect. I did, however, finish feeling encouraged that day will come.

El-P: When the two guys raised the lion and then set the lion free but they missed the lion and they visited it in Africa and the lion was now king of his tribe and had a wife and children but he recognised the two guys and ran up and hugged them and licked their faces. I wept like a baby.

When Kanye came to the UK recently, he played on a dairy farm and declared himself the greatest rock star in the world. Does he have any competition for that?

El-P: Absolutely not.

Killer Mike: Kanye is amazing and may be the greatest rock star in the world but Rihanna is the new Tupac (in feminist form), and as much as I love rock, ain't nobody do it like Pac! Ri-Ri rules in my book.